Barcelona vs. Chelsea: A History of and Case for 'Anti-Football'
April 25, 2012

David Ramos/Getty Images
When the first rules of association football were established by Ebenezer Cobb Morley in 1863, soon adopted by a majority of English clubs, it was a mortal act. Morley did not descend from the mount, two stone tablets in hand (three if you're a Mel Brooks fan), carrying the word of the footballing gods to those in desperate need of guidance.
He and a few other stereotypically old men of English men of wealth sat around a table and parsed out what would make the sport fair, competitive and keep the integrity of the game alive.
However, a byproduct of all this was their most important contribution, one inherent in the development of a good sport, and often taken for granted as a given. It is what makes athletic competition captivating, a purely human activity – the idea of free will.
As long as you stay within the rules of the game, it is up to you how you decide how to approach it.
Tactics are founded on this principle and the allure of football wholly owes itself to this assumption. Being a fan of a team is more than just liking the players on it. It is about enjoying a certain style that distinguishes it one from the other.
The ability to idolize the game not as a whole, but the game your team plays.
Sometime over the last decade there has evolved a new maxim of sorts. A faceless dictator, spurred on by the mass appeal a digitally based populace, has begun to augment the purity of the game developed by its founders and blanketed the footballing landscape with propaganda suggesting the inferiority of all play that does not follow a particular brand.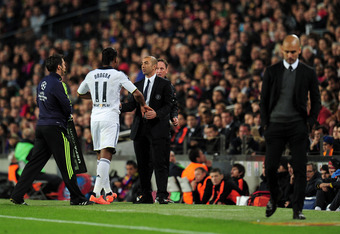 Shaun Botterill/Getty Images
That brand is the tika-taka, total football, the beautiful game of Barcelona.
(Note: I understand that this is not a brand developed purely by Barça, but they have perfected it to a degree unseen before and for the purposes of this article they act more as a symbol than anything)
Now this developed philosophy is not without merit. It is undeniable who the best team of the last half decade has been and with good reason. More and a dozen trophies and all accomplished with such domination there was never really doubt in them.
Combine that with the emerging field of social media over that period, for the first time allowing fans opinions that once praised the team in the local pubs around Camp Nou being expressed on a global scale and you can see how it was a perfect storm for this development.
But something happened over this past week that challenged this dictator in a way he had had not been before. The "Coup at Camp Nou" has become the popular pun amongst the media to describe what turned out to be fatal back-to-back losses for the Catalans that knocked them out of the La Liga race and Champions League.
Real Madrid and Chelsea dug in deep in their defensive half, putting up a wall of men, seemingly as invincible as Stalingrad circa 1942, allowing the siege mentality of Barcelona to overwhelm itself in frustration and indignation. They ventured outside of this comfort zone only when it was safe to do so, making no more than a handful of counterattacks, thus vanquishing their opponent.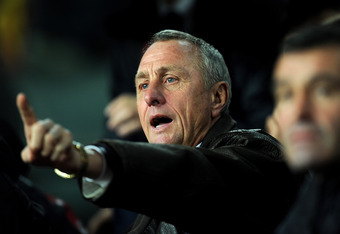 Jasper Juinen/Getty Images
Most have derived the term "coup" as a simple clichéd way of expressing what was a surprise upset by the counter tactics both Real Madrid and Chelsea deployed. But it can be taken in a much more literal sense as well (metaphorically speaking of course) to usurping the power of the propagandistic leader and bringing to light a different perspective on the game, one that has been condescendingly coined by the fallen party loyalists as "anti-football".
"Anti-football" was first publicly used in a 1968 Argentinean sports editorial, El Grafico, to describe the tactics used by Estudiantes de la Planta in their defeat of Manchester United at that year's Copa Intercontinental. It really came into the footballing lexicon in 2001 when Gary Armstrong and Richard Giulianotti citied that article in their book, Fear and Loathing in World Football.
Since then it has become a popular term to describe an ultra defensive and physically motivated tactic that takes advantage of the opponent's mistakes, luring them into a false sense of security before pouncing on a counterattack.
This idea in itself at face value seems logical and intelligent with a certain set of players. So how did it become associated with a sign of the apocalypse for the game?
I am going to just provide a few quotes via nothing more than Wikipedia to demonstrate an interesting trend:
The phrase was used by Johan Cruyff in 2002 to criticise the tactics that helped Brazil to win the World Cup, stating: "Brazil deserved their win but they aren't a team; they play anti-football and only took advantage of the mistakes of their opponents."

In 2004, Frank Rijkaard dubbed the tactics of then-Celtic manager Martin O'Neill "anti-football", following a 1-1 draw in a Champions League match at the Camp Nou. He said: "I feel sorry for the spectators but Celtic played anti-football. They had two lines of five players. The statistics tell the story; we had about 70% of the possession."

In November 2006, Arsenal's Cesc Fàbregas used the term to describe the style of play in the English Premier League, in the week following a 1-0 defeat to West Ham United, stating: "Teams just defend, defend, and defend; they try to waste time. I call it 'anti-football,' but we have to accept this happens and break teams down."

Barcelona striker Lionel Messi referred to Rangers style of play as "anti-football" after Rangers held Barcelona to a 0 – 0 draw at Ibrox on 23 October 2007. Rangers were also accused of playing anti-football by Alain Perrin after their 3 – 0 win over Perrin's Olympique Lyonnais a few weeks before the Barcelona match.

Rafael Benítez accused Italian team Internazionale of playing "anti-fútbol" after his Valencia team were beaten in the quarter-finals of the UEFA Champions League in 2003.
First notice the people being quoted. It is a small group of some of the games very best managers and players over the years. When names like Cruyff, Rijkaard, Messi and Benitez speak, there is a tendency to listen to what they have to say and for good reason. Their accomplishments in the game speaks volumes to their integrity toward commenting on it. They have the power to influence public opinion as much as they have power to influence the outcome of their matches.
But the second thing to notice is where the argument against "anti-football" begins to become unraveled. Of the six instances above, the dissenter in each case was on the wrong side of the result. "Anti-football" has become a scapegoat for teams who are unable to get the victory because of a style that is unable to adapt or breakdown an opposing one.
And the third is more an introspection into human nature than anything, this allure we have to the offense of a game over the defense. All of these men above are attack minded. For most, defense is a secondary obligation only used to limit the amount of goals a team can score, not win the game for them.
It plays into a philosophical issue of athletics that we tend to discard the tactics of defense in exchange for the glitz, glam and highlight-reel-heavy attack. But at the same time are torn with the clichéd adage, "offense wins games, but defense wins championships."
"Anti-football" may not be something the passive fan enjoys on a weekend day, but it can be just as effective (if not more so as evidence over the past week) than any other style played.
When you put these points together, you get a very strong and candid argument that could easily begin to seep into the conversation of the fans without them ever conscious of its inception. However, you also have a very weak and petty one that becomes more of an excuse than concrete analysis.
Even the term "anti" implies an opposition to its qualifier, in this case "football". But how can something be anti something else if that something else is indefinable in the first place per accordance to the fathers of the game. At worst, what Chelsea, Real Madrid, Celtic, West Ham, Inter and every other team that has ever decided to use defense to win, can be accused of is anti-an-idea-of-football.
And to me, that just sounds like smart tactics.
For all my articles, follow me on Twitter: @thecriterionman