Michael Waltrip Increases Social Media Reach, Joins Motorsport.com as Advisor
April 24, 2012
Tom Pennington/Getty Images
Part-time racer, full-time television personality, prolific race team owner and serial tweeter - Michael Waltrip is NASCAR's answer to the concept of the renaissance man. Now, the two-time Daytona 500 winner takes on a different role: member of the advisory board at Motorsport.com, as it seeks to expand and improve upon its worldwide racing coverage.
"Motorsport.com was just a site that I happened upon as a race fan," Waltrip said in a phone interview on Tuesday. "I loved the ways the fans interact and all the information from the different types of motorsport. That led me to talking to one of my heroes, Emerson Fittipaldi, about joining the site."
Fittipaldi, the 1975 Formula 1 champion, was appointed Motorsport.com's chariman late last year. "He's the reason I'm involved. Right now his grandson is trying to become a NASCAR driver, but he was my Formula 1 guy while growing up."
Unlike with FOX and SPEED, where he provides race commentary and occasional written pieces online, Waltrip's role will remain mostly behind the scenes.
"I've got my hands in every aspect of the NASCAR world, not only as the part time race car driver but as the full time TV guy and race team owner," Waltrip said. "They just want to have my insight and my knowledge, and I think it'll make Motorsport.com more appealing to fans."
It may seem counter-intuitive for Waltrip to be involved with a media organization and not see his opinions at the forefront. But those opinions are the reason why Waltrip believes he fits the position in the first place. "I like to tell my own story using my personality and my insight, the way I see things. I think that's part of the key—they want to know what I think."
"I want to be able to influence some of their direction when it comes to NASCAR. That's my goal."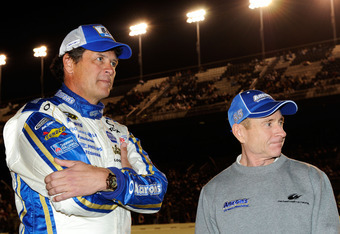 John Harrelson/Getty Images
Waltrip's influence already stretches further than most NASCAR drivers, even those racing full-time. His Twitter account (@mw55) has over 154,000 followers. In fact, he was also responsible for the creation of Mark Martin's account (@55MarkMartin), which itself now has over 68,000 followers.
That social media reach extends even further with Motorsport.com, which has taken to promoting Waltrip's various endeavors. Today, they linked to the 5th annual Best Western Fan Swap, in which Waltrip will visit one lucky fan's hometown for a day and meet with friends and family. Perhaps there's no better example of Waltrip's philosophy as a brand representative: "take care of people and embrace your partners."
For somebody whose philosophy puts the needs of others first, adding another job in online communications is a perfect fit. But for Waltrip, the word "job" is only a loose description. "I love my job. It doesn't feel like a job, and I don't look at it as work."
In the end, Waltrip's primary interest is simply to help fans know more about all forms of racing. "It's sort of like baseball—the more you know about baseball, the more you get into a baseball game. NASCAR is the same way."
"I hope I can help people want to know more."