2012 NFL Draft: Carolina's Biggest Need in the First Round Draft
April 24, 2012

With the draft only a few days away, Panther fans may already have a good idea of who will be drafted at number nine. If that's the case then Panther fans seem more confident with their pick than Ron Rivera or Marty Hurney.
In a recent press conference, Hurney suggested that he and Rivera are still struggling to make a decision. He also said that the dept of the draft is deep and they could possibly find themselves trading down.  Trading up, on the other hand, does not seem like a possibility.
The fact that Hurney and Rivera are still open to the possibility of trading down suggests that they are still unsure of not only who but what position they intend to draft for. 
Defensive Tackles and Ends:
There are have been a few mock drafts that have suggested that Carolina should take a defensive tackle or defensive end.  Take for instance the popular lists by Mel Kiper Jr. and Todd McShay.
Both Kiper and McShay seem to agree that the Panthers need to strengthen their defense and good way to start is by picking a defensive tackle, or maybe a defensive end.
The popular candidates for defensive tackle or defensive end for Carolina are DE Melvin Ingram (South Carolina), DE Quinton Coples (North Carolina), DT Fletcher Cox (Mississippi State), and DT Dontari Poe (Memphis).
Wide Receivers:
This proposal has been floating around lately and it has some merit.  One reason it has some merit is because of what Hurney mentioned in the press conference regarding the Panthers offense.
"We also have some needs on offense," said Hurney.  "You want to keep your strength strong."
Hurney's statement might confuse Panther fans like myself, especially when considering how great the offense looked last year.  The Panthers offense was, after all, ranked 7th in the league. 
However, as Hurney claimed, one of way of ensuring that the offense is effective like it was last season is by strengthening it.
A big part of the offense last year was Cam Newton and his personal run game, running for over 700 yards and scoring 14 touchdowns. The passing game looked good last year but maybe Rivera and Hurney are wondering if they'll need to strengthen it even more if they decide to limit Newton's run game (see my article on possible changes that Rivera might make to the offense with the addition of Mike Tolbert).
A possible draft for wide receiver would probably be Justin Blackmon (Oklahoma State), who is a strong candidate for many teams seeking a WR.
The reason why the Panthers might draft Blackmon could also be supported by the recent press conference.  Hurney claimed, "We're going to take the best player there because if we just keep adding good football players to this team, we can keep making progress."
If Hurney and Rivera believe that Blackmon is better than any of the defensive tackles and defensive ends, then the Panthers might just draft Blackmon if he's available.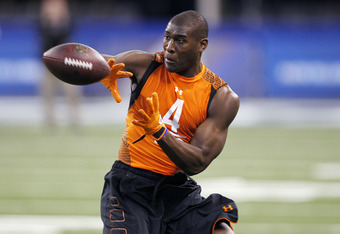 Joe Robbins/Getty Images
That's an important point to all this: whether or not the Panthers decide to pick a particular player depends on whether that player is available when the Panthers are given the opportunity to draft.
At first, I believed that drafting a wide receiver instead of a defensive tackle or defensive end would be a mistake.  I thought that the return of David Gettis and Brandon LaFell gave Carolina good reasons to be optimistic about their offense again this coming year.  Gettis tore his ACL last season and was inactive but did show us that is capable of being a great player in the 2012 season.  LaFell, on the other hand, did play last season and was quite productive.  Many believe that LaFell will have a breakout season in 2012.
Hurney and Rivera may both see some significant weakness that I (or any other Panther fan) may not be seeing and this weakness may be more significant than any projected weakness on defense.  Keep in mind that Legadu Naanee was brought in last season even though LaFell and Gettis were already on the roster.
There's also the possibility that Hurney and Rivera are a lot more confident about their defense next season with Jon Beason and Thomas Davis returning.  If that's the case, then Hurney and Rivera may try to add more depth to the defense with picks from later rounds rather than using their first round pick.
Rivera also mentioned something real important about whom they'll pick for the first round.  "We're not taking a guy to have him develop; we're taking a guy to put him on the field and help us right away." 
I'm not sure what player meets Rivera's criteria here. Jimmy Grappone's article lists some potential picks that the Panthers could be looking for.
But one thing that I can take from Rivera's statement is that if Rivera thinks a defensive tackle or defensive end from the draft can't be a starter on the first game then the Panthers might as well add a wide receiver.  If it's depth that they think they need on offense, a wide receiver like Blackmon, may be what they are looking for.  But I guess you can say the same thing about defense. 
As far as overall need, I still believe a defensive tackle or defensive is what the Panthers need most.