James Buescher: Why the NASCAR Young Gun Deserves Sprint Cup Ride in 2013
April 24, 2012
Tyler Barrick/Getty Images
It's easy enough to be a forgotten man at NASCAR's highest levels.
With so many talented young drivers competing for so few prestigious NASCAR Sprint Cup Series opportunities, it's easy to get lost among the promise that is Ricky Stenhouse Jr., Austin Dillon or Trevor Bayne.
Perhaps that's why one of NASCAR's most brilliant young stars caught relatively few eyes prior to the 2012 NASCAR season.
But so far this year, James Buescher has shown he deserves to be considered for one of those few elusive Sprint Cup rides in 2013.
At just 22 years of age, Buescher is one of the youngest drivers in motorsports. Yet with four years of NASCAR Nationwide Series and Camping World Truck Series racing under his belt, Buescher has the experience comparable to a wily veteran.
The Plano, TX native has compiled an impressive resume' since joining the NASCAR ranks in 2008.
In just his fourth Nationwide Series start, Buescher earned his first Top 10 at one of NASCAR's top levels, bringing his Braun Racing machine home in seventh at Gateway after starting 41st.
He would also go on to earn the Pole award in just his sixth Nationwide start at Memphis in 2008.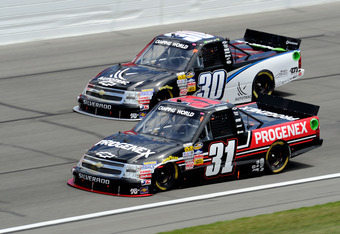 John Harrelson/Getty Images
But Buescher's results have gotten exponentially better over the years.
In 2010, Buescher officially arrived as a contender on the NASCAR circuit participating in 22 of the 25 events at the Camping World Truck Series level, earning six Top 5s and 10 Top 10s, including a runner-up finish at New Hampshire.
Buescher finished 11th in the standings in 2010 despite not attempting the season's first three races.
In 2011, Buescher improved even more, contending for wins in the Truck Series on a regular basis and earning a remarkable 19 Top 10s in 24 starts, including 10 Top 5s.
At the Nationwide level, Buescher also managed three Top 10s in just seven starts in 2011.
But in 2012, Buescher has added something else to his résumé: wins.
Buescher has already closed the deal twice this season, earning his first win in one of NASCAR's premier series in the Nationwide event at Daytona, where he masterfully maneuvered his way through a last-lap crash to take the checkered flag at NASCAR's most storied venue.
In his most recent race, Buescher finally claimed that elusive checkered flag at NASCAR's tertiary level, dominating last Saturday's Truck Series race at Kansas which included proven Sprint Cup star Brad Keselowski, whom Buescher out-dueled for the victory.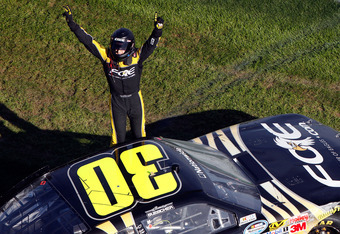 Tom Pennington/Getty Images
Through four Truck Series races, Buescher has accumulated three Top 5s, with finishes of third, second and first in his last three races, respectively.
Buescher also sits second in the Truck Series standings behind Timothy Peters after finishing third a year ago.
It's amazing that a driver with Buescher's talent has not been more highly touted, particularly over the last two seasons.
With a résumé nothing short of sparkling, particularly over the last two seasons, Buescher has shown to be a driver who could easily find his way to Victory Lane at NASCAR's top level if given the right opportunity.
In fact, with four years of NASCAR racing already under his belt heading into 2012, Sprint Cup teams may be hard-pressed to find a more mature, experienced young driver to put behind the wheel of a car.
And at 22 years of age, there's no doubt that Buescher's prime is still a few years away, giving him plenty of time to continue to learn and develop into a legitimate Sprint Cup contender.
At the conclusion of the 2012 NASCAR season, several Sprint Cup rides appear to be opening up.
Joe Gibbs Racing, Penske Racing, and several other of NASCAR's top Sprint Cup organizations are slated to have potential openings at season's end.
And if they're smart, those teams will give James Buescher some serious consideration for one of those prestigious rides in 2013.