Why Seth Greenberg Deserved Better from Virginia Tech
April 24, 2012

Gregory Shamus/Getty Images
Seth Greenberg was fired Monday during a bizarre press conference that was scheduled before the coach was even notified that his "contract had been terminated."
The second-winningest men's basketball coach in Virginia Tech history was let go after a nine-season run in Blacksburg and a 170-123 overall record. 
Greenberg's most impressive feats were his 61-67 mark in ACC play and three victories over the No. 1 ranked team in the country at the time (Duke, UNC, Wake Forest). 
He lifted Tech a notch or two as he stewarded the Hokies' transition into the ACC, but things had stalled a bit and Greenberg was not without his faults as a coach. 
That said, the callousness with which this firing materialized is surprising. 
Greenberg deserved to know last week when athletic director Jim Weaver was suddenly overcome by an epiphany that his men's basketball coach wasn't on the same page with him and the Tech athletic department family.
You can't praise Tech's family atmosphere in one breath and then cut ties with a coach who was doing his job, hosting a recruit, the day you fired him.
If nothing else, it makes the athletic department look like a bunch of bumbling fools trying to jack up the website hits by teasing the presser for a fired coach. 
At best it's inconsiderate and unfair; at worst it's a calculated, cold-blooded move. 
It's hard to say any of this is calculated, though. Many surmised that Weaver must have had someone ready to take the job already by making this move a month after most coaching moves occurred.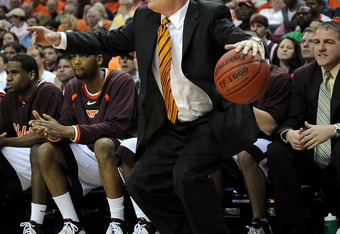 Kevin C. Cox/Getty Images
That doesn't appear to be the case so far, and that's no surprise. 
Some 40 schools have hired a new coach already this offseason. As Ken Pomeroy tweeted yesterday, "If you're firing your coach on April 23, that coach better have done some Brad Greenberg-type stuff. Otherwise, awful move."
That is of course a reference to Seth's brother Brad who got in some trouble during his brief stint as the head coach just down the road at Radford.
There's never been anything to indicate Seth cut corners. He was aggressive in recruiting and had to work harder than a lot of coaches to overcome the various obstacles Tech faces in an area dominated by ACC flagship schools like Duke and North Carolina. 
Seth Greenberg was exactly what Tech needed for a time, a firey, brash personality who wasn't afraid to stick his nose in the face of Coach K and to challenge the ACC elite. 
The players bought in and realized Virginia Tech wasn't just a bottom-of-the-league program as many had predicted, but a team capable of finishing in the top third. 
It's no surprise that over time Seth's personality wore thin with people. Blacksburg isn't used to big personalities. We're used to "aw shucks" Frank Beamer and the rock and stability of the football program. 

Still, I will remember Seth for the excitement and energy that he infused in a dormant program.
I loved his sometimes brutally honest media relations and can't wait to see him on ESPN. He will instantly be the best basketball analyst for them or whatever network hires him. 
He has two ACC Coach of the Year awards, one NCAA tournament appearance and a plethora of NIT bids to show for his time storming up and down the sideline in Cassell Coliseum. 
Many of the most exciting athletes in Hokie hoops history have come through during Seth's time, and he leaves having helped build a beautiful multi-million-dollar basketball practice facility that has helped make Tech's facilities relevant. 
Say what you will about Greenberg, love him or hate him, he gave Virginia Tech everything he could and did a great deal to advance the program. 
If you can't see that, you're certifiably insane.