Mike Tannenbaum's Job Could Ride on Darrelle Revis Holdout and NFL Draft
April 24, 2012

Karl Walter/Getty Images
The Jets need Darrelle Revis.
However long they are without him is however long they are without their best player. The Jets are top-heavy at several positions—including cornerback—and general manager Mike Tannenbaum's shaky draft history is indicative of their inability to find quality depth through the draft. Their lack of depth is what caused their flight to crash-land in 2011, and if Revis misses any significant amount of time, Revis Island could become a sovereign nation.
The Jets' 2012 season rides not only on a strong draft class, but also on Revis being present for 16 games.
Obviously, Tannenbaum's job does as well.
Could Revis really hold out again, just 19 months after his previous holdout? According to Revis, via CBS New York:
I just don't know. ...I'm not saying I am going to hold out, I'm not saying I'm not going to hold out. Right now my focus is just being on the team. ...I'm getting ready for the 2012-13 season. That's all I can do.
That's all he can do for now, anyway, but when the regular season comes, Revis can do far more than that. He tilts the numbers in favor of the Jets defense; he takes away an opponent's best threat; he allows head coach Rex Ryan's defensive scheme to function by allowing the Jets to mix it up in the front seven.
He is a game-changer.
He carries the burden.
And if he misses time, he'll be sorely missed by the Jets defense.
The fact that the Jets are even in this position speaks to organizational dysfunction. The Jets have made 13 draft picks since 2009. Eight of them were either running backs, wide receivers or quarterbacks. Three of them were third- or fourth-round picks, and those three picks produced only one starter.
They are consistently looking two inches in front of their nose with their top talent and not looking long enough at the big picture of the team.
A unit can't be so reliant on one player and expect to do well without him, but Tannenbaum and Ryan can't afford to find out.
In that sense, their job was made a little more difficult by their head coach.
Ryan gave Revis big-time leverage in any negotiation when he handed him the "best defensive player in the league" label back in 2009 (one year before the holdout) and upgraded him to the "best player in the league" in 2011 (one year after the holdout).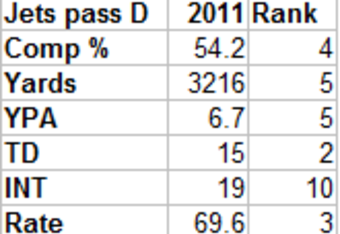 Despite having a much tougher time pressuring the quarterback in 2011 than in years past, the Jets still finished third in the league in defensive passer rating, holding opposing quarterbacks to a 69.6 rating on the season. That's thanks in large part to Revis' 45.6 passer rating (second-best in the NFL) on throws in his direction.
This dominant pass defense is all Revis. It's not as though the rest of the Jets secondary is stellar, or even solid; look no further than cornerbacks Antonio Cromartie or Kyle Wilson for examples of the erratic play in the secondary aside from the steady hand of Revis.
If you're still scratching your head as to why he would hold out so soon after getting a new deal, you're not alone. But ESPN's Rich Cimini has a look at the numbers in his contract, which reflect an interesting dynamic to his distaste with the dollars:
No doubt, Revis made great money the past two years, a total of $32.5 million -- accomplishing the $16 million-a-year average (the Nnamdi Asomugha standard) he coveted. But his compensation drops to $7.5 million this year and $6 million in 2013 -- a bargain rate for the best cornerback in the NFL.
Revis wanted to get paid like Nnamdi Asomugha, roughly $16 million per year, and he got that for two years. For the final two years of his contract, though, he's slated to make less than half what he was making per year over the past two seasons. That's a pretty big pay cut for the "best player in the league."
The contract given to Revis in 2010 stopped the bleeding but didn't heal the wounds, and therefore it earned a very fitting billing as a "Band-Aid contract" from Cimini.
At 26 years old, though, another Band-Aid may not do the trick. This time around, the wound may need stitches before it heals correctly.
The only problem is, where will the money come from? As of March 30, the Jets only had $7.6 million in cap space with which to sign all of their rookie draft picks (they currently hold 10 selections in the draft).
The money is not there for Revis.
The Jets are in cap jail, and it's mostly thanks to the work of Tannenbaum. Their usual tactic in such a scenario would be to restructure several contracts to make the necessary room, but there's almost no one left to restructure.
Both quarterback Mark Sanchez and tackle D'Brickashaw Ferguson already reworked their deals to make room, and center Nick Mangold doesn't count for much more than $2 million against the cap. Wide receiver Santonio Holmes, tackle Wayne Hunter and linebacker Bart Scott all have guaranteed dollars. David Harris just signed his deal last year.
If he's unable to clean up his own mess, and the Jets suffer for it, there's no reason Tannenbaum should remain the general manager in 2013.