Barcelona vs. Chelsea: Preview, Start Time, Live Stream, Betting Odds and More
April 23, 2012

Mike Hewitt/Getty Images
Chelsea and Barcelona both faced setbacks this weekend in league play in respect to their goals, but both must forget them quickly as they prepare for the second leg of their Champions League tie at Camp Nou.
Chelsea played Arsenal to a dull 0-0 draw, while Barcelona suffered a 2-1 defeat to Spanish rivals Real Madrid. The tie for the Blues hindered their chances of claiming a fourth-place finish in the EPL, and the Barca loss all but mathematically eliminated them from winning their fourth straight La Liga title.
But when the game kicks off on Tuesday night, none of this will matter, as a Champions League title is the top prize either of these teams can now hope for.
Barcelona are heavy favorites heading into the match, but they are going to have to make up a one-goal deficit after they failed to break down a resilient Chelsea last week. The Catalans dominated possession and the run of play, but Chelsea relied on their strength and a well-organized and incredibly disciplined defense that frustrated their opponents into a 1-0 victory for the hosts.
However, Chelsea could be without their star of the first match, Didier Drogba. The striker scored the only goal and provided much-needed hold-up play to give the defense a break.
Fernando Torres may be forced into the start and will have to perform up top on his own, as few would imagine the Blues not sticking to the same game plan at Camp Nou.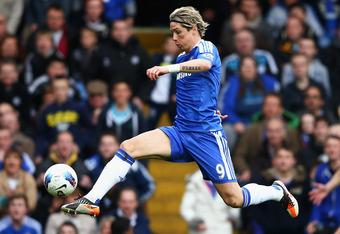 Clive Mason/Getty Images
Here is everything you need to know for the Champions League semifinal showdown.
Where: Camp Nou, Barcelona
When: Tuesday, April 24, 2:45 p.m. ET
Watch: Fox Soccer Channel
Live Stream: FoxSoccer2go.com
Betting Odds
Bet365 has Barcelona the favorites at 1/4, Chelsea at 9/1, while the draw is 5/1. Lionel Messi is the heavy favorite to score first at 7/4, with eight other Barca players ahead of the first Chelsea men,  Drogba and Torres, who are both at 10/1.
Player to Watch: Fernando Torres
If Drogba is injured and kept out of the starting lineup Tuesday, Torres will have to be the one to make something happen. Though Chelsea sits on a 1-0 lead and can advance with a loss by only one goal, it is really illogical to think that Barcelona will find the net only once in three straight matches. Torres most likely will have to create a goal somewhere.
The real issue is that unless the entire squad out there is working to suit Torres' play, he seems to vanish and become obsolete, as he did against Arsenal over the weekend.
With wingers and a midfield that are more comfortable going direct and playing it out wide, as opposed to working possession through the center and finding Torres on a run, the Spaniard essentially provided nothing all game.
On Tuesday, it would be foolish for Torres to think that he will have it any easier. There will be even less midfield support, as the entire team will drop back to help out on defense. If Torres is going to make anything happen, it will have to be on his own and out of nowhere.
The only thing that benefits the striker is the lack of physicality the Barca defenders play with in contrast to the EPL's. Torres has played better in Europe than England this campaign, mostly because he does not not get pushed off the ball as often and with so much ease.
If Torres can manage one goal, it may take Chelsea's hopes of progressing from a dream to a feasible reality.
Stats Tell the Story
Chelsea goalkeeper Petr Cech has never once allowed Barcelona to score more than two goals against him and has given up one or less in their last four meetings.
Interesting Trivia
Barcelona has not lost two games in a row since suffering back-to-back defeats to Espanyol and Atletico Madrid in 2009. They have not lost three in a row since 2003 against Valencia, Celta Vigo and Atletico Madrid. Torres scored the opener for Atletico in that 3-0 victory.
Prediction 
Barcelona 2, Chelsea 1
For all my articles, follow me on Twitter: @thecriterionman