Penguins vs. Flyers: Highlights, Twitter Reaction and Analysis from Game 6
April 22, 2012

Paul Bereswill/Getty Images
The Philadelphia Flyers finally closed out their Keystone State series against the Pittsburgh Penguins with a 5-1 Game 6 victory at the Wells Fargo Center in Philly on Sunday. The Flyers put a decisive stop to the offensive onslaught that'd yielded a whopping 50 goals between these two teams over the first five games, playing with a renewed defensive physicality to disrupt Pittsburgh's high-octane attack and protect a three-goal lead.
This after allowing the Pens to waddle back into the series with wins in Games 4 and 5 after the Flyers swept through the first three.
Tweets of the Night
Like many hockey fans who'd followed this series, Dave Stubbs of The Montreal Gazette thought Game 6 would be another goal-scoring bonanza...though perhaps, his expectations went a tad bit above and beyond the norm:
So today's #Flyers #Penguins tilt should finish something like 39-36, right?

— Dave Stubbs (@habsinsideout1) April 22, 2012
Sam Carchidi of The Philadelphia Inquirer snapped a photo of the orange shirts worn by Flyers fans at Wells Fargo Arena, which give a decisive nod to head coach Peter Laviolette for a famous line of his from HBO's 24/7 series (WARNING: the clip contains strong and explicit language):
Shirts given to fans at #Flyers, Pens today. twitter.com/BroadStBull/st…

— Sam Carchidi (@BroadStBull) April 22, 2012
As Hockey Pains points out, Claude Giroux might have a future in management if his play against the Pens has been any indication:
Can Giroux buy the Coyotes too? Apparently he owns the Penguins.

— Hockey Pains (@HockeyPains) April 22, 2012
Must-See Highlight
It didn't take long at all for Claude Giroux to put his stamp on Game 6. The Flyers' scoring star set the tone with a big hit on Sidney Crosby just after the puck dropped in the first period and came back to score the opening goal just moments later.
Grades for Key Penguins Players
Sidney Crosby: C+
Sidney Crosby's solid series came to a close with little more than a murmur. The Pens' superstar center managed just two shots on goal and a minus-two rating without registering a single point after stringing together eight points through the first five.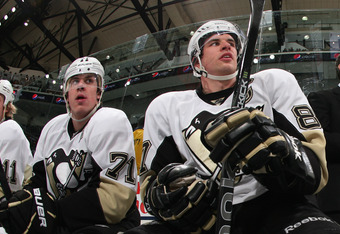 Bruce Bennett/Getty Images
Evgeni Malkin: B+
Geno had himself a decent outing against the Flyers, albeit one that couldn't quite keep the Pens close enough to force Game 7. Malkin registered Pittsburgh's only goal of the contest to finish the series with a total of eight points.
Grades for Key Flyers Players
Claude Giroux: A
A goal, two assists, a plus-two rating, a Flyers-record 14 points in the series and a tone-setting hit on Sid the Kid...
I'd say Giroux had a pretty darn good game. Wouldn't you?
Ilya Bryzgalov: A+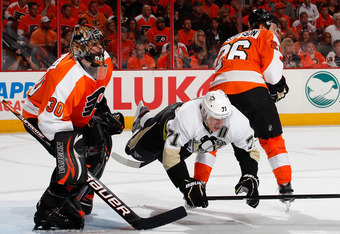 Paul Bereswill/Getty Images
Ilya Bryzgalov finally rewarded the Flyers for their faith (and sizable investment) in him. After surrendering four goals per game through the first five, the big Russian came up aces in Game 6, stopping 30 of 31 shots while practically standing on his head.
With a little help from his 'mates on the blue line, of course.
Deciding Factor: Defense
The Flyers finally put an end to this thrilling, up-and-down series by slowing down the pace and hitting the Penguins in the mouth.
Legally, that is.
Philly didn't exactly achieve Broad Street Bully status, though the team's physicality—along with Bryzgalov's brilliance in net—did plenty to stifle the goal-happy Pens in the deciding game.
Game MVP: Bryzgalov
Giroux deserves plenty of credit for getting the Flyers going in this one, though it's tough to overlook just how good (and important) Bryzgalov was with his finest performance of the postseason by far.
What's Next?
The Pens will head back to Pittsburgh to being a long offseason as the failed Stanley Cup favorites, while the Flyers will wait and see what happens with seeding while the other three Eastern Conference Quarterfinal series sort themselves out.