UFC: A Decisive Anderson Silva Win Should Shut Chael Sonnen Up Forever
April 22, 2012

Ethan Miller/Getty Images
Chael Sonnen is a good fighter who has talked people into believing he is a great fighter despite having a record which is not impressive by UFC standards. His wins to losses ratio is not even 3-to-1, and he's been beaten 11 times.
He's 6-4 in the UFC which is above average, but not many fighters with this sort of UFC record get title shots, and no-one gets as much attention as Sonnen. He doesn't even finish many fights; five of his six wins are by decision.
Sonnen is good enough to be in the UFC, but he isn't deserving of the sort of attention he currently receives. He's just been extremely clever in creating a sort of WWE-style persona for himself. It has been fun while it lasted, but the time has come for someone to give Sonnen a reality check and who better to do that than his nemesis—reigning UFC middleweight champion Anderson Silva?
Silva has already beaten Sonnen once, and despite Sonnen's stupid claims that he won that fight and is the rightful holder of the title, there can be no more concrete an admission of defeat than a tap.
Sonnen was stuck in a triangle choke, so if he wasn't sure that he had lost, he could have waited to pass out, but he decided to concede the fight by tapping first, so it's a bit strange that he should start going around acting as if he had won.
I might not be that impressed by Sonnen's fights, the only time he looked really good was when he beat Stann, but I do like how he has a way of always keeping himself in the headlines. He even got caught using performance enhancing drugs after the fight with Silva, so even if he had won, he would only have been stripped of the win and the title, but no one seems to mind that much.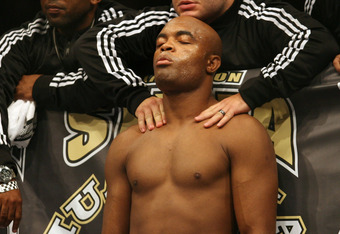 Tasos Katopodis/Getty Images
If Silva had been caught with the PEDs in his body, his reputation would have been destroyed, but Sonnen somehow managed to make people overlook the failed test as well as his conviction for money laundering. It's been a roller-coaster ride, but the time has come for it to end because the UFC is a place for fighters, not talkers.
The performance against Sonnen was one of the worst of Silva's career, but he had really hurt his ribs badly before it and should have pulled out. A fully fit Silva would have put in a totally different performance that day, and without the PEDs in Sonnen's system and the damage to his ribs, he should find it far easier to overcome the trash-talking American in the rematch.
It has been fun while it lasted, and I'm sure Sonnen will stay in the UFC for years to come, provided he doesn't fail any more drug tests or end up getting convicted of something more serious than money laundering. He's nowhere near being the best fighter in the world, and I can't wait to see Silva give him a smackdown—be it in Brazil or Las Vegas.