Chicago Bulls Can Use Late-Season Struggles to Refocus for Playoffs
April 21, 2012

Jonathan Daniel/Getty Images
Oh how the mighty have fallen, sort of.
Just a little over a week ago, Charles Barkley made an appearance on The Waddle and Silvy Show and lauded the Bulls as the best team in the East, picking them the beat the Heat if they were to match up again in the Eastern Conference Finals, via ESPN.com
Well, the Chicago Bulls are 5-5 over their last 10 games and their once-solid lead over the Miami Heat for the Eastern Conference No. 1 seed is up for grabs all of a sudden.
If they are the best team in their conference, they certainly haven't played like it as of late.
This late-season lull can be attributed to a number of things; the most notable of these factors is probably the here today/gone tomorrow role that Derrick Rose has assumed.
Rose came back on April 8 after missing 12 consecutive games due to a pulled hamstring; since that losing effort against the New York Knicks, he has appeared in only two of the six subsequent games the Bulls have played.
The in-and-out participation of the reigning MVP probably disrupted the team chemistry as the supporting cast was bracing to return to their usual roles instead of the expanded ones they had grown used to playing.
Despite the interruption of fluidity, there is no need to push the panic button in Chicago just yet.
Given the hardships this team has stared down and conquered over the course of this season, the current woes of the Bulls are just another collective obstacle to overcome.
There are many ways Chicago stands to benefit from this rough patch.
For one, Chicago has done so many things right all season, it's actually okay for a change to falter a little going into to home stretch because it gives them an opportunity to see flaws they may have been overlooking during the course of the year.
Given the Bulls' success with key players being injured all season, they may have started looking at themselves as a team with no real Achilles' heel.
Sure they knew that there were times where they were not be able to play their game and lost, but they may have felt like they were never really exposed.
It was easy to point to the Miami Heat and make note of their lack of frontcourt size or the Oklahoma City Thunder and point out the absence of an even adequate defensive scheme to complement their high-octane offense.
At one point, it was easy to point to the Chicago Bulls and say that they were a one-trick Rose dependent pony that relied on their defense to make up for their offensive ineptitudes.
Tom Thibodeau and the rest of the Bulls team have spent most of this season proving that there is way more than meets the eye with this ballclub.
Now the Bulls find themselves in an unfamiliar position of being a quasi-struggling regular-season team.
This is a circumstance that can used as a wake up and motivate Thibs to make some highly qualitative tweaks before the playoffs start.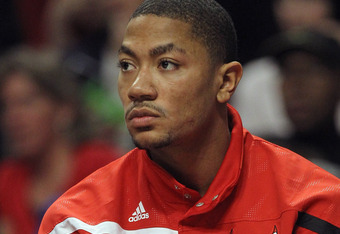 Jonathan Daniel/Getty Images
The hard reality pill that Chicago has been forced to swallow may be just what was needed to get this usually disciplined team to hone their focus and get back to playing solid Bulls basketball.
Despite what may be a consensus on finishing strong, there is a downside to getting hot before the playoffs.
End of the year success could lead to false sense of bravado which sets up a lot of teams for postseason disappointment.
Seeing how Chicago has responded to adversity all year should serve as encouragement that this team will have addressed any major lingering issues and be ready to run in May.
Every major team has gone through perils this season; the only thing that makes the Bulls' trials more prominent is the timing.
Had Chicago gone through a bad stretch like this a month ago, the fuss would not be as cacophonous as it is now.
At the end of the day, people just need to remember that Thibodeau is a great coach, the Bulls are a great team and they will come out of this better than when they went in.