10 Things I Think I Know About the 2012 NFL Draft: Defensive Backs
April 20, 2012

Jonathan Daniel/Getty Images
1. We're all underestimating how high Dre Kirkpatrick (Alabama) and Stephon Gilmore (South Carolina) will go and how many teams will be considering them. The high price paid to mediocre talent at corner in free agency shows us that cornerback might be the second-most valuable position in the NFL after quarterback.
2. Mark Barron (Alabama) is almost certain to go in the top 20 if you believe the buzz, but Notre Dame's Harrison Smith could be as good for a team that already has a center fielder. He will be a solid value pick in the second—if he doesn't surprise and get into the first round.
3. Janoris Jenkins (North Alabama) is too good to fall too far in the draft. The character-risk tolerance at corner and wide receiver seems to be higher, and he has already shown that he can hang with elite wide receiver talents.
4. Brent Grimes, Lardarius Webb, Brandon Carr and Cortland Finnegan's status as elite free agent (Grimes was franchised and Webb an RFA) corners this offseason will help nudge teams to take the plunge on small-school corners. Trumaine Johnson (Montana), Ryan Steed (Furman) and Josh Norman (Coastal Carolina) are names to know on the second and third day of the draft.
5. George Iloka (Boise State) could change ideas about what body type fits in NFL secondaries. He can cover zone and man, support against the run, and he has rare length to hang with the Calvin Johnsons of the world. He won't get out of the second round.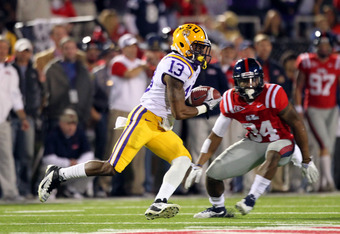 Joe Murphy/Getty Images
6. Ron Brooks (LSU) isn't well-known, because he played in the shadow of Morris Claiborne and Patrick Peterson, but he has the talent to start on Sundays. He could hear his name on the draft's second day.
7. It will be tough to predict when Omar Bolden (Arizona State) goes in the draft. He might have been a top-five to top-10 corner in this class if he hadn't torn his ACL last spring. He's the kind of player a team might reach for if it had a first-round grade on him after his junior year, because he reportedly looked like his old self at his pro day.
8. Duke Ihenacho (San Jose State) plays like a linebacker in the secondary because he used to be one—a good one. He could be a Bernard Pollard-esque force for a team with a good free safety. Don't discount his staring potential if he lasts until the third day—safety is one of the least valued positions in the draft.
9. Cornerback is one of the deeper positions in the draft, but that doesn't mean teams will feel comfortable waiting to take "their guy." With the NFL becoming more of a passing league, nickel corner basically has starter importance, and a lack of depth is often exposed in December and January.
10. Teams doing their homework on Justin Blackmon will notice the trouble that Leonard Johnson (Iowa State) gave Blackmon with his aggressive, physical approach to the position.