2012 NFL Mock Draft: Dontari Poe Takes a Tumble, Brandon Weeden Gets in the 1st
April 20, 2012

Doug Pensinger/Getty Images
With less than a week to go, the first round of the draft continues to come into focus. Combine buzz on players like Dontari Poe fades while players like Shea McClellin and Chandler Jones are finding themselves on more and more mock first lists.
1. Indianapolis—Andrew Luck, QB, Stanford: No surprise here, expect a deal to be done very soon.
2. Washington (from St. Louis)—Robert Griffin III, QB, Baylor: Now, the Redskins can start negotiating with RG3.
3. Minnesota—Matt Kalil, OT, USC: No one will meet the Vikings' asking price, so they will be "stuck" with Kalil.
4. Cleveland—Trent Richardson, RB, Alabama: The easy, safe pick, but one that may not change the ultimate outcome of the Holmgren/Heckert era.
5. Tampa Bay—Morris Claiborne, CB, LSU: The only way the Bucs have a real decision to make is if Justin Blackmon or Ryan Tannehill go in the top four.
6. St. Louis—Fletcher Cox, DT, Mississippi State: The national media woke up to this possibility this week, but people like Lance Zierlein from The Sideline View and Dane Brugler from CBS Sports have been talking about it for weeks.
7. Jacksonville—Justin Blackmon, WR, Oklahoma State: The Jaguars will want to trade down, but who will want to trade up? A very difficult pick to mock no matter who actually exercises it.
8. Miami—Ryan Tannehill, QB, Texas A&M: I won't be surprised if they pass on Tannehill, but he still seems like the pick for any number of reasons.
9. Carolina —Quinton Coples, DE, North Carolina: Defensive end is still a premium position, and Coples is still a mega-talent. Another tough pick to mock that could easily be traded.
10. Buffalo—Michael Floyd, WR, Notre Dame: Offensive tackle is a greater need, but Floyd is more worthy of a top-10 pick than any tackle on the board.
11. Kansas City—David DeCastro, OG, Stanford: Safer than Dontari Poe and a rarer prospect at his position than Luke Kuechly.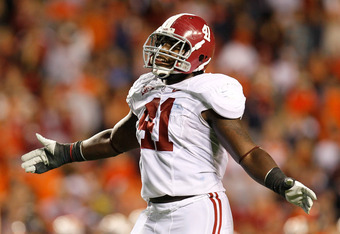 Kevin C. Cox/Getty Images
12. Seattle—Courtney Upshaw, DE/OLB, Alabama: The Seahawks don't need a quick-twitch edge rusher, they need a good two-way end with linebacker qualities, grit and attitude. Upshaw fits the bill.
13. Arizona—Riley Reiff, OT, Iowa: Right tackle, left tackle, it doesn't matter, Reiff will instantly be the best offensive tackle on the Cardinals roster.
14. Dallas—Michael Brockers, DE, LSU: A perfect fit in Dallas' defense and hopefully what Marcus Spears was supposed to be.
15. Philadelphia—Stephon Gilmore, CB, South Carolina: A high-upside athlete who is a good fit in Philly. This is the low end of his possible range.
16. New York Jets—Melvin Ingram, DE/OLB, South Carolina: The Jets get their guy, and they don't have to move up to do it.
17. Cincinnati (from Oakland)—Luke Kuechly, LB, Boston College: A safe pick who will have the defensive tackles in front of him to maximize his effectiveness.
18. San Diego—Mark Barron, SS, Alabama: The Chargers merry-go-round at strong safety comes to an end.
19. Chicago—Dre Kirkpatrick, CB, Alabama: Kirkpatrick and Peanut Tillman will give the Bears the most physical pair of corners in the league.
20. Tennessee—Whitney Mercilus, DE/OLB, Illinois: Signing Kamerion Wimbley was just the first step in overhauling the defensive end unit.
21. Cincinnati—Cordy Glenn, OL, Georgia: Glenn can be a dominant guard and provide good depth at both tackle positions. The Bengals should be happy to get him here.
22. Cleveland (from Atlanta)—Brandon Weeden, QB, Oklahoma State: The Browns can't afford to let Weeden get sniped by another team in the late first round.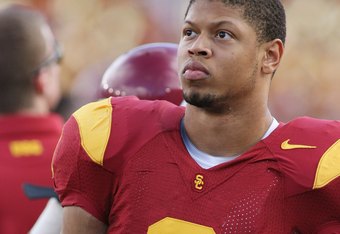 Jeff Golden/Getty Images
23. Detroit—Nick Perry, DE/OLB, USC: With the Cliff Avril negotiations at a standstill, the Lions decide to improve their long-term DE situation.
24. Pittsburgh—Dont'a Hightower, LB, Alabama: Kuechly or Glenn could fall into the Steelers' lap, but if that doesn't happen, they'll be happy to add Hightower.
25. Denver—Peter Konz, C, Wisconsin: Center is one of the weak links on the offensive line in front of Peyton Manning, and Konz is the best in the class. This is the beginning of a likely trade-down zone in the late first.
26. Houston—Dontari Poe, DT, Memphis: The Texans take a chance on a boom/bust workout warrior who could work out as a nose tackle in Wade Phillips' defense.
27. New England (from New Orleans)—Janoris Jenkins, CB, North Alabama: The Patriots will tolerate character risks if they think they can improve the team. Jenkins can. The amount of recent negative buzz about Jenkins reeks of teams trying to get him to drop to them in the late first round.
28. Green Bay—Shea McClellin, OLB, Boise State: He just fits across from Clay Matthews. An instant fan favorite at Lambeau. There's some buzz that he may go higher than this.
29. Baltimore—Jonathan Martin, OT, Stanford: Bryant McKinnie worked out, but the Ravens know that won't last forever.
30. San Francisco—Kevin Zeitler, OG, Wisconsin: An instant starter and one of the safest picks on the board.
31. New England—Chandler Jones, DE, Syracuse: His versatility and upside would be an excellent addition to the Patriots defense.
32. New York Giants—Kendall Wright, WR, Baylor: Jerry Reese lets the draft come to him and collects the value pick regardless of need.