Texas A&M: Why Bill Byrne Should Be Fired
April 20, 2012

Aaron M. Sprecher/Getty Images
Rumors have been spreading like wildfire all over the Internet and the twitterverse for the past couple of days that Bill Byrne has been fired as the athletic director at Texas A&M. Whether he is fired or simply allowed to retire, with only a year left on his contract it appears that Texas A&M has made the correct decision to go in another direction.
Bill Byrne was hired at Texas A&M by then-school president Robert Gates to improve their athletic department. He inherited a profitable enterprise that was struggling on the field in football and men's and women's basketball.
Byrne turned the basketball programs around by finding Billy Gillespie and basically money-whipping Arkansas coach Gary Blair into coming to Aggieland. Byrne has made almost every program at A&M competitive at a national level.
At the same time, he has saddled the athletic department with a tremendous amount of debt while showing a propensity for giving coaches long-term contract extensions before firing them. He also continually embarrasses the athletic department and school by sticking his foot in his mouth when dealing with the media.
Byrne decided that a 14-14 season by Melvin Watkins was enough to deserve a multi-year contract extension. He fired Watkins the very next year. Byrne gave Dennis Franchione a multi-year extension making him one of the highest-paid football coaches in the country, after a 7-5 season and a loss in the Cotton Bowl.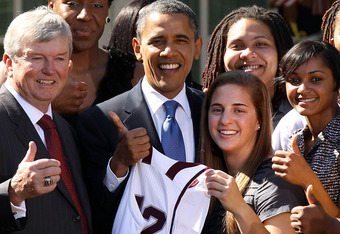 Alex Wong/Getty Images
It took Byrne three seasons after that to fire Franchione. He gave Mike Sherman an extension and a raise after the 2010 season, only to fire him and the 2011 season.
Bill Byrne has struggled to find a football coach that could win at a high level consistently. He has not been able to make the right hire at arguably the most important position in the Aggie athletic department.
Before Byrne arrived, the A&M athletic department had been running in the black for years. Byrne arrived and began borrowing money so he could build new facilities all over campus. Because of the debt service associated with these loans, the Aggie athletic department went from a profitable enterprise to one that was losing money.
Byrne's lack of controls on the athletic department finances led to a deficit that had to be covered with a loan from the university. This led to a lot of embarrassment for many Aggies who were also growing sick of Byrne's patronizing opinions towards the very people who paid his salary. 
Aggies understand that "someone has to pay for the scholarships," but do not understand why Byrne is unable to turn a profit while doing it like Wally Groff did before him.
It is never a good idea to insult your customers by blaming them for your financial issues because they have not been "selling out Kyle Field." When you put a mediocre product on the field fans tend to stay away.
The final straw for many was when Byrne inferred that he did not want A&M to join the Southeastern Conference during the summer of 2010 because he did not think they would be able to compete on the field.
An athletic department is competing for entertainment dollars. Who taught Bill Byrne that part of sales was insulting your customers while admitting you are selling an inferior product?
Even if you have the worst athletic department in the country, you are selling a product, and as the leader of the department you cannot project an image of defeat or weakness.
College sports fans rely on hope and Cinderella fantasies to justify the expense they incur while attending these events. Everyone wants to believe that this year could be "the year" no matter what school they cheer for and which sport.
That is simply common sense, but that is apparently too much for Byrne to grasp.
Byrne was willing to spend the money to bring top coaches like Blair and Pat Henry to A&M who have brought multiple national championship trophies to Aggieland. However, he has failed repeatedly to hire the right football coach.
He has displayed poor fiscal responsibility. He has also proven to be incapable of speaking to the media without insulting and embarrassing Aggies everywhere.
Byrne should be removed as athletic director and the Aggies should hire someone more qualified to guide the department as they start a new era in the SEC.