Robert Griffin III: Reported Selfish Streak Won't Impact QB's NFL Fortunes
April 19, 2012

Joe Robbins/Getty Images
The Indianapolis Colts have reportedly told Andrew Luck they'll select him with the No. 1 overall pick in next week's draft, putting the Washington Redskins on the clock in the process.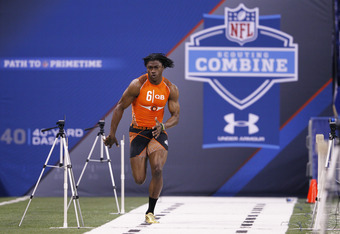 Joe Robbins/Getty Images
The Redskins traded their 2012, 2013 and 2014 first-round picks and a 2012 second-round pick to the St. Louis Rams for a chance to select the draft's No. 2 quarterback, Robert Griffin III.
The Heisman Trophy winner's stock rose steadily throughout the season and ultimately leveled off at No. 2 after the NFL Scouting Combine in late February. His rare dual-threat abilities make him a hard prospect to pass on given the immense potential that goes along with them.
But not everything with RGIII is yards, touchdowns and smiles, at least according to Bob McGinn of the Milwaukee Journal Sentinel. McGinn combined scouting reports from various scouts on the draft's top quarterbacks, and the report on Griffin had some interesting comments.
From one scout:
I don't think he has vision or pocket feel, which to me are the two most important components of quarterbacking. He's just running around winging it. He's (Michael) Vick, but not as good a thrower.
Another scout added:
He has better arm action and is more accurate with his deep ball, but he's not as good as Cam Newton. As much as is written about his athleticism, his athleticism under duress in the pocket isn't even close to Cam Newton's. This guy, the only way he gets big plays with his feet is if he's got a wide-open field and the sea opens for him.
Let's get one thing straight: Comparing RGIII and Cam as prospects is completely unfair—they're different body types with different skill sets.
Cam is a physically imposing athlete who progressed tremendously as a passer in his rookie season. He was a runner first and passer second. RGIII is much further along as a passer than Newton was at this time last year, and he uses his athleticism to help him throw.
Unlike the 2010 Heisman winner, RGIII looks to pass first and only runs when things completely break down. He'd much rather scramble and still make a throw rather than take off the way Cam does.
We watch Cam run like a running back through the line of scrimmage with regularity, but RGIII isn't looking to do that now or at the next level. As the scout above says, "the only way he gets big plays with his feet is if he's got a wide-open field," but that is the only way he wants to get big plays with his feet.
If a coach calls man-to-man coverage and the defenders turn their backs on RGIII, you better believe he's going to take off, but he's not going to run a sprint option draw through the teeth of the defense like Cam does for the Panthers.
Just because RGIII and Cam can run and throw with a combination of freakish athleticism and playmaking skills doesn't make them similar players.
In fact, the one thing that is most similar about them is their charisma and attitude, and the most intriguing part of the scout's report said:
"He's got a little bit of a selfish streak, too. Everybody was laying on Cam, but for some reason this guy has become gloves off. He doesn't treat anybody good." Another scout also questioned the way Griffin deals with people.
The RGIII the public sees is one consistently smiling, laughing and performing to the best of his abilities. In many ways he's similar to Cam in that respect, and Newton's attitude was questioned during the draft process last year in similar fashion.
Some may call it selfish; others may call it cocky or arrogant.
It is impossible to verify the scout's words—it's simply his opinion of RGIII—but we can make an assessment on what it may mean for Griffin's future in the NFL.
Quarterback, more than any position on the field, is about making the players around you better. If RGIII is truly a selfish player, it could damage his NFL career.
Yet what we saw from him at Baylor suggests the opposite.
Update: Griffin Responds
Will Brinson of CBS Sports talked with Griffin in Florida and the QB said:
Asked if he was surprised by such a claim, Griffin told CBSSports.com that it's just one of the things that comes with being in the draft and that the "people who know me ... know I'm not selfish."

"You could say [I'm] surprised, but you never know," Griffin told CBSSports.com. "It's just when the draft gets closer, everybody's going to try and find something wrong with you to try and pull you down, so I'm not going to sit here and argue that, well that guy is dead wrong. But I think the people that know me -- and even in the people in the media have seen -- know I'm not a selfish guy. You know you don't have to fight your own battles -- let other people fight them for you. 

"That's about all I can say about that. I heard it, but it's not something I'm going to address."
That is the best response Griffin could give and, more importantly, he was prompted about it rather than addressing it on his own. He's also correct about this type of information surfacing around now. It is always tough to trust information this close to the draft.
These claims won't affect the quarterback's draft stock at all and soon enough we'll have more to talk about as the draft closes in.
There was no player better than RGIII with the game on the line. Like Tim Tebow and Cam Newton, he's an ultra-competitive athlete who can make plays with his arm and his legs.
If he has to do it by himself, he will, but winning is the only thing that matters to him.
The scout's exact words were "treat anybody good." On the football field there is only winning and losing—kindness and manners have no place in a world where padded athletes continually attack one another for four 15-minute quarters.
On the football field, all we've seen from Griffin is elite potential and playmaking skills. He was the main attraction at Baylor, sometimes even a one-man band, but he couldn't do it by himself all the time, and he knew that.
On the football field RGIII gets it done any way possible—sometimes even with a little luck.
If this scout is correct in his assessment, then people may not like Griffin all that much, but ultimately it won't affect his on-field playing ability. He wants to win too badly.
If Robert Griffin III does have a "selfish streak," expect him to keep it off the field.