Ivan 'Pudge' Rodriguez Retires: Assessing Catcher's Hall of Fame Legacy
April 19, 2012

Doug Benc/Getty Images
Unable to find a job in the big leagues, Ivan Rodriguez has decided to call it a career after 21 seasons, 13 Gold Gloves, a World Series and an MVP award.
According to Jeff Wilson of the Fort Worth Star-Telegram, Rodriguez will make the announcement official in Arlington on Monday when the Texas Rangers host the New York Yankees.
Catcher Ivan Rodriguez will announce his retirement Monday at a 2 p.m. news conference and be honored Monday night in a pregame ceremony at Rangers Ballpark before the Rangers-Yankees game at 6:05 p.m., the club announced.
He will be remembered as one of the best all-around catchers in the history of baseball.
Playing in the greatest offensive era in Major League Baseball history, Rodriguez was the standard by which all catchers were measured. 
From 1996-2004, Rodriguez averaged 22 home runs, 83 RBI, nine stolen bases, a .318 batting average and 131 games. Given the low offensive standards that catchers are judged, those numbers are astounding. 
When you factor in the defense he provided behind the plate, there is no doubt that Rodriguez is a clear-cut, first-ballot Hall of Famer when his name appears on the ballot in 2017. Given the incomprehensible nature of the voters, I am sure they will find some excuse not to put him in, at least right away. 
More so than any other position on the field, catchers have to be great defenders. Besides the pitcher, no one touches the ball more than the man behind the plate.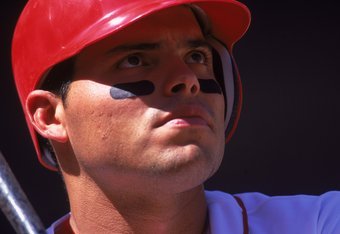 Ronald Martinez/Getty Images
The skills you need when playing catcher are the ability to receive the ball, block and throw. Rodriguez had some of the best hands in the sport when he played. He was brilliant at framing pitches, making sure he put his pitcher in the best spot to get a call and keeping the ball in front of him. His throwing arm is second to no one's in the history of the game. 
Looking at his fielding numbers throughout his career, Rodriguez was on a different planet than anyone else. According to Fangraphs, there was a four-year stretch from 1996-1999 where he was at least 60 runs above a replacement player. 
For his career, Rodriguez actually finished ahead of Johnny Bench, the greatest catcher in major league history, in Runs Above Replacement (753.9 to 752.1). 
The only problem, if you want to call it that, is Rodriguez played in such a strong offensive era that there were times his numbers would get overlooked. I mean 20-25 home runs for a player, even for a catcher, in the late 1990s was nothing. 
With Rodriguez retiring, the game of baseball is losing one of the greatest all-around players that many of us have ever or will ever see.