Green Bay Packers Mock Draft: Best and Worst Case for Every Round
April 19, 2012

Jamie Squire/Getty Images
We're heading into the home stretch for the NFL Draft and closing in on finishing up various mock drafts for every NFC North team.
Tonight, we undertake the mammoth task of doing the best and worst possible picks for each Packers selection.
There are just a couple really.
1st round, No. 28 overall

2nd round, No. 59

3rd round, No. 90

4th round, No. 123

4th round, No. 132 (compensatory pick)

4th round, No. 133 (compensatory pick)

5th round, No. 163

6th round, No. 197

7th round, No. 224 (from New York Jets)

7th round, No. 235

7th round, No. 241 (compensatory pick)

7th round, No. 243 (compensatory pick)

 
By couple, clearly I meant a dozen. A couple of sixes?
A lot.
Let's get started so I get to sleep before 1 a.m.
1st round, No. 28 overall—Shea McClellin, OLB, Boise State
There's some concern about concussions (he apparently had three in college) but at this point, this is nothing new and teams were aware a long time ago. The hype he's had isn't just going to die out and if they believed in him before, they still do.
That said, I can see people being uncomfortable with the pick. I'm not one of them.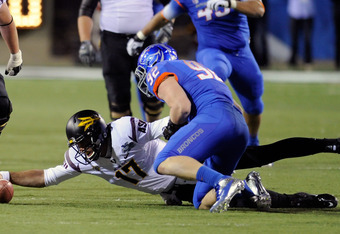 Ethan Miller/Getty Images
I wrote about him just the other day, and it all still applies: his non-stop motor, the multiple pass-rush tools, the fierce run defense. Maybe the Packers are scared off, but if they were interested a few weeks ago, it's unlikely anything has changed because they knew it all months ago.
If McClellin isn't there or they hesitate, Clemson's Andre Branch will be there. A potential DE to OLB conversion, Branch is an explosive pass rusher on the outside and would be outstanding either opposite Clay Matthews or even at his natural defensive end position.
2nd round, No. 59—Trumaine Johnson, CB, Montana
One of the best small-school prospects in a long time, Johnson can cover in man or zone, and has a frame which can make life difficult for receivers one-on-one. Some off the field issues are a concern, but not a big one, and under the care of the secondary already there, he could flourish.
If Johnson is gone, Oklahoma's Ronnell Lewis would look good at OLB across from Matthews. Plus his nickname is "The Hammer" and I can see him and Matthews as the Hammer and the Hair for years. Big hitter who is a bit raw but with a lot of upside.
3rd round, No. 90—Ben Jones, C, Georgia
Jeff Saturday is a nice addition, but long term, the Packers need to find a solution. Jones has been overshadowed by other Bulldogs, but here's a guy who regularly handled SEC d-linemen, which we all know is no small feat. He often made the line-calls and has a ton of experience under his belt.
If Jones is gone—and he just might be—Oklahoma State FS Markelle Martin would be a good choice. Martin is recovering from an ankle injury and surgery incurred while training this offseason but is a big hitter who sees the ball well and shows good anticipation.
4th round, No. 123—Matt McCants, OT, UAB
McCants is a great positional blocker who lacks elite quickness and bends at the waist a bit too much, but has the athleticism to overcome his issues.
If he's gone, the Packers should look at Senio Kelemete, the guard from Washington, who is a fluid athlete who can play both guard and tackle.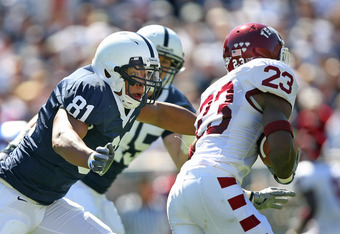 Hunter Martin/Getty Images
4th round, No. 132 (compensatory pick)—Jack Crawford, DE, Penn State
Crawford is a big productive end, who isn't a tremendous athlete, lacking the top end strength, speed and explosion of a top-prospect.
If Crawford is gone, the Packers can pick up Emmanuel Acho, the outside linebacker from Texas. Acho is best off the edge, where he can get around the tackle. He is very intelligent with a great work ethic.
4th round, No. 133 (compensatory pick)—T.Y. Hilton, WR, Florida International
You can never have too many solid wide receivers, and Hilton is a tremendously explosive athlete whose stock is marred by durability concerns. He'll be a role player for the most part, but his 4.3 speed will intrigue the Packers.
In case he's not there, the Packers might take a look at running back Tauren Poole. The former Tennessee back has great balance but average athleticism and needs to learn to be more patient with his blocks. He struggled in 2011, but would fit in well as a situational back who could develop into more.
5th round, No. 163—Russell Wilson, QB, Wisconsin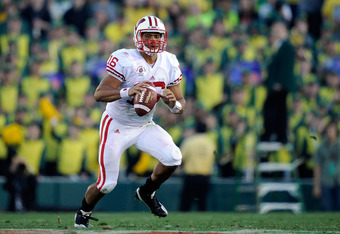 Kevork Djansezian/Getty Images
I loved him in Mobile at the Senior Bowl, I loved him on Gruden's LOOK-AT-ME-I'M-CHUCKY Camp and I'd love him even more after a year of the Packers' QB camp. Someone could pull the trigger before this, but his height is an issue. His mobility and accuracy should make it less of one.
If not Wilson, Alex Hoffman-Ellis, an OLB from Washington State, would be a nice fit. He is a big, hard-working linebacker who could contribute on special teams and potentially work his way up from there.
6th round, No. 197—Brandon Lindsey, OLB, Pitt
Lindsey has not looked great in workouts, but the tape says he's good while rushing the passer. I usually lean towards the film and in the sixth round, it's a chance you take.
At worst, they should be able to get Olivier Vernon, the DE from Miami. The U churns out some good players who are knuckleheads, and after accepting inappropriate benefits, Vernon might be the next one. He's raw but has a lot of upside. While character is a concern, the Packers should see this as a one time mistake and see what they can turn the kid into.
7th round, No. 224 (from New York Jets)—DeVier Posey, WR, Ohio State
The Pack is loaded at wide receiver, but at this portion of the draft, they can take a chance on a player with little ill-effect if they miss. Posey missed part of the 2011 season, when he was suspended along with several other Ohio State players for selling memorabilia for tattoos, but is a reliable receiver who is dangerous after the catch.
If they miss on Posey, they can take Derek Dennis, a versatile offensive lineman from Temple University.
7th round, No. 235—Adrian Robinson, OLB, Temple

Robinson lacks the speed and technique to go higher, but is a very hard worker who will lead the charge in the film and weight rooms.
IF Robinson is gone, Brandon Marshall (no not THAT one), an OLB out of Nevada, would be a good developmental prospect who is durable and hard working.
7th round, No. 243 (compensatory pick)—Scott Solomon, DE, Rice
Alonzo Highsmith, former player, boxer and current scout for the Packers was at Rice's Pro Day and called Solomon a "special player." Solomon is a good leader and a hard working player who can find the football quickly, but likely won't improve too much and struggles with penetration at times.
Another choice could be Southern Cal ILB Chris Galippo. He's limited physically, but has great instincts, is good in coverage and has special teams experience. In fact, he lost his starting spot as a senior, yet stayed intense while on special teams his senior year.