Detroit Red Wings Are on Brink of Elimination After Loss at Home
April 20, 2012

The Detroit Red Wings are in a deep hole.
The Wings lost both games at home to Nashville and are now in a serious state of worry being down 3-1 in the series. The Predators have pushed Detroit to the edge and are now taking the series back to Nashville, where they will try to finish the Wings off. 
This Detroit team is not looking like the team that won 23 straight games at home just a couple months ago. There isn't one reason that the Wings are losing—there are many reasons.
To start off, there are several forwards who have been non-factors all series. The main culprits, I believe, are Dan Cleary, Jiri Hudler, Todd Bertuzzi and Valtteri Filppula, who have been, for the most part, non-existent. Between those four, they have a combined two points and minus-11. That doesn't cut it. Johan Franzen hasn't been great, but hasn't been playing on the level of these four. 
Cleary has been pretty bad all season. I understand he has a bad knee, but the guy just has not been able to get it going at all. I have considered him the Red Wings LVP (Least Valuable Player). Everyone has their own opinion, but I just don't believe he has done anything to say otherwise.
I'm not talking about his career as a Red Wing, because he has had a decent one, but this season he has not played at the level where he should be. He had 33 points this season, which is not great, but his plus-two is one stat that shows his true color.
The Wings expected bigger things from Cleary as he was coming off a 26-goal, 46-point season last year. I was hoping he could maybe get it going in the playoffs, but he has continued where he finished in the regular season.
Mr. Hudler had a nice 25-goal, 25-assist season. Offensively, he played well and seemed to constantly be at the right place, at the right time. He also played on a line with Henrik Zetterberg and Filppula, which definitely helps and had something to do with those nice numbers.
Besides that, he didn't do much. He is not a good defensive forward and is very soft. He is a small guy, so he has trouble getting pucks in the corner and his speed, which smaller players usually need, does not makeup for his lack in size.  
Hudler has one goal and is minus-three this series. He has been useless. He needs to put points on the board, because he is not good for much else.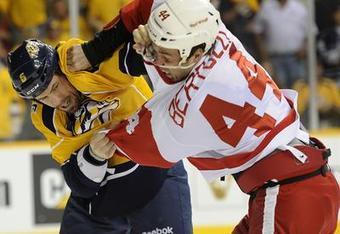 In my eyes, Bertuzzi had a good season. He had 38 points, which was sixth on the team, but was plus-23, which was tied for first on the team. That's very good on a Red Wings team that had 102 points.
I would say both the points and his plus/minus had to do something with being on a line with Pavel Datsyuk and Johan Franzen, so the numbers are a little deceiving, but overall he played well. He was physical and was smart with the puck, most of the time. He was also pretty good in shootouts.
This playoff series, he has been dreadful: zero points and minus-four. I would say the lone bright spot was fighting Shea Weber, in retaliation for Weber smashing Zetterberg's head in the glass at the end of Game 1. He did what someone on the team needed to and stuck up for one of the Red Wings stars.
Besides that, he has looked slow and been pretty useless. Coach Mike Babcock has even thrown him on the fourth line a few times. Bertuzzi needs to get it together if the Wings plan on taking the series back to Joe Louis.
Filppula was excellent during the regular season. He played great on both ends of the ice, offensively and defensively. He put up 66 points, which was third on the team (only three points behind the leading point getter on the Wings, Zetterberg), and was plus-18. It was hands down, the best season of his career.
Unfortunately, he has not carried that over to the playoffs. He has one point and is minus-three. He has gotten beaten on several plays, which led to goals for the Predators, and has just has been a non-factor.
I won't blame the Red Wings' poor play on just these four forwards. There have been many other players who haven't played well either.
Red Wings goalie Jimmy Howard has not been great. I'm not saying he isn't a good goalie, because he is. He has been solid this series, but nowhere near the level of Nashville's goalie, Pekka Rinne.
Being a solid goalie in the playoffs doesn't cut it, especially when your team only puts up an average of two goals a game. Jimmy Howard has not lost any games for the Wings, but he also hasn't taken over to win any games either. His 2.80 goals-against average and .879 save percentage needs to improve if the Red Wings are going to continue this series.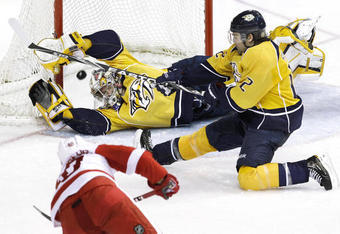 Two key defenseman have had a bad series as well: Brad Stuart, and the captain and backbone of the Red Wings, Nicklas Lidstrom.
The Red Wings have been better with Stuart not on the ice. He is minus-five, has zero points and has had several bad turnovers. He is not playing at the level anywhere near where he was in the regular season.
At 41 years of age, Lidstrom is still a very good defenseman and had a solid season. Although he only had 34 points, which was his lowest total since the 1994-1995 season, he was plus-21, and for Lidstrom, numbers can't describe how good he is and what a difference he makes on the ice.
This playoff series, he has played the way you might imagine a 41-year-old would. He hasn't been terrible, but he hasn't done much at all. He is the one player on the Wings that they need to step up right now.
I'm not going to say the only reason the Red Wings have been losing is because they haven't been playing good and up to our normal standards, because I believe Nashville has been playing well. Rinne is phenomenal, their offense has been consistent and their defense is very good, led by Weber and Ryan Suter.
With that said, I still believe Detroit has outplayed the Predators, and the Wings are mostly to blame for being behind in the series.
I am as a big of a Detroit Red Wings fan as you can find. But I'm honest, and I'll say when they are playing bad, which they are right now.
I believe they still can win, but they really have to all get on the same page and they need to put the puck in the net. Rinne is a stud—everyone knows that. But like every goalie and player in the NHL, he is human. If they can get some secondary scoring and a good outing from Jimmy Howard, I believe they can win and take the series back to the Joe.