Eagles and Bucs Looking to Trade Talented Corners for Different Reasons
April 18, 2012

Nick Laham/Getty Images
Both the Philadelphia Eagles and the Tampa Bay Buccaneers are reportedly shopping cornerbacks who were at one time considered the top corners on their respective teams but who have both fallen from favor with their ball clubs, for various reasons.
The Eagles, according to ESPN's Adam Schefter, have been calling around the league looking for a trading partner for Asante Samuel, who arrived for offseason workouts earlier this week. 
While Samuel takes a lot of heat (some of it deservedly) for his tendency to shy away from contact and tackling in general, there is no denying his skills are among the best when it comes to defending the forward pass—something paramount in this day and age in the NFL.
Our friends at Pro Football Focus point out that last year, Samuel was thrown at deep (at least 20 yards downfield) 12 times and allowed only one completion. Not to mention the fact that Samuel led the league in interceptions as recently as 2009 and 2010.
So if Samuel is so good, why are the Eagles trying to trade him? Simply put—money.
The Eagles no doubt are trying to get something for Samuel before having to pay not only the $9.9 million he is due in 2012, but more importantly the $11.4 million he is due in 2013. After paying big money to Nnamdi Asomugha last year, they won't be able to afford to keep both corners on the roster for much longer.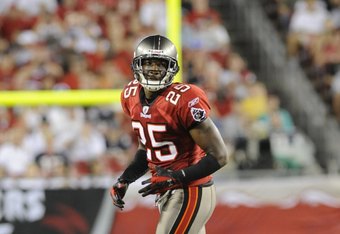 Al Messerschmidt/Getty Images
Meanwhile, according to PewterReport.com, the Bucs are attempting to shop troubled corner Aqib Talib. With a new, disciplinarian head coach in Greg Schiano, who has already gotten rid of safety Tanard Jackson, it seems Talib's time with the Bucs is close to reaching its end.
While Talib is immensely talented, he has been unable to stay on the field due to various injuries the last two years.
However, the much more serious issue facing Talib and the Bucs is the corner's pending legal troubles. Talib is set to go on trial for aggravated assault with a handgun on June 25, stemming from an incident where he is accused of shooting a gun at his sister's ex-boyfriend.
With the trial hanging over him, its hard to see any team spending even a low-round pick to acquire him. More likely, the Bucs will end up drafting a corner high in next week's draft and simply releasing Talib later this summer.
There is, of course, a chance they could just keep Talib on the roster, but the feeling around One Buc Place since Schiano's arrival certainly seems to suggest Talib will be gone sooner rather than later.