NBA Draft 2012: Kentucky's 5 Stars May Help SEC Set NBA Record
April 18, 2012

Andy Lyons/Getty Images
With the profoundly unsurprising news that Kentucky's five underclassman starters have all declared for the NBA Draft, nearly all of the players who project as first-round talents have announced their intentions.
What may be surprising is that the five Wildcats are part of a bumper crop of SEC talents set to put an indelible stamp not only on this year's draft, but the draft's entire history.
In the lottery era—1985 and on—no single conference has had more than eight players selected in a single first round. The 1995 draft featured eight ACC players, including solid pros Jerry Stackhouse and Rasheed Wallace and first overall pick Joe Smith.
That record has survived the consolidation of college conferences into 12- and 16-team behemoths. It even survived Kentucky's 2010 class, where John Calipari's first team sent five players into the first round by itself.
That year's Wildcats got no help from the rest of their conference, as the rest of the SEC could not produce a single first-round pick.
This year, Kentucky's five stars are being joined by a solid group of talents from the SEC that could lead to the conference producing an all-time record 10 first-round selections.
A capsule look at the league's 10 potential pros:
1. Anthony Davis, Kentucky
Projections: No. 1 pick (NBADraft.net, DraftExpress.com, ESPN's Chad Ford)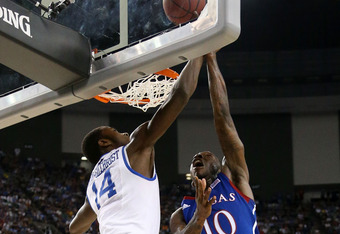 Ronald Martinez/Getty Images
Davis was drawing comparisons to Patrick Ewing for doing everything but scoring in the Final Four.
In reality, his most valid NBA comparison may be to Marcus Camby, another lanky big man who rode tremendous rebounding and shot-blocking numbers to the top of the draft. If he's as productive as Camby and lasts as long, he'll have put together a fine career.
2. Michael Kidd-Gilchrist, Kentucky
 
Projections: No. 2 (Chad Ford), No. 3 (NBADraft.net, DraftExpress.com)
MKG may have saved the championship by rallying to block a layup from Kansas's Tyshawn Taylor. His ability and desire to rally from being badly beaten on a back-door cut are precisely what scouts salivate over.
He could compare favorably to a player like Gerald Wallace even if his offensive skills never quite catch up to his defense. If his offense does become as good as his defense, could he be a latter-day Scottie Pippen?
3. Bradley Beal, Florida
Projections: No. 5 (Ford, DraftExpress), No. 7 (NBADraft.net)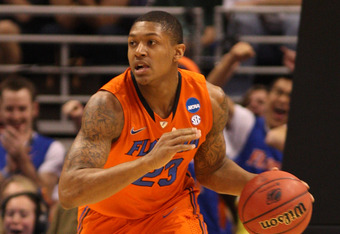 Christian Petersen/Getty Images
In a draft sorely lacking in point guard prospects, some enterprising team may ponder trading up for Beal and seeing if he can run an offense. Touted as a great shooter, he had issues with his jumper's consistency this season and will need to remedy those to reach his potential.
He could go as high as No. 2 if the right team lands that pick.
4. Terrence Jones, Kentucky
Projections: No. 11 (DraftExpress), No. 12 (Ford), No. 20 (NBADraft.net)
Jones could have put himself into the top five if he had come to play every night. He occasionally prefers to kick around the perimeter and jack up jump shots.
He could be the best player in this entire draft class if he finds his motivation every night. That No. 20 projection seems overly harsh, as some lottery team will take a chance.
5. Arnett Moultrie, Mississippi State
 
Projections: No. 8 (NBADraft.net), No. 19 (Ford), No. 24 (DraftExpress)
The No. 8 projection has Moultrie headed to the Pistons, where he would play next to Greg Monroe. While that would give the Pistons an athletic low post duo, neither is a true NBA center. He's hampered by being a 21-year-old in a class full of teenagers.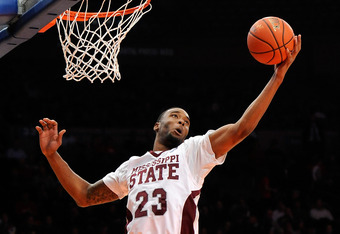 Patrick McDermott/Getty Images
Somewhere around the mid-teens should be realistic for him.
6. Jeffery Taylor, Vanderbilt
Projections: No. 19 (DraftExpress), No. 22 (Ford), No. 25 (NBADraft.net)
Two of these projections have Taylor going to Denver at 19 and Memphis at 22, where he would play with solid point guards in Ty Lawson and Mike Conley. Having a point guard who can help him create his offense could make Taylor an effective wing scorer in the NBA.
He could dive toward the bottom of the round if scouts aren't convinced that he can shrug off bad games.
7. Marquis Teague, Kentucky 
Projections: No. 18 (DraftExpress), No. 25 (Ford), No. 27 (NBADraft.net)
Ford's projection has Teague going to his hometown Pacers, who could certainly use a point guard with his quickness and vision. He could have played himself into the lottery next season, however.
Peer pressure is dragging him into the draft sooner than he's ready for, but he could still succeed in the right situation.
8. Doron Lamb, Kentucky 
Projections: No. 18 (NBADraft.net), No. 30 (Ford), No. 33 (DraftExpress)
The first seven are considered virtual locks for the first round, but Lamb's stock is murky. He could easily end up on a team needing that one outside threat to contend for a championship, like Chicago, for example.
He also got opportunities to run Calipari's motion offense as Teague struggled early on. If he shows point guard abilities in workouts, the NBADraft.net projection could be highly accurate.
9. Festus Ezeli, Vanderbilt
 
Projections: No. 26 (NBADraft.net), No. 33 (DraftExpress)
Chad Ford only mocks up the first round this early, and he lists Ezeli and teammate John Jenkins among his "next five in."
The No. 33 projection would currently send Ezeli to the Bobcats, conjuring visions of an inside trio of Ezeli, Anthony Davis and Bismack Biyombo. While all three are raw offensively, woe to the opponent who tries to score inside on such a group.
Ezeli could get the big man bump and end up with a contender who can afford to develop a big man for a year or two, like Oklahoma City or Miami.
10. John Jenkins, Vanderbilt
 
Projections: No. 30 (NBADraft.net), No. 32 (DraftExpress)
Like Lamb, Jenkins has a reputation as having a jump shot and little else.
Unlike Lamb, Jenkins never got chances to work as a facilitator for Kevin Stallings, and his other limitations will pigeonhole him as a specialist in the NBA. Still, a deadly three-point shot can lead to a lengthy pro career, and many picks at the end of the first round don't even accomplish that much.
************************************************************************
The SEC is set to make a major challenge to that 1995 ACC class, but other leagues have fallen one man short in recent drafts.
The ACC threatened its own record in 2005 and 2009, and the Big East (2006), Pac-10 (2008) and Big 12 (2010) each produced seven first-rounders as well.
Ezeli and Jenkins appear to be the major stumbling blocks, and if they fall short, it would be only appropriate for a Vanderbilt program that routinely fell short of expectations over the past three seasons.
As for Kentucky's crew, they're considered well ahead of the 2010 class that has currently only seen major contributions from John Wall and DeMarcus Cousins. With Beal, Taylor and Moultrie also being strong prospects, the Stack-Sheed-Smith class will need to make some room in the record books.