Kentucky Wildcats: Why I Love One-and-Done Basketball
April 17, 2012

Ronald Martinez/Getty Images
Five and one.
Those are the numbers that matter today. Five Kentucky underclassmen declared for the NBA Draft. You have the freshmen one-and-dones Anthony Davis, Michael Kidd-Gilchrist and Marquis Teague. Then there's the old guys, sophomores Terrence Jones and Doron Lamb.
Oh, the one? That's just the number of championships those players won. And that's the only number that matters.
You can focus on the five all you want. You can bemoan John Calipari and what he has done to besmirch the good name of the NCAA with his tactics of recruiting players that will stick around for one year; two years, tops.
I'm going to focus on that title.
Because that's why you play, isn't it? To win a championship? Of course. Any fan saying otherwise is lying. 
You can have your seniors that you watched sit the bench as freshmen and eventually became your best player during their final year. I don't have patience for that any more. You play for Kentucky and you're expected to contribute right away. Players grow up fast with that kind of pressure. It's now or never every year.
Over this past season, as a Kentucky fan, I had the privilege to watch these guys play and see how they grew up and improved. Yes, it's different than watching that happen over four years, but with such talented players the learning curve is accelerated. Anthony Davis wasn't nearly the Anthony Davis you see now at the beginning of the year.
NBA GMs and fans are salivating at the thought of Davis or Kidd-Gilchrist playing for them. I got to watch them both on the same team for a whole year. I'd rather have just one year of either of those guys than four of any other player in college basketball right now. I'm dead serious. Pick anybody.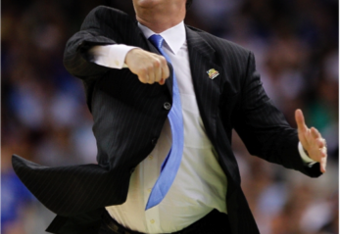 Calipari has said all along: don't hate the player, hate the game. He didn't come up with the one-and-done rule, and he's sure as hell not about to go recruit less talented players because he thinks they might stick around longer.
And contrary to what you might hear, Kentucky's five underclassmen are not the only players leaving for the draft early. Take a look at the list. It's a mass exodus. Kentucky isn't the problem, they're just the ones who deal with the problem better than anyone else. The name of the game in college sports has always been "lose talent, reload with talent." This is just the same thing at a faster pace.
I don't get all the hemming and hawing about Kentucky's one-and-dones anyway. Is there some unwritten rule that a one-and-done is okay as long as you don't have too many on one team? Duke was desperately trying to land Shabazz Muhammad, which would have been their third one-and-done in as many years. But Kentucky is worse just because they recruit more players like that?
The sad truth of the matter is that all the top high school players have one-and-done on their mind. Star freshmen stick around for two reasons: they're either not good enough for the NBA yet (like Harrison Barnes) or they want to win a championship (like Jared Sullinger). And don't even say because they want to graduate, which is more important to people looking down from their ivory towers. Just ask all the recent English major graduates sleeping on their parents' couch how valuable that degree is or if they would rather take the millions the NBA has to offer.
By the way, how did that work out for Barnes and Sullinger anyway? Staying in school an extra year did nothing but cost them a year of their life and saw them fall further down draft boards.
Calipari has an outstanding track record of getting guys ready for the NBA in one year and now he's shown that he can win a title when them as well. If you want to tell any of the five guys leaving early not to go make millions of dollars, you better have a good reason to back it up. They've already accomplished the two things that keep players from leaving early (except for Teague, who's not good enough yet, but don't tell him that.)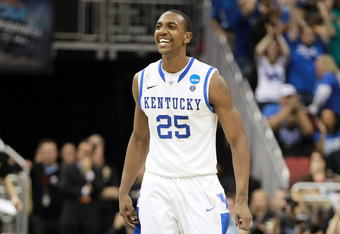 Andy Lyons/Getty Images
Do I wish all the Kentucky players leaving early would stick around? Of course, but that's me being selfish. I got to see an unbelievable year of ally-oops, blocked shots, fast breaks and dunks that ended in a championship. And on top of that, we have the No. 1 recruiting class in the country for the fourth straight year, reloaded and ready for another run at a title. How can anybody be upset about that?
That's not true. There are plenty of people who are upset. There's the hand-wringing media certain that what Kentucky is doing is wrong, they just can't give any sort of counterargument as to what they should be doing different. Then there are fans of other programs who are jealous of the Wildcats' success in recruiting and just want it to be wrong. 
Of course, you also have the occasional columnist who just doesn't like John Calipari. People will find whatever reason they want to be upset about Kentucky.
That's just fine with me. I'll just sit back while Nerlens Noel, Alex Poythress and Archie Goodwin start competing for another title. Because that's how we do at Kentucky.
And I love it.