2012 WNBA Draft: Minnesota Lynx in Great Position to Repeat After Strong Draft
April 17, 2012

Doug Pensinger/Getty Images
It should be a crime for a defending champion to clean up like this in the draft following their coronation.
But such are the great fortunes of the Minnesota Lynx. They grabbed two quality players in the first round of the 2012 WNBA draft.
If the team had any weaknesses at all, they was in the rebounding and size department. That area of the team was seemingly addressed with the Lynx' first selection. Minnesota selected 6'2" forward, Devereaux Peters from Notre Dame with the third pick overall.
The 22-year-old is a native of Chicago, and helped guide the Irish to the NCAA title game.
Peters averaged 12 points and 7.5 rebounds per game in her senior season for the Irish. She is a warrior in the post, but she does have some injury concerns.
She has endured two ACL injuries and three knee surgeries, but she returned from those setbacks to excel at Notre Dame.
If she remains healthy, she'll help ensure the Lynx are right back at the top of the WNBA next season.
Minnesota wasn't done bolstering their presence inside.
With their second pick in the first round, the Lynx selected 6'5" Brazilian center Damiris Dantas. She won't be able to join the team immediately, and she is a raw talent at this point. But the Lynx have the talent to wait for her arrival, and her development.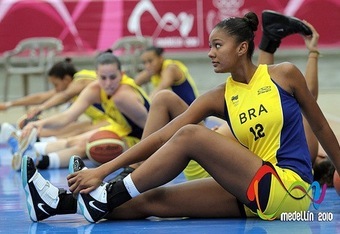 Hubba Hubba.
These are the luxuries of winning a WNBA championship—and possessing two first-round selections.
Right about now, it's good to be a Lynx' fan.
Follow Brian Mazique
and Franchiseplay - A Haven For Sports Expression