New York Islanders: Team Fires Assistant Coaches Scott Allen and Dean Chynoweth
April 17, 2012

Jim McIsaac/Getty Images
The New York Islanders have parted company with assistant coaches Scott Allen and Dean Chynoweth, according to a statement released by the team on Monday.
The news is further proof that the Isles front office is serious in continuing to rebuild this team from the ground up.
Both Allen and Chynoweth were holdovers from the infamous Scott Gordon era. Allen had been an assistant with the team since 2009. His coaching tenure lasted only a month longer than Chynoweth's.
Chynoweth originally joined the Islanders as the 13th overall selection in the 1987 NHL Draft. He recorded two goals and 10 assists in 147 games played for the team.
With the firing of Gordon as the Isles' head coach a quarter of the way through the 2010-11 NHL season, current head coach Jack Capuano was promoted from the same position with the AHL affiliate of the team, the Bridgeport Sound Tigers.
Capuano's time as the Islanders' head coach has endured its ups and downs to date, although some of that might be attributed to the patchwork coaching staff that surrounded him during his first 17 months behind the bench.
This isn't to say that Allen and Chynoweth weren't good coaches—the point is that Capuano didn't have any say in who his assistants would be, as he inherited Gordon's staff.
A quality NHL team will always have a solid head coach who has faith in the rest of his staff. Now that Allen and Chynoweth are no longer a part of Capuano's cabinet, he'll likely be able to give his input on who is brought in to replace them.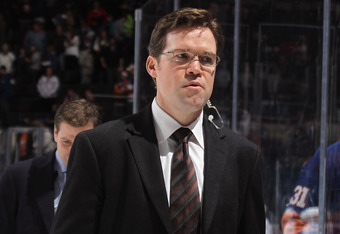 Bruce Bennett/Getty Images
The Islanders have continued to grow in terms of on-ice talent. Now, it seems that team owner Charles Wang and general manager Garth Snow have turned their attention to the area behind the bench.
The firing of Allen and Chynoweth is just another step in the rebuild.
There have been rumblings that Capuano wouldn't be long for the head coaching job—the hiring of Doug Weight was viewed by most as Snow grooming a potential head coach successor—but Capuano should be able to guide this young team to bigger and better things next season.
The fact that he's formed relationships with many current Islanders players while they were playing in the AHL at Bridgeport gives him better insight into their respective styles of play than most other coaches can claim.
Apparently Wang agrees, as he has publicly voiced his support of Capuano and Snow for the foreseeable future. Unfortunately for Allen and Chynoweth, that same vote of confidence didn't extend to them.