Boston Marathon 2012 Results: Wesley Korir Emerges as Sport's Newest Star
April 17, 2012

Jim Rogash/Getty Images
The Beantown heat was the story of the 2012 Boston Marathon, but it didn't overshadow the performance of Wesley Korir.
The Kenyan native was the first male to cross the finish line with a time of 2:12:40. It was the second slowest winning time since 1985, but you can blame the heat on that distinction.
This is a guy you can really root for.
Korir, born to an impoverished family in Kitale, Kenya, ran to and from school every day. It was about five miles each way.
While his family couldn't afford for him to attend college, everything changed when he met fellow Kenyan Paul Ereng, the 1988 Olympic champion in the 800 meters. He helped him get a scholarship to Murray State, where he could hone his running talents with professional assistance.
But Korir had a nightmare experience at the airport that almost derailed his dream before it even truly began (via Boston Herald):
I got stranded for about four days at the airport. I got confused on the escalators. I had never seen one before. I took one and landed in a different terminal and missed my flight. They told me the next flight (to the U.S.) wasn't until the following night. So I waited all day at the airport.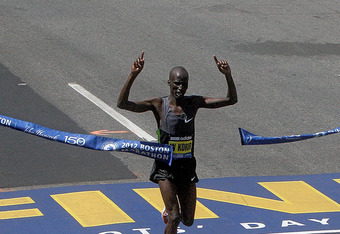 Jim Rogash/Getty Images
He finally made it to the states and proceeded to win the 5,000 and 10,000 meters at the conference championships in 2004 before transferring to Louisville where he learned from the legendary Ron Mann. Despite being on the other side of the world from his family, he was able to culturally adjust rather smoothly. He even got a job as a handyman to earn spending money.
Korir went on to set multiple Cardinals records and looked to have a very bright future in front of him. He would go on to win the L.A. Marathon in both 2009 and 2010, and finished second in the Chicago Marathon in 2011.
The last big race he had yet to compete in was the Boston Marathon and, boy, did he make a strong first impression. The $150,000 purse for winning is going to change Korir's life, and it sounds like it couldn't have happened to a more deserving person.
At the ripe age of 29, there are plenty of big runs left in his tank. Korir is now the face of marathon running, and expect to hear his name when talking about the major contenders in marathons for the foreseeable future.
Monday gave birth to a new running star and his name is Wesley Korir.