Are the Miami Heat Big 3 'Too Friendly' to Win an NBA Title?
April 16, 2012

Mike Ehrmann/Getty Images
Based on talent alone, it's hard to imagine a team better equipped to contend in the postseason than the Miami Heat.
It goes without saying that LeBron James, Dwyane Wade and Chris Bosh comprise the most feared trio of All-Stars on any single NBA roster. And despite the seeming shortage of quality role-players, Miami's depth is better than advertised thanks to a healthy Mike Miller, the addition of Shane Battier and the improvement of Mario Chalmers.
The Heat's roster has limitations to be sure, but this club's most significant Achilles' heel doesn't show up on paper at all.
Miami's 17-13 road record could be blamed on a lot of things, but there's a good chance the mental makeup of the Heat's star power is at least partly to blame. 
Aside from the usual allegations that LeBron has trouble finishing in the clutch or struggles to show up for defining postseason moments, the real cause for concern is whether this club has the mental fortitude to compete with teams that are driven by the kind of competitive intensity that separates talent alone from championship pedigree.
Of course, none of that would matter unless other contenders had such pedigree.
Unfortunately for the Heat, some of those contenders do.
Who, you ask? Try the Boston Celtics, who beat Miami already twice in April. Boston has arguably the grittiest core of stars in the game, even if they are getting on in years. No one can hold a candle to Kevin Garnett's cutthroat approach to every game. No one can argue with Paul Pierce's willingness to take the big shot.
The Heat might also think twice about teams like the Chicago Bulls and San Antonio Spurs, whose depth and team approaches take on nothing short of synergistic brilliance thanks to world-class coaching and the selfless leadership of franchise players like Derrick Rose and Tim Duncan.
On paper, yes, Miami has these teams beat.
The intangibles tell a very different story, though.
Is it possible that at the heart of the matter, Miami's elite are just too nice?
That might sound absurd given that LeBron James remains a less-than-revered figure in many fan circles (most especially Cleveland).
Nevertheless, we should all remember just how much this guy wants to be liked—even in Cleveland. That same need for acceptance might just have a little something to do with why this teams is leaps and bounds more successful at home than it is on the road.
We're all familiar with the virtues of home-court advantage, but this season has taken the phenomena to a new level in Miami.
There's also the concern that LeBron may be a tad too deferential, a charge that persists thanks to his willingness to pass the ball in late-game situations where he may the player best-equipped to take the shot.
Of course, there have almost always been good reasons for LeBron passing rather than forcing a bad shot. His decisions made good basketball sense more often than not—but they could also be indicative of a deeper psychological glitch: The need to earn acceptance replacing the need to win.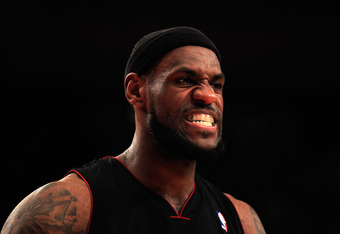 Chris Trotman/Getty Images
There were also suggestions that Chris Bosh wasn't the best of leaders in the locker room while in Toronto, and it's hard to imagine he'd be any better off alongside two larger-than-life personalities. Sure, the guy might have a nice mid-range jumper and a knack for getting to the foul line, but he's yet to prove he has the grit to battle in the paint (evidence at the very least by his declining rebounding ability).
It's always difficult to measure what's in a guy's head, but sometimes, actions say enough. This is a Miami Heat team that appears prone to breaking under pressure, a team that has yet to prove it can win when it matters most.
More importantly, this is a team that simply may not have it in them to be meaner than the other guy. In the physical, gutsy world that is professional basketball, working overtime to be the nice guy may be counterproductive to say the least.