NFL: Possible Acquisition That Would Drastically Save the New York Jets
April 16, 2012

Patrick McDermott/Getty Images
There are still tons of players that the Jets could take for themselves. My best guess as to why the Jets have not tried to snag some of these low-risk, high reward players is due to their current cap situation. In losing $4 million from their cap in the Tim Tebow trade, the Jets will have little money to work with before the draft. 
Editor's Note: (I don't feel like sharing my opinion concerning Tim Tebow. In short, I think he's a good downfield ball carrier, but he is not, nor will he ever be, a good NFL quarterback). 
According to NYJetsCap.com, the Jets' entire roster costs them $122,490,459. The estimated Jets salary cap limit is $130,071,600 leaving them with $7,581,141 in available cap space.
However, due to the new Collective Bargaining Agreement (CBA), the Jets must have an estimated $5,727,180 freed up by the draft to spend on players, meaning that the Jets only have $1,853,961 to spend. Seeing as how Nick Folk alone makes $605,000 as a kicker, there's not even a slight possibility that they could sign anybody significant, right now. 
Here are 2 possible moves the Jets could try to pull in order to free up cap:
Trade (1): The 19th pick in the fifth-round and Calvin Pace for the 19th pick in the third-round.
In pulling off this deal, the Jets would be getting rid of an underachieving pass rusher who has a huge cap hit in exchange for a mid third-round pick. The Tennessee Titans, fresh off of signing Kamerion Wimbley, pull off the trade because of the attractiveness of a fifth falling into their laps. In numbers, this trade would save the team $7,348,333, which really goes a long way in fixing this team. 
Release (2): Eric Smith cut by New York Jets. Shocking it may seem but with the signing of LaRon Landry (who is a better but a more injury prone version of No. 33), Smith has become more than expendable. His coverage skills are below lackluster, constantly allowing the big play when asked to be the safety blanket of the Jets' defense.
The resulting movement would cause a nice $2.5 million in Mike Tannenbaum's pocket to play with. The only reasons I can see the Jets not going against him are that he could be a serviceable injury replacement should LaRon Landry hit injured reserve, and he is becoming a quiet leader on the defense who knows Pettine and Ryan's playbook. 
Piece the first move's resulting money and our current cap of $1,853,961, the Jets would have about $9,202,294 to spend on new players. Add the new third-round pick to that equation, and the Jets could have a very successful draft. More on their drafting strategy later. 
Here are five players that the Jets could then look at with this newly found cash:
1. Braylon Edwards, WR, Free Agent: two years, $2.8 million. It's funny because last year, the Jets were preparing to dig deep in their pockets and fetch Edwards' $4-6 million per year, and now they could steal him for only $1.4 million per year.
While I have always been a huge Edwards fan, I think this acquisition would make sense fiscally and in a football sense. He is a great run-blocker and a deep threat while carrying that rapport with Mark Sanchez.
 2. Vernon Carey, OG/OT, Free Agent: one year, $1.8 million. As time progresses, asking prices generally drop. It's a well-known fact that has even been prevalent this offseason, most notably with the signings of Mario Manningham and Brandon Lloyd.
Vernon Carey knows Tony Sparano's style of coaching the offense, and he was a serviceable starter for the Dolphins at RG last year. While he would be moving back to RT (similar to what Damien Woody did when he sprung for the Jets), he knows the style of coaching and would not be a focal point of the line, with Brandon Moore and Nick Mangold sitting right next to him.
3. Oshiomogho Atogwe, FS, Free Agent: two years, $4.5 million. Atogwe was easily one of the best ball-hawking defensive backs just a few years ago. Unfortunately for him, he had no choice but to play the role of a sponge on the St. Louis defense, a unit filled with holes. In coming to the Jets, he would just be a player the Jets can rely on to cover some of the game's faster and more elite tight ends, such as Aaron Hernandez and Rob Gronkowski, among others.
At $2.25 million per year, the available opportunity of capping off the best defensive backfield in the NFL and the fact that he knows LaRon Landry's style from their albeit brief time on the Washington Redskins together, he would be a valuable asset to the Jets.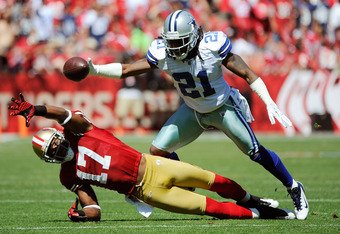 Thearon W. Henderson/Getty Images
 4. Jim Leonhard, FS, Free Agent: three years, $6.7 million. The captain of our defense must return. He is smart in the defensive backfield, an athletic player who can keep up with the TEs (besides the massive size difference) and he has called the plays for the past two years.
His asking price will be quite low because of injuries cutting his season short two times consecutively. I am almost positive that he would not be ready by the start of the season, but by week 10 or so, he should look like the Jim Leonhard of old.
Now with the new reports that Jim Leonhard will be ready by training camp, the option of re-signing him becomes very enticing. However, I would still like to see the Jets chase after a good backup free safety, maybe a player like OJ Atogwe, as a sound insurance policy.
 5. Under Previous Consideration: Jerricho Cotchery, WR, Free Agent: one year, $1.2 million. Now I understand that he would not be a fit anymore, as Jeremy Kerley has taken his role and has done a pretty good job emulating the former Jet, but the idea of bringing him in as a reliable possession receiver would be great for a Jets team that will primarily pass a means of gaining a first down on a third and medium.
I am not sure if he and Braylon could co-exist because it would leave the Jets with five very capable receivers, but with the way injuries have taken a toll on this esteemed group an insurance policy definitely would not hurt. He stayed with the Pittsburgh Steelers for two more seasons so he should definitely be out of the Jets' plans.
 6. Honorable Mention: Tim Hightower, RB, Free Agent: one year, $1.75 million. The consensus states that Tim Hightower will never be a starting running back in the NFL. Understandable, as he fails to stay whole for an entire season and still has not been able to break that ever-important milestone of a 1,000 yard season. He would, however, serve as that insurance policy that the Jets desperately need.
LaDainian Tomlinson played this role to perfection last year, but he, almost definitely, will not be back in Gang Green next year. While Hightower does not have great playmaking ability, he has shown the potential to break a few runs free, coming in with runs of 80 and 50-yard touchdowns.
His role on the Jets would be minor, yet essential. His north and south style of running is nowhere to be found in Shonn Greene, who has not shown the ability to bulldoze defenders.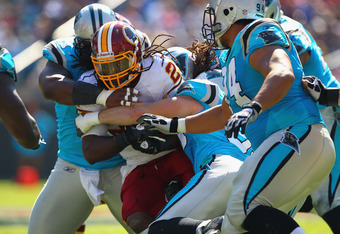 Dilip Vishwanat/Getty Images
The cost for all of this is relatively cheap, with all six of these players costing $10,430,000. If Gang Green does not sign Cotchery (which would not be a huge travesty), that money lowers to $9,230,000 or about $1,172,294 leftover that the Jets can spend. Now in the draft, the Jets will have a lot of picks spread out, and I would like to see Gang Green take chances on the following: 
Round 1 (16): New York Jets select Courtney Upshaw, OLB, Alabama
A perfect fit in our defense, Upshaw may not be the elite pass rusher that 3-4 teams crave, but he is a 9-10 sack talent with a good upside.
Round 2 (15): New York Jets select Andre Branch, OLB, Clemson
He is best suited as an OLB and has better pass-rushing ability, and next to Courtney Upshaw, the two could even rival the pass-rush prowess of the Washington Redskins' Brian Orakpo and Ryan Kerrigan.
Round 3 (14): New York Jets select LaMichael James, RB, Oregon
Joe McKnight will never be an offensive star in the NFL but is a special teams stud. The Jets would be winners if they decided to take a look at the clone of Darren Sproles who at this point is considered a boom or bust prospect.
Round 3 (19): New York Jets select Tank Carder, ILB, TCU
Tank Carder is considered to be a successful product in the 3-4 and could unseat Bart Scott as early as this year. He's good measurably but might be a liability in pass coverage.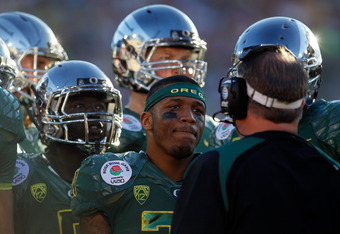 Jeff Gross/Getty Images
Round 6 (17): New York Jets select Don Barclay, OL, West Virginia
Basic offensive line depth—he's a pretty decent player but is very raw in technique. He could hopefully turn into a Matt Slauson like backup.
Round 6 (33): New York Jets select Derek Moye, WR, Penn State
The only thing I care about when picking him is 6'5". That type of height in the red zone will be more than enough for a roster spot on this team—similar to Plaxico Burress in Gang Green.
Round 6 (34): New York Jets select Bryan Anger, P, California
Easily the best punter in the draft, the Jets would be lucky to see him fall to the compensatory section of the sixth round.
Round 7 (17): New York Jets select Cliff Harris, CB, Oregon
The Jets definitely want some depth at cornerback. Donald Strickland was not re-signed. Marquice Cole is not even a serviceable backup. He definitely does not have starting cornerback potential but maybe a good CB3 or CB4 (think Drew Coleman).
Round 7 (35): New York Jets select Lonnie Edwards G, Texas Tech
Offensive line depth is most likely to be a Caleb Schlauderaff, off the bench type player.
Round 7 (36): New York Jets select Lance Mitchell, S, Oregon State
Safety depth is a need. Tracy Wilson is not a backup safety, he is a practice squad or reserve player. Again, I do not foresee Mitchell taking over the starting spot, but with a plethora of late round picks, the Jets are looking for BPA.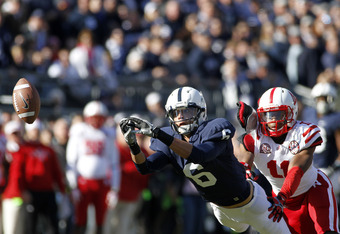 Justin K. Aller/Getty Images
If the Jets are willing to make the bright move of trading Calvin Pace, their team will be much stronger. The addition of Andre Branch and Courtney Upshaw will go a tremendously long way in terms of durability, motor and upside.
While Calvin Pace has reached his single digit sack potential, Branch could be a 10-plus sack guy while Courtney Upshaw stops the run and puts on a good bit of pressure.
Taking LaMichael James would immensely help the offense, with a new dimension being added. The home run threats, Tim Tebow and LaMichael James, would add new, creative plays to the ever-growing playbook. Not to mention that the two of them could form a similar tandem to that of Ricky Williams and Ronnie Brown. 
In Free Agency, the Jets are picking up the player who knows the defense best, Jim Leonhard, a safety who has the speed to keep up with some of the faster receivers, a potential replacement at RT in Vernon Carey, who has the experience under a ground and pound system.
We could see the return of an ex-Jet receiver, Braylon Edwards, the crazy downfield threat and esteemed run blocker, and finally, Tim Hightower, the bruising running back who runs north-south better than Shonn Grene. 
Disagree? Think of something better? Feel free to comment, I'd like to hear other opinions regarding the New York Jets. Thanks for reading.