MLB Power Rankings 2012: Boston Red Sox and More Teams Rising Up
April 16, 2012

Jim Rogash/Getty Images
The 2012 MLB season is off to a great start, as several teams are improving upon poor starts and others just continue to perform at a high level. 
It's a long road ahead, so those teams struggling at the moment (and their fans) don't need to get too discouraged. After all, getting down in the dumps just a little over a week into the season is a bit ludicrous.
Some teams are finding their groove right now, and they're definitely hoping it continues all year long. Whether their pitchers are on fire or the bats are booming, a few teams are really hot at the moment. 
That being said, here are some teams on the rise, as well as my full list of power rankings at the bottom. 
Boston Red Sox 
After being swept by the Detroit Tigers to begin the year, the Red Sox are bouncing back strong. 
They've won three straight games against a very good Tampa Bay Rays teams, and they're striving for the series sweep as we speak. Boston and Tampa Bay are tied 0-0 after the fourth inning. 
The bats are really starting to pick up. In the first three wins against the Rays, the Red Sox scored a total of 31 runs. 
Keep an eye on Boston as the season progresses, because the Red Sox are going to keep thriving. 
Atlanta Braves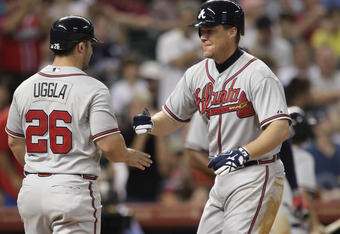 Bob Levey/Getty Images
Another team that began the year in a disastrous way, the Braves are surging back and showing the world that they can in fact hit the baseball. 
Despite having a banged-up knee, Chipper Jones is doing superb work in limited action this season. He's been a huge boost for Atlanta when he does play, and the team is hoping he remains relatively healthy throughout the year.  
Atlanta has reeled off five straight wins, and on Monday night the Braves will get a shot at revenge against the New York Mets, the team that swept them to open the season. 
If the Braves can keep swinging for power, they're definitely a team to fear in 2012. 
Los Angeles Dodgers 
Entering the 2012 season, nobody expected that the Dodgers would have the best record in baseball after 10 games. 
They started hot and have continued to stay that way, winning their last six games. Sure, the quality of opponents Los Angeles has faced isn't very high, but it's still a good sign for the Dodgers to be crushing poor teams this early. 
Of course, the key for the Dodgers will be to keep this up all season long, which is easier said than done. 
At 9-1 on the year, the Dodgers continue to climb up the rankings, and if they keep performing this well, it won't be long before they take the top spot in Major League Baseball. 
2012 MLB Power Rankings - April 16 
1. Texas Rangers
2. Detroit Tigers
3. St. Louis Cardinals
4. Los Angeles Dodgers
5. Arizona Diamondbacks
6. Washington Nationals
7. New York Yankees
8. Toronto Blue Jays
9. Boston Red Sox
10. Atlanta Braves
11. Tampa Bay Rays
12. Los Angeles Angels
13. Philadelphia Phillies
14. New York Mets
15. Chicago White Sox
16. San Francisco Giants
17. Miami Marlins
18. Cincinnati Reds
19. Baltimore Orioles
20. Seattle Mariners
21. Cleveland Indians
22. Milwaukee Brewers
23. Houston Astros
24. Colorado Rockies
25. Oakland A's
26. Chicago Cubs
27. Pittsburgh Pirates
28. Kansas City Royals
29. San Diego Padres
30. Minnesota Twins