Roger Federer, Rafael Nadal, Novak Djokovic: Who Is Not a Dual-Surface Master?
April 16, 2012

Clive Brunskill/Getty Images
Roger Federer has set the standard for Grand Slam victories, and has been pursued by rivals Rafael Nadal and Novak Djokovic.
But while each of the big three has proven his dominance in winning Slams and holding the No. 1 ranking, a closer examination shows that only Federer has been able to dominate on two surfaces.

In addition, there are a handful of other legends who also showed greater dual-surface domination than Nadal and Djokovic.

Dominating one surface or venue is most impressive, but dominating two surfaces is masterful.
There are only five true dual-surface masters since Tennis's open era renaissance.
Master of Arts Degree

Complete mastery of a surface requires three Grand Slam wins.
A dual-surface master needs at least three Grand Slam wins for each of two different surfaces.

There is the added complication of counting the same surface from two different Slam venues. (venue=The scene or setting in which something takes place, as a sports stadium. The four tennis venues are Australian Open, French Open, Wimbledon, U.S. Open.)
Recognition will be given for combining one surface type from two venues, but greater status is given for winning all three titles on the same surface at the same venue.
Dual-Surface Masters

Only five legends had complete dominance on two different surfaces played at the same venue. The following masters earn the right for comparison to renaissance masters, or to Teenage Mutant Ninja Turtles, if you prefer.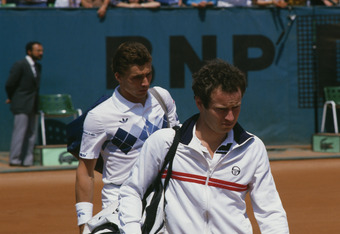 Steve Powell/Getty Images
John McEnroe as Michelangelo

McEnroe earns the right as master for winning four hard court U.S. Open titles and three Wimbledon titles. He was a masterful player with his serve and volley game perfectly suited for the conditions of his early career. For a time, he was the standard at Wimbledon and the U.S. Open.

His serve and volley game on grass was a beautiful and timeless masterpiece like the Sistine Chapel. His hard court dominance could be compared to Michelangelo's famous sculptures La Pieta, and Moses.
Ivan Lendl as Raphael

Lendl was the architect of three U.S. Open titles and several more appearances. He also painted three Grand Slam victories at the French Open with forehand strokes and fitness that were ahead of its time.

Like Raphael's The School of Athens, Lendl's masterful work is unique. Lendl is the only player in history to win three or more French Open titles and three or more hard courts Slams.
Lendl also won two Australian Open titles on hard courts, and had Melbourne featured hard courts Lendl's entire career, he likely would have added at least a third title, thereby winning three or more Slams at three different venues.


Pete Sampras as Donatello

Sampras won seven Wimbledon and five U.S. Open titles. His two Aussie Slams were also hard court wins, leaving an overall even ratio between grass and hard courts—with more opportunities here, which is why his Wimbledon record is more impressive.

Donatello, known for his sculpturing in bronze, stone and other materials, is a great representation for Sampras's tough, straightforward game. His powerful serve and efficient net play was still backed by outstanding baseline play.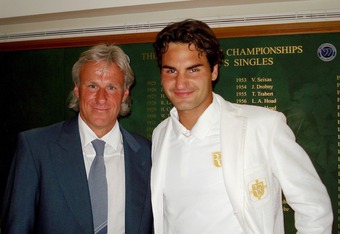 Handout/Getty Images
Bjorn Borg as Leonardo DaVinci

Borg's combination of six French Open titles and five Wimbledon victories is the most unique and perhaps the most prestigious of any dual-surface champion. It's still astonishing he took a clay-court baseline game and added serve and volley to a fast grass surface.

Leonardo DaVinci was an inventor as well as an artist. He is known for paintings such as The Last Supper and The Mona Lisa, but also produced scientific and anatomical drawings, as well as inventive engineering ideas. Borg's genius was his innovative topspin, his versatility, and his ability to play under pressure. He was truly an original.
Roger Federer as Aristotle

A fifth Teenage Mutant Ninja Turtle needs to be created. Perhaps he could have the overly obvious forest green as his mask, and a versatile weapon like a Mark I trench knife with its limitless and deadly utility.

Aristotle is from the classical era and predates the Renaissance by several centuries, but this inventor-thinker-mathematician certainly inspired the quartet.

Federer's record is also unprecedented. He is the only player to win three Grand Slams or more at three different venues. His resume is well known for its balance of dominance with six Wimbledon, five U.S. Open, four Australian Open and 1 French Open title. His tennis genius and versatility have been well documented and praised.

Aristotle was an original thinker in fields ranging from politics to ethics to astronomy. He even tutored Alexander the Great. Federer is the standard for tennis brilliance and creativity and will be measured for all-time.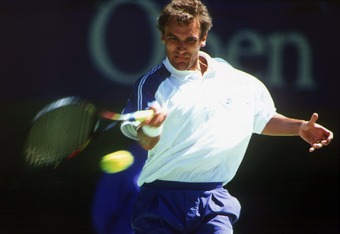 Clive Brunskill/Getty Images
Versatile Artists: Jimmy Connors, Mats Wilander, Boris Becker

Each of these three players did win three Slams on two different surfaces, but not strictly in one venue. They had great enough games to establish brief dominance for at least stretches of their careers.

Boris Becker could be dominant on two surfaces. His three grass titles at Wimbledon are 50 percent of his victories, and he posted three Slams on hard courts (two in Australia and one at the U.S. Open.)

Wilander's seven Slam wins are a bit more complicated. He won three French Open titles on clay, and three Aussie Open titles—which seems to qualify him to be a master.
However, two of these Aussie titles were on grass and the third was on hard courts (The Aussie Open was played on grass until 1988). It's a technicality that while showing him to be more versatile, does not qualify as same venue and same surface. He also added a U.S. Open title on hard courts.

Connors also has a bizarre Slam record mixing surfaces and venues. He won three U.S. Open Slams on hard courts, but he also won a U.S. Open title on grass and green clay. In addition, Connors won two Wimbledon titles and added another grass title at the Australian Open.
He won four Slam titles on grass between three different venues, which many may regard as more impressive. It's hard to determine if he was a victim or benefactor of the surface changes.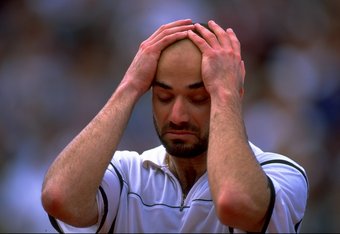 Al Bello/Getty Images
Dominant Specialists: Nadal, Djokovic, Andre Agassi

These players had spurts of No. 1 greatness and even some Grand Slam success on other surfaces, but their dominance was ultimately at a much higher level on their favorite surface.

Nadal is obviously far more dominant on clay, with 60 percent of his Slam wins coming at the French Open. His two Wimbledon wins (20 percent) leave him one short of master status. He split his two hard courts Slams (20 percent) at the Aussie and U.S. Open, so one more of either could get him to the next category.

Djokovic's five Slam titles give him the exact same ratio as Nadal, but with different surfaces. His three Aussie Open wins are 60 percent of his Slam victories, and with one slam apiece at Wimbledon (20 percent) and the U.S. Open (20 percent). Djokovic seems more likely than Nadal to add more Slams besides his favorite venue.

Andre Agassi fans are justified in screaming foul at this criteria, especially because Agassi became the first man in the Open Era to win Slams at all four venues. Andrei Medvedev, following his loss to Agassi in the 1999 French Open final, called Agassi a master of surfaces.
However, Agassi won six of eight titles (75 percent) on hard courts—four at the less prestigious Australian Open. He was never a dominant player on grass or clay.
The Grand Master

Perhaps someday a tennis player will come along and win three or more Grand Slams on all three surfaces and all four venues. It's hard to imagine, but tennis still has room to introduce an even greater master than Federer…unless Federer wins the next two French Open titles over Nadal and Djokovic.
CLICK HERE to read what is at stake for Nadal and Djokovic at Monte Carlo