Alabama Spring Game 2012: T.J. Yeldon and Most Impressive Performances
April 14, 2012

Kevin C. Cox/Getty Images
In case you were wondering, Alabama true freshman running back T.J. Yeldon is good.
Wait, no. Really, really good.
OK, it was only Alabama's spring game and the 5-star recruit, who enrolled early, still has some work to do, but if today was any indication, Yeldon is going to leave a lasting impact behind him.
And a lot of bodies on the ground. 
Yeldon carried the ball 16 times for the Tide, racking up a cool 88 yards (5.5 ypc) as he left defenders broken in the dust. What's more, he displayed an uncanny ability to catch the ball, too, as he pulled in five catches for 91 yards and a touchdown.
Most of it came in the third quarter when Yeldon took a short pass across the middle, stiff-armed one unlucky defender and then sprinted down the sideline to complete the 50-yard touchdown.
Here's a look at the play.
Yikes.
What's more scary is that Yeldon won't be the starting running back for this team. That honor will likely go to Eddie Lacy, who has been banged up this spring but oozes talent when healthy. 
Nonetheless, after this performance it's clear that Yeldon will, at the very least, add to Alabama's impressive running back depth. Don't be surprised when he alters the outcome of a few games this season.
Here's a quick look at a couple more impressive performances from A-Day. 
Adrian Hubbard, LB
What's in Old Mother Hubbard's cupboard? A lot of tackles, that's what. 
En route to winning defensive MVP, Hubbard, the leader of the White team, racked up seven tackles.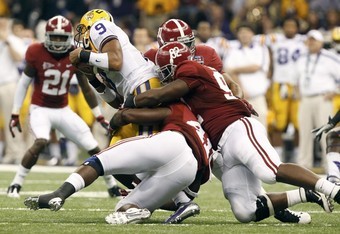 OK, nice, seven tackles you say. Yeah, that is nice, but how about all seven tackles coming in the backfield?
That's right, Hubbard had three sacks for minus-20 yards and four tackles for loss for minus-22 yards. I had to use a calculator for this, but that's seven tackles for minus-44 yards.
By himself, he moved the offense back 44 yards. Hubbard, a sophomore, looks the part of an SEC linebacker. 
In other words, big, fast, imposing and mean. 
Chris Black, WR
The true freshman deserves mention for his impressive 44-yard touchdown from fellow youngster Phillip Sims.
Black might not contribute all that much for Alabama this season, but his big-play ability is undeniable. He'll make some big plays this season and have a great few years in the future.
His future is bright.