Toronto Maple Leafs Offseason Game Plan for 2012-13
April 14, 2012

Richard Wolowicz/Getty Images
They need to get bigger up front with consistency (Colby Armstrong hasn't been). They need a quality No. 1 centre and they need better goaltending. Sprinkle in some veteran leadership, too, for that matter.
This isn't anything new. The best thing they did was fire head coach Ron Wilson.  GM Brian Burke should have much earlier, and the fact that he didn't rests solely on Burke's shoulders.
What should happen this summer to make the Leafs more competitive?
The Draft
The Leafs have the No. 5 pick. They can either keep it, trade up or trade down. I doubt they'll be able to get Edmonton to flip their first-round picks for say, Cody Franson or Luke Schenn. If that happens then great, but let's not get too hung up on that. Plus, a highly talented right winger isn't really what the Leafs need. I'm not saying you don't do it if Oilers GM Steve Tambellini says, "sure"; I'm just saying it's unlikely, so let's not dwell much on it.
So let's say they keep it. The only players they should want at the No. 5 position are Alex Galchenyuk or Mikhail Grigorenko. Burke would be an idiot not to see that.
If they get taken—or Burke can't get them by swapping up with Montreal, Columbus or the Islanders—then they should look at trading down to get a mid-to-late first-round pick and take back some additional picks and/or prospects.
An ideal solution would be to trade Washington's 11th and 16th overall picks for the Leafs' fifth pick. With those picks they could try and grab Brendan Gaunce and  Zemgus Girgensons. Or maybe one of those two and a Griffin Reinhardt if he's still around, which would be unlikely.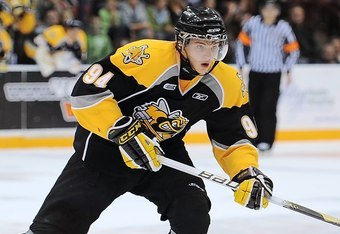 With the second-round pick, the Leafs should grab any of the top three-ranked goaltenders if they're still around.  It looks to be either Oscar Dansk or possibly Malcolm Subban—if he slips down.
Free Agency
Players set to become UFAs will get signed prior free agency day—that's no secret.  Let's assume as of this writing that the current list will be the final list.
Zach Parise should be mentioned because he's the best out there. However, Burke won't arrive in the new era of long-term contracting and Parise will likely move on to a team like L.A. or even the New York Rangesr.
So let's address their need for size and leadership, seeing as their aren't any centres of note available. I'd try for either Shane Doan, Jason Arnott or Jay Pandolfo. Or maybe even two of those guys.
Those guys would provide veteran leadership, they still play the game with an edge and they wouldn't need to play the whole season to save their aging bodies.
Jiri Hudler, Jamie Langenbrunner and John Madden could be looked at, too.  And if management were feeling frisky, they could also take a flyer on former first-rounders Brad Boyes, Ryan O'Marra and Kenndal McArdle.
Goaltending
Last but not least, they have to improve in this position. And really, there's only one option: Cory Schneider.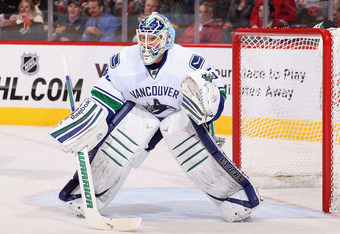 Christian Petersen/Getty Images
Yes, Burke and Vancouver Canucks GM Mike Gillis can work together.  They used to have a working relationship and it was Burke who had encouraged Gillis to go from player agent to GM. So they can bury the past.
Schneider is a pending RFA and he'll want out, because lets face it—the Canucks cannot move Luongo's contract, and he's ready for prime time.
Gillis won't want to trade him to the West, so that will narrow things down a bit.  In the East, there are a few teams who could trade with the Canucks, too—Washington, New Jersey and Tampa Bay being the three primary teams also needing goaltending (NJD if not next year, very soon).
My betting is that the Leafs won't have a problem trading Schenn or Franson, plus their 2013 first-round pick, plus maybe James Reimer to get him.
Could they get Schneider for cheaper? Sure they could—I hope they can—but let's face it, if Schneider's on the market, the Leafs would have to pay the price.
The Leafs need to do these three things to get themselves on the right track for 2012-13.