Stephen Strasburg Strong Yet Again, Nationals Roll to 4-0 Win over Mets
April 11, 2012

Chris Trotman/Getty Images
The Washington Nationals were able to upend the New York Mets in what turned out to be a pitcher's duel in Wednesday's game at Citi Field.
The Nationals took the series with the victory.
Phenom Stephen Strasburg was dominant, and he clearly did not lose a beat from his Opening Day start in Chicago.
In six shutout innings, Strasburg allowed just two hits while walking three and striking out nine.
It was a game of firsts for the young right-hander. For the first time in his career, Strasburg threw more than 100 pitches (108), and it was also the first time this season that Strasburg has registered 100 mph on the radar gun.
At one point during the game, he retired 12 of 13 hitters. Seven of those 12 went down on strikes.
His counterpart, Johan Santana, was excellent as well.
In five-plus innings, Santana allowed just one run on five hits while walking three and striking out eight. The run scored on a second inning wild pitch allowing Mark DeRosa to score from third.
DeRosa was also involved in the Nationals' second run when he walked with the bases loaded against reliever Ramon Ramirez.
Ian Desmond scored on the play, and the run was charged to Manny Acosta.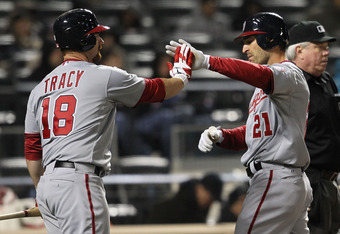 Nick Laham/Getty Images
The third and fourth runs were scored by Xavier Nady on a Chad Tracy groundout and Ryan Zimmerman on a bases loaded walk by Jesus Flores, respectively.
Ryan Mattheus, Sean Burnett and Henry Rodriguez came on in relief of Strasburg, effectively shutting the door on the Mets.
Desmond and Nady both recorded two hits on the afternoon, while DeRosa walked three times.
The Nationals have been successful in close games so far this season, but the team will need to improve on limiting their strikeouts.
With 10 strikeouts today (Strasburg, Zimmerman and Desmond all struck out twice), the Nationals are proving that they're still struggling to consistently make contact.
For now, the team is 4-2 and in a first-place tie in the NL East with the Mets.
It's still early, but it's hard not to like the product that the Nationals are showing on the field.