Tennis: What Makes a "Good" Player a "Great" Player?
April 14, 2012

Ryan Pierse/Getty Images
Everyone is a critic. When we watch a tennis match, or anything for that matter, it is natural for the human being to want to judge what he (or she) is observing. It can be negative or it can be positive, or perhaps somewhere in-between.
But here are my two main questions:
1.  How do you judge a tennis player?
2.  What is the difference between a "good" player and a "great" player?
When I first started playing tennis, the main thing that would stick out to me was when the pros created those stellar winners from anywhere on the court. It mesmerized me how much strength they had. How they could create even more power and offense to change the momentum of the ralley with just a blink of an eye. Now that I am more mature and have gained an abundance of information collected from pros and coaches from all corners of the world (still so much more to learn), I finally know how to "rank" a tennis player.
Body Language (On and Off the Court)
Statistics say that 99 percent of what we say is not coming out of our mouths but portrayed through body language. It is easy, for some, to judge a person's personality from how one carries themselves or, even, by how one uses their hands in conversation.
I have watched countless interviews with Roger Federer, Novak Djokovic, Rafael Nadal, David Ferrer, Andy Roddick, etc. and they all give off confidence. The way Federer sits in the chair, tucking his hair behind his ears, as he patiently listens to questions from the press shows his humbleness and how he makes eye contact with each person in the room says how he is not afraid of anyone. The same goes with Novak Djokovic, and can be easily seen with Andy Roddick. These men walk with an air of confidence.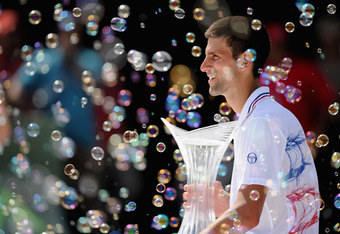 Michael Regan/Getty Images
These men, as well as others on tour, have a giant ego. These tennis warriors need a rather big ego in order to go up against these stone-like athletes every week. Your ego can always get the best of you, so a happy medium must be made; otherwise you might just become too big for your britches—seen in a lot of juniors.
Shot Selection
Let's say you are in a heated match with a person that you have always had an ongoing battle with in tournaments. You hit a huge kick serve out-wide on the Ad side. Your opponent is knocked off balance, making the ball land slightly higher, slower, and shorter. You take charge by moving through the baseline and hitting a ripper of a forehand down the line. Somehow, your opponent returns the ball, regains balance and is back in the ralley.
Tell me, what shot would you go for now? Would you try for another winner?
A lot of people would because they would suddenly feel as though the point should be over and that other person on the other side of net should be out of this point. This would cause a "rushing" shot, meaning that you would rush the next shot, not being patient, and the ball would (most likely) go out of bounds. That point could be a momentum decider, and eventually, prove who wins the match. Shot selection is so precious in a match that players must be able to, instinctively, know which shot should go where without the slightest hesitation. That is what makes tennis so hard. The brain must compute the distance of the ball relative to where you are positioned as it moves like a speeding bullet to your side of the court. That is why over thinking in tennis can confound your game.
Pros have admitted, after a loss, that they were thinking too much during the match which made them become tight. It is hard to believe players such as Federer or Djokovic ever over thinking a shot and making some stupid mistake. The men and women of the tour have hit so many balls in their life that their bodies automatically go into auto pilot. When it comes to judging how good a player is, it comes down to what shot they go for when the game is close. If they go for that big winner and miss by quite a large margin, it just means that they are immature; most top college recruiters would be moving to another court.
That Thing between the Ears
Hitting winners and winning a multitude of matches against players you really should win against is all good fun, but when you go up against those higher ranked and more powerful players, you have to be mentally mature more than anything. Once that thing between your ears starts to make you second guess yourself, you will pop your own balloon in a millisecond. Staying physically strong is one thing, but what about being mentally strong? That is why Federer is so good and is able to beat everyone; with all physical aspects aside.
When I see Federer go up against Nadal and Djokovic (and some other players as well) he plays against another man, such as himself. Then when Federer goes up against, say, Isner, it looks like man vs. big boy. Isner may be a man, but when it comes to tennis, he is still a boy. In Federer's younger days, he made himself older than what he really was by taking charge of his mental side and staying within himself. He turned himself into a man. Not just anyone is able to accomplish such a feat.
My mental side has always been something that I have had to take control of. I am a lot better at it than I used to be, but there are those days when I do become frustrated and is shown through body language; and especially through tennis.  It does matter on personality, but I would like to be able to stay as cool and calm as the Fedex Express. If more players stayed calm in matches, no matter what the circumstance in the match, they would come off as a better player to others watching and would just elevate their own tennis.
You can judge a tennis player a multitude of ways, but these three key elements should be kept in mind when observing another tennis match; no matter if it is pro or recreational.