2012 MLB Predictions: How the Yankees and Red Sox Will Rebound from Slow Starts
April 11, 2012

Rob Carr/Getty Images
There is panic in New York and Boston regarding the opening weekend struggles of the Yankees and Red Sox.
But, it is time for everybody to take a deep breath and relax.
There are still 158 games left in the regular season—157 when tonight's games finish. That means tomorrow morning there will still be 96.9 percent of the season left to play.
All right, if that has not eased your mind, here are some more reasons that any panic right now is ridiculous.
Tough Opening Weekend Series
Did anybody notice what teams the Yankees and Red Sox played this past weekend?
The Yankees had to play a Tampa Bay Rays team that has out one of the best rotations in the entire league.
The Rays went 32-17 down the stretch last season to eek out the final wild card spot in the American League.
With a couple of key moves—most importantly bringing back Carlos Pena and a full season from Matt Moore—some believe the Rays are the team to beat in the AL East in 2012.
The Red Sox, on the other hand, had to play the heavy-hitting Detroit Tigers.
After this weekend, a lot of people would be hard-pressed to find a lineup that presents more challenges to opposing pitchers.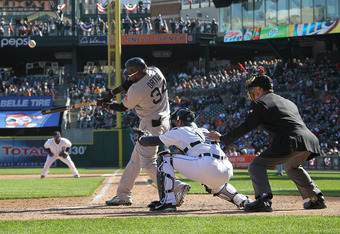 Dave Reginek/Getty Images
Let's not forget that the Red Sox also had to face last year's AL Cy Young and MVP winner, Justin Verlander, on Opening Day.
The Tigers were the unanimous selection to win the AL Central this season.
If Doug Fister—who is on the 15-day disabled list—can pitch like he did at the end of last season and Rick Porcello and/or Max Scherzer steps up, the Tigers could be World Series champions in October.
Needless to say, the opening weekend opponents were not easy for the Yankees or Red Sox. It should not be a shock to either fan base that their team was swept by a very strong opponent. 
Struggles Won't Continue
Only twice in 64 appearances last year did Yankees closer Mariano Rivera give up two runs.
In his first appearance of 2012, Rivera gave up two runs in just one-third of an inning.
Rivera also blew his first save opportunity of the season in that Opening Day appearance. He only blew two saves after May 18 last season.
Yankee fans, you need to take a deep breath. Rivera, along with Curtis Granderson and others who struggled in the opening series, will be fine.
Granderson will likely fail to duplicate his 41 home runs from last season. But, he will also not likely go 2-for-12 with four strikeouts often, either.
Although the strong starting pitching for the Rays was discussed earlier, the Yankee offense actually hit the ball well. Six runs, which they scored in two of the three games, will often result in victories—especially with CC Sabathia pitching.
The same is true for the Red Sox.
Josh Beckett and Clay Buchholz were awful in their first starts of 2012. But, how much of that had to do with facing a tough lineup?
Now, there is concern over Beckett's pitching thumb. If the struggles do continue for him, then the Red Sox may have to consider surgery sooner, rather than later, like Beckett has said.
The lineup will also get much better, too.
Jacoby Ellsbury, last year's AL MVP runner-up, Dustin Pedroia, and Kevin Youkilis combined to go 5-for-34 with eight strikeouts against the Tigers.
Those three players are very important pieces of the Red Sox lineup that really struggled.
Have no fears, those struggles will not continue for the long haul.
Also, don't forget that Carl Crawford, who is going to be a huge part of this lineup, is still rehabbing in Florida. His return will give the Red Sox a very solid left-handed bat, with a ton of speed.
We Have Seen April Struggles Before
Last year, the Red Sox went 0-7 and everybody, including their fan base, had written them off.
But, the Red Sox rebounded and should have been a playoff team in 2011.
Granted, no team ever wants to have a slow start. Especially after they collapsed down the stretch the season before.
But, it's just three games.
The Yankees have also been in this situation. Does nobody in New York remember 2009?
That season, the Yankees started 0-2, but found a way to finish 103-59. That record was good enough to win the AL East by eight games over the Red Sox.
Oh, the Yankees also won the World Series in 2009.
So, maybe struggling in the first few games of the season is a good sign?
The Twins are Coming!
If none of these reasons were good enough to ease your stresses, have no fear, the Minnesota Twins are coming up on the schedule.
There are certain wins in that series. 
And if that's not enough, the Yankees and Red Sox play a three game series, starting on April 20.