Oakland A's: Will They Trade Yoenis Cespedes Before His Contract Expires?
April 11, 2012

Thearon W. Henderson/Getty Images
After the first weekend of the season the Oakland A's find themselves where many predicted them to be: the AL West cellar.  
What most people probably didn't expect, however, was how quickly Yoenis Cespedes would emerge as a legitimate middle-of-the-lineup threat.  Through five games, Cespedes is tied for the league lead in home runs with three and is only one RBI short of the league lead as well.
Surely this should be news that would make A's fans want to rejoice, but one thing that always comes along with being an A's fan is the fear of the unknown, the fear that one day a player you would never expect gets traded—an example being Trevor Cahill, who was traded this offseason to Arizona.  You heard names like Gio Gonzalez and Andrew Bailey involved in trade rumors, but Cahill surely wasn't going anywhere.  Cahill was going to anchor the A's rotation for the next 10 years, he was going to be the next Tim Hudson.  Cahill may still turn out to be the next Tim Hudson, but if he does it won't be as a member of the A's.
A gut-wrenching side effect of being an Oakland fan is once you become attached to a player, it's very hard to watch them go.  You see another young player come in and fill his spot and hope that he's the one who will lead us back to our former glory, and then he leaves also.  It truly is a vicious cycle for a fan, and yes, there is a very good chance Yoenis Cespedes will become the next example of a star Oakland Athletic gone too soon.
Unfortunately for the A's, there's little choice in the matter.  It's either trade him and get something in return, or don't and settle for draft picks, which are even more unpredictable than prospects.  If only there were a way to keep these great players, say a higher source of income from a new ballpark—but oh wait, Bud Selig and the San Francisco Giants aren't in any rush to see that that happens.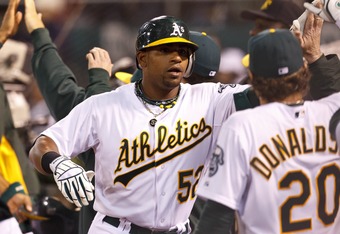 Jason O. Watson/Getty Images
No, the current attempt at a new ballpark is becoming just as futile as the previous attempts.  The Giants are fighting the A's moving to San Jose, and without the new stadium it'll be the same old A's financial strategy: Strip the team bare and hope.
As great as Cespedes is playing, it's in a lot of ways torture for A's fans.  Without an adequate ballpark there is no high income, and without a higher income there is no money to keep the new Cuban star.  As an A's fan you're basically staring down the inevitable.  Every home run he launches into the Oakland Coliseum stands you know will be for a different home team in three years.
Barring injury or a sudden unexpected drop in production, Cespedes will be a very hot commodity around the trade deadline, one the A's sadly won't be able to ignore.  In order to keep Cespedes, the San Jose territory needs to be settled quickly, otherwise Cespedes would be able to become a free agent long before the new stadium opens.
A new stadium generally takes around three years to complete at the latest, and Cespedes' contract is for four years.  That gives the A's only a single year to sort out the whole stadium situation after failing to reach a solution for some time now.  Even if they do get the stadium and decide they want to try and keep Cespedes, retaining him won't be cheap, though. Legitimate middle-of-the-lineup players are rare, especially ones who are defensively dynamic as well.
If Cespedes continues to hit like he currently is, by the time his contract is up he'll be in line for a payday worth well more than $100 million.  So is it even worth the A's signing over their entire budget for one player?  Sure, they'll have an increased payroll, but that doesn't mean they'll be able to compete with teams like the Yankees and Red Sox when it comes to chasing free agents.
Right now all A's fans can do is enjoy the present.  Cespedes is hitting bombs in the spacious Coliseum on a regular basis, and it's once again fun to watch Oakland baseball.  Worry about 2015 when it comes around.  For the time being Cespedes dons the green and gold, and there's no need to punish yourself by picturing him wearing anything different.