Dwight Howard's List of Head Coaching Favorites Proves He Shouldn't Play GM
April 10, 2012

Chris Trotman/Getty Images
Why does Dwight Howard think he deserves a hand in picking who coaches the Orlando Magic?
Kobe Bryant doesn't even get that treatment.
For all of the flip-flopping, public posturing and ridiculous statements that have emerged from Howard's mouth this season, his belief that he should have a say in who is the head coach of his team is embarrassing.
Why should the franchise listen to a player who asked to be traded before the season? Why should the Magic cater to Howard's request and continue to coddle this guy? It's utterly ridiculous.
Take it for what it's worth, but David Baumann of the Bright House Sports Network cites "multiple sources" close to Dwight Howard when naming who the big man would've liked to see at the helm of the controls.
Howard indicated that he preferred the Magic would have hired Indiana Pacers associate head coach Brian Shaw or Golden State Warriors assistant coach Michael Malone to replace current Magic head coach Stan Van Gundy. 

BHSN has learned that a discussion of a hypothetical head coaching change took place between Howard and recently resigned Magic CEO Bob Vander Weide, however, no offseason coaching change was made, which led to part of Howard's growing frustration with the team.
No disrespect to either Shaw or Malone, but neither is anywhere close to Stan Van Gundy's level. Those two candidates aren't even on the same coaching planet as Van Gundy, and it's insulting to a proven, successful coach that Howard wants him gone.
Not only is Van Gundy one of the best coaches in the league, but he's a major reason as to why Howard has developed into the player he is and one would think the big fella could see that rather than continuing to act like a petulant child.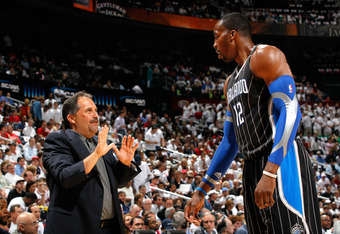 Kevin C. Cox/Getty Images
It's been an exhausting season of Howard quotes, demands and wish lists. His name has been in the headlines far too frequently and he's lost a lot of fans with how he's very clearly wavered on whatever it is that he actually wants to achieve.
Orlando has done whatever possible in order to appease Howard outside of changing coaches, but at what point does the franchise stop attempting to pacify Howard and build a winning culture around the team?
There is no doubting how important Howard is in the lineup—the Magic are not a good team without him, but his attitudes and actions throughout the course of the campaign have been nauseating at times.
He's appeared to mentally check out of several games, has been seen smiling on the sidelines when his team is getting blown out and has shown an inability to be a real leader of this team.
Is that really the guy the Magic want to be making decisions that impact the future of the team?
Is this really the definition of a franchise player?
It's truly incredible what Howard's season has brought us.
Averaging 20.6 points, 14.4 rebounds, 1.5 steals and 2.2 blocks, this year has not been about the dominant force in the middle playing for the Magic.
Instead, it's been all about Howard's indecision and inability to lead his team in the right direction.
Ryan Anderson told beat writer Brian Schmitz, "I love Stan. I think he's a great coach for us."
Hedo Turkoglu added to Schmitz, "I want Stan to be my coach forever."
It's too bad the Magic's most important player can't see the importance of his own head coach.
Howard wouldn't be the player he is today if it weren't for Van Gundy, and this is how the starting center has rewarded the man who is largely responsible for shaping his career.
It's truly pathetic.
How can any Magic fans want Howard to have a say in what happens in the front office?
What has Howard done to earn that type of leverage?
It's startling that Howard believes he's earned the right to have a say in how the team is constructed and just another sign that he's a got a long way to go before he'll ever lead any team to a championship.