2012 NFL Draft: Denver Broncos Must Pass on "Project" Brock Osweiler
April 10, 2012

Ethan Miller/Getty Images
Brock Osweiler is a double-edged sword. He has shown lots of promise and raw talent, but he is still inexperienced and unpolished after only one season in college as the unquestioned starter at ASU.
Most project Osweiler to be picked fourth or fifth among quarterbacks during the draft this year, meaning he will likely cost the Broncos (or any other team interested) a second-round pick.
Andrew Luck, Robert Griffin III and Ryan Tannehill have all been projected to go in the top 10 among draft picks in 2012. The only other quarterback ahead of Osweiler will be Brandon Weeden. Weeden has the unfortunate circumstance of being a 29-year-old rookie. Osweiler may surpass him because of his potential and even age alone at only 21.
Those factors equal second round for sure. The only saving grace for the Broncos might be that he is snatched before they get a shot at him when they draft at 57th overall in Round 2.
John Elway, John Fox, Broncos offensive coordinator Mike McKoy, QB coach Adam Gase and other Broncos brass recently took a trip out to Arizona State for a one-on-one workout with draft prospect Osweiler earlier this week.
It is true that the Broncos need a young guy behind Peyton Manning in case the unthinkable happens and he is injured irreparably early on in the 2012 season and the backup is called upon to carry the team. For the Broncos, this has to be a QB who can instantly step up and support the team.
I have my doubts about the ability for former CSU Ram, Caleb Hanie, who, after inheriting the reins from Ex-Bronco Jay Cutler with the Bears, promptly drove their season into the ground and was shown the door after last year's debacle.
No, Hanie isn't the answer to back up Manning. I am not sure what John Elway and company was thinking when they signed him last month.
So in the event that Manning goes down and Hanie proves to be a complete waste, who waits at the end of the bench…Adam Weber and Brock Osweiler?!
Yeah, that doesn't sound very promising.
Osweiler will be a catch for any team next year, but as a projected second-round draft pick, he is much closer to "project" than a legitimate starter this year or next. Most consider first-round quarterback picks to be a lock to start next season. Second-rounders should not be farther off—maybe in two seasons? But Osweiler would come with a big pricetag in the second round for a team like the Broncos with much more substantial needs to fill.
They desperately need a DT, maybe two, early in the draft. Most believe the Broncos will use their first-round draft pick on a beast in the middle. The Broncos also should consider upgrading their receiving corps.
D.J. Williams will likely leave a big void at the weakside linebacker position if he cannot get the charges of his failed drug test for PEDs cleared. That suspension stands now at six games. The Broncos re-signed the uninspiring Joe Mays, who is pretty good making tackles and stuffing the run, but definitely not the top in the league. The Broncos could use at least one additional top pick at linebacker.
Running back remains a question mark beyond the 30-year-old Willis McGahee, who had a career year with the Broncos last year, but you have to wonder about how much is left in his tank. The Broncos have Knowshon Moreno, who has consistently disappointed since being drafted by Josh McDaniels a few years ago and recently was arrested for a DUI.
Christian Petersen/Getty Images
Running back is definitely a huge area of need the Broncos must address in the draft. My personal opinion would be to draft a running back as high as the second round (someone like Lamar Miller).
Cornerback is another area of need for the Broncos. Even after signing a top free agent in Tracy Porter from the New Orleans Saints, there is still some need to add some youth. Champ Bailey is a lockdown corner, but he isn't getting any younger. There have been talks about moving Bailey to safety in his old age.
Scouts are high on Osweiler. I believe he definitely has a future in the NFL, but I think the Broncos in their unique situation that requires them to draft a quarterback a bit more seasoned than Osweiler.
He has monster size he measured 6'7" at the NFL Combine. He has the huge arm that Elway covets. He gets some great zip on the ball, giving him the ability to squeeze the football into tight spots. He is surprisingly mobile quarterback for his size. His footwork is good. He has some leadership and work ethic qualities.
But all of these qualities are far from polished. He has struggled with consistency, and has only performed over one full season at the collegiate level.
This lack of experience has shown its ugly head most often when under pressure. He tends to throw off his back foot under duress, leading to interceptions. Like many other quarterbacks in college, he comes from a spread offense, a similar package Tim Tebow ran during his years at Florida. In the spread, the majority of his snaps came out of the shotgun with limited experience under center.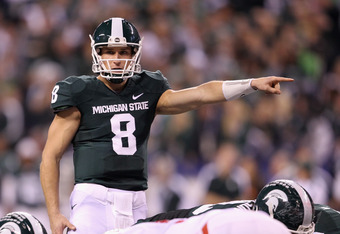 Andy Lyons/Getty Images
Other knocks on Osweiler include that he often forces passes and doesn't wait for a play to develop. He also could use some experience and work reading defenses, as oftentimes he misses pre-snap reads.
No college quarterback is perfect, but there is just too much to fix and work on for Osweiler to be a great fit for the Broncos as a backup to Manning.
The other options a bit lower down the list of QBs available in this draft include Kirk Cousins from Michigan State and Nick Foles from Arizona.
Cousins will likely be more of a game-managing quarterback in the NFL, and that is ideal of any backup. He can make smart decisions and sound choices with the football, while avoiding big costly mistakes that blow games. Hopefully, Cousins will be available in the third round if the Broncos are interested. He's more experienced and polished as a passer, and is a better fit for Denver than Osweiler.
Foles may be available in the fourth round as his draft stock has taken a big hit after an average showing at the NFL Combine and in the Senior Bowl. He could be a good grab for the Broncos without the high cost if he's around in the fourth round, while the Broncos could use the best picks to shore up their holes everywhere else. He has some potential to be a good backup, but has a lower ceiling than all of the others ahead of him.
Manning has maybe three years left if we're lucky and five if he plays out the duration of his contract. Osweiler will be a perennial backup by that point. As Manning's predecessors exhibited last year, waiting behind Manning does not translate into instant success on the field.
Manning will take nearly every snap with the first-team players during training camp, while Osweiler will spend most of his rookie year on the practice squad. Osweiler needs hands-on experience to improve and the Broncos won't afford him that luxury in their now-focused mindset to win a Super Bowl this season (or next).
Projects are just not a good fit on this Broncos team. Just ask Tim Tebow.