Breaking Down Where Minnesota Vikings QB Christian Ponder Must Improve This Year
April 10, 2012

Jonathan Daniel/Getty Images
It was around this time last year when former Florida State quarterback Christian Ponder started being rumored as a high selection in the 2011 NFL draft, and the Minnesota Vikings made those rumors come to fruition when they selected him 12th overall in the first round—a draft slot that many questioned.
Despite the questions from the critics and draft gurus, Ponder impressed in a rocky season that was supposed to consist of him holding the clipboard and learning from veteran quarterback Donovan McNabb. However, that plan quickly went south and Ponder was learning on the job and learning the hard way by giving up turnovers.
A lot of 'em.
Ponder threw 13 interceptions in 11 total games, many of which were because of either bad decision-making or just the wrong reads. Two examples of these types of turnovers, both of which illustrated how not to execute in situational football, came against the Oakland Raiders in Week 11 and against the Denver Broncos in Week 13.
It was 3rd-and-goal against the Raiders when one of Ponder's three interceptions occurred. Ponder lined up five yards off the ball in a shotgun set in 12 personnel (one back, two tight ends), with the second tight end aligned as a wing.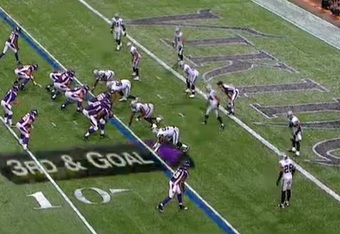 At the snap, the receiver to Ponder's left ran a clear-out route that opened up the flats for the second tight end, the wing, to run a shoot route to, allowing Ponder to make an easy throw for six points.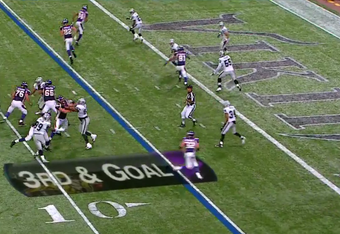 However, once Ponder's back foot hit on his drop, he shifted his eyes from the shoot (flat) route to the middle of the field. This was his first mistake, as he should have let the play develop instead of quickly going through his progressions, which was a simple one-two read.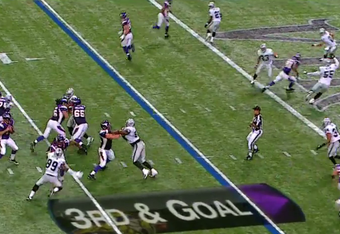 Because Ponder didn't get the ball out on his rhythm drop, he had to escape the pocket due to pressure coming from his left. Once he left the pocket, Ponder had nowhere to go with the ball and instead of simply throwing it away to get three points, he forced the ball and the offense didn't generate any points.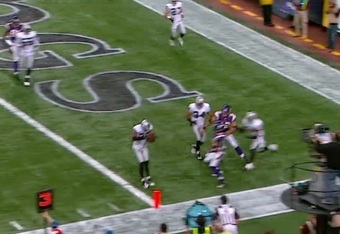 This is one example of a rookie quarterback that is still learning situational football. These are the types of mistakes Ponder cannot make. 
Moreover, in Week 13 against the Broncos, Ponder made yet another situational football mistake by forcing it, but this time it came in his own territory.
The Vikings came out in 22 personnel, which consists of two backs and two tight ends. This is typically a run formation for the defense and they often play it as that, but the Vikings passed the ball out of it in this case.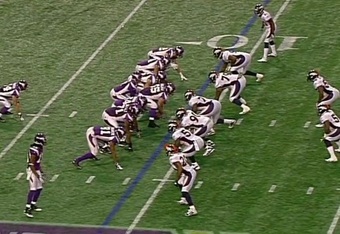 To Ponder's right was tight end Visanthe Shiancoe and receiver Devin Aromashodu, where the direction of the play would be go. At the snap of the ball, Ponder executed a play fake on a quick five-step drop. 
When his back foot planted, Ponder got it out this time but to the wrong person. It was Broncos linebacker Mario Haggan, who unexpectedly dropped in coverage to form an inside-out bracket on Aromashodu.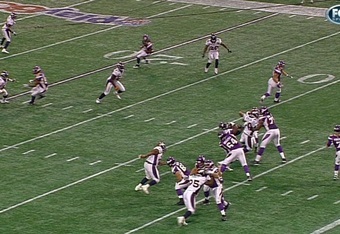 Ponder didn't see him and instead threw the ball to Aromashodu instead of his outlet in the flats.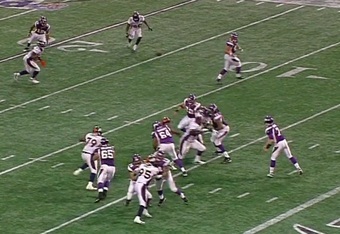 Despite these issues with decision-making and situational football, I was impressed with Christian Ponder's play in his rookie season. He made many big throws and showed flashes of quality play. His mobility was a big asset in his game, and as he develops the game will slow down for him when he won't go through his reads too fast, as seen against the Raiders, or leaves plays out on the field like he did against the Broncos.
Fortunately for Ponder, he's in a system that fits his strengths, which makes it an ideal situation for him.