Minnesota Twins 2012: Why This Team Will Have Another Terrible Season
April 10, 2012

Rob Carr/Getty Images
The Minnesota Twins got their home opener out of the way on Monday afternoon, and it went as expected. A lot of fanfare, memories and celebrations dazzled the pregame, but once the rubber was toed, the Twins did what they will most likely do over 90 times this season: lose.
The team played terribly and lost 5-1 to the Angels.
The franchise that was once looked up to by the rest of the majors for its superb fundamentals, outstanding farm system and hometown personalities is now more of a novelty. The prospects the Twins are counting on to make a difference are still a few years away, and that time frame puts current starts Joe Mauer and Justin Morneau in their thirties. 
Mauer had a bad season all the way around in 2011. He went on the disabled list right away after he had problems recovering from offseason arthroscopic knee surgery. The specific issue was dubbed "bilateral leg weakness" and was mocked all over the Twin Cities.
A working-class city does not appreciate one of their own to even give the appearance of laziness, and that was what a lot of people were calling Joe's injury: not working hard enough in spring training, and coming right after he signed a huge contract. 
Slugging first baseman Justin Morneau played in only 69 games in 2011, as he was still suffering symptoms from the concussion he sustained back in July of 2010. Minnesota hopes Morneau will be getting back to his powerful ways this season, but he is still not at 100 percent.
Morneau is starting the year as the designated hitter. He will have to be a difference maker for the Twins this season if they are going to compete at all.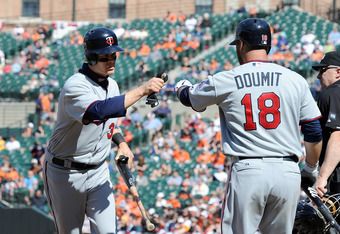 Greg Fiume/Getty Images
The team started the season with a few "gimme" games. They played at Baltimore, a team that recently lost to a community college team. (No joke.) The Orioles swept Minnesota, giving them an 0-3 record to start to the 2012 season. 
The schedule only gets harder for the Twins. After the series with the Angels, they face the Rangers, Yankees, Rays and Red Sox. Brutal. 
Michael Cuddyer, the team's long time fan-favorite, was allowed to sign with the Colorado Rockies this winter. Power-hitting outfielder Jason Kubel signed with the Arizona Diamondbacks.
How did the Twins fill those huge holes?
They signed Josh Willingham and Jamey Carroll. Willingham is a career .262 hitter. Carroll hit a career-high five home runs in 2006—not very appealing stats. That's certainly not enough to even come close to replacing the bats of Cuddyer and Kubel, both legitimate home run threats.
Before last season, the Twins lost relievers Jesse Crain and Matt Guerrier. They failed to sign any replacements. We saw the results of that mistake last season: 99 losses. Second-worst season in franchise history (in 1982, they lost 102 games).
The American League Central is not going to be easy, either. The Tigers are stacked and the Indians are built to win now. With no pitching and what looks like little to no hitting, this Twins team might be in for its worst season ever.
One thing the Twins are learning after playing at Target Field for two full seasons now is that the ballpark hates home runs. It is one of the most pitcher-friendly parks in all of baseball. In 2011, only Kansas City and Oakland's ballparks gave up less home runs per game than Minnesota.
Team manager Ron Gardenhire has a long tenure, but at some point, losing can no longer be tolerated. Even though he is beloved by fans in Minnesota, if the Twins can't be competitive this season, it might be time to move on.
I think Gardy, as he is affectionately called around Minnesota, is a great guy. His in-game decisions, however, leave much to be desired.
I am reminded of a playoff game in 2010 against the Yankees. Reliever Matt Guerrier was having problems late in the game with Minnesota clinging to a 4-3 lead. Gardy walked Mark Teixeira intentionally to load the bases—I guess to get a double-play ball. A-Rod came to bat going 4-for-6 in his career against Guerrier with three home runs.
Instead of yanking Guerrier in favor of a better matchup, he left him in. A-Rod blasted a grand slam; the Twins lost. Decisions like that can't happen. 
Gardenhire is 6-21 in the playoffs—zero playoff series wins as a manager. Division titles are nice, but at some point they have to lead somewhere.  
If Mauer can literally be the American League MVP again, and Morneau can hit 35 home runs, they have an outside chance of the playoffs in 2012.
Aside from that unlikely scenario, look forward to 2013, Twins fans. Maybe after this season, the team will finally go get an ace pitcher.