NHL Playoffs: Boston Bruins Have Depth to Overcome Nathan Horton's Absence
April 9, 2012

Christian Petersen/Getty Images
Boston Bruins winger Nathan Horton isn't likely to return to the team during its Stanley Cup defense since he hasn't been cleared by doctors yet, and even if he was, the 26-year-old would need a few weeks to get up to speed.
"If he were to be cleared at some point, he would need at least a couple of weeks to get back," [Bruins GM Peter] Chiarelli said during a 20-minute conference call Sunday. "He's quite far off right now. I know he's skating, but he's having little bouts here and there of post-concussion symptoms. It's a long shot. I'm not going to rule him out, yet, but it's a long shot."
Horton missed 36 games this season because of a concussion, but the Bruins' offense has been able to produce at a nice rate without him. Boston had six 20-goal scorers this season, and as a team they finished second in the NHL in goals scored per game.
New additions this season, including Brian Rolston, Benoit Pouliot and Jordan Caron, have played well in recent weeks and give the Bruins some wingers who can play on just about any line that head coach Claude Julien puts on the ice.
You also have to consider that sophomore forward Tyler Seguin, who led the team in points this season, will play a much larger role in this year's playoffs than last season's. His rise in offensive production will certainly help the team while Horton remains unable to play.
Veteran center Chris Kelly is also having a fantastic season offensively and set a career high with 20 goals. His offense should also be better in this year's playoffs than last season's.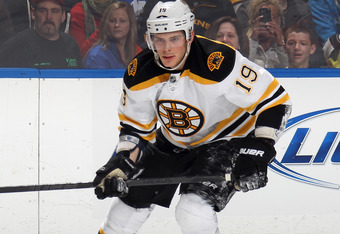 Bruce Bennett/Getty Images
Horton was a big part of the team's Stanley Cup run last season and scored three game-winning goals in the playoffs, including Game 7 against the Montreal Canadiens in the first round and Game 7 of the Eastern Conference Finals versus the Tampa Bay Lightning.
However, the Bruins have enough offensive depth to overcome Horton's absence in the lineup and return to the Stanley Cup final.
The additions made to the team throughout the year as well as Seguin's improvement will be enough to help the Bruins make another deep playoff run.
Nicholas Goss is a Boston Bruins Featured Columnist for Bleacher Report and was the organization's on-site reporter for the 2011 Stanley Cup Finals in Boston.