NBA Draft 2012: Perry Jones III Is Too Big a Risk for Lottery Pick
April 9, 2012

Streeter Lecka/Getty Images
Baylor's Perry Jones III has the potential to be a successful PF in the NBA, but he's just as likely be a huge bust at the next level.
One of the biggest problems with Jones is a lack of physical size. At 6'11" you'd think this wouldn't be an issue, but with only 235 pounds on him, Jones could get eaten alive down low he if isn't able to put on some weight between now and the NBA season.
You start to see where this could be a legitimate problem when you consider that Lebron James, a small forward, is three inches shorter, but still has 15 pounds on Jones. Even Pau Gasol, a smaller, less-than-physical PF has an inch and 15 pounds on Jones.
Another reason that Jones is too big of a risk to be taken as a lottery pick is his inability to show up in big games. In this year's NCAA Tournament, Jones disappeared in the first two rounds scoring a combined nine points in those games. He was better in the final two games of the Baylor season, scoring 14 and 17 points. His 40 points over the four tournament games left him with an average of 10 points, four points below his season average.
Jones also disappeared against Missouri when they were ranked No. 5 and No. 4, both Baylor losses. In the first game, he scored eight points and managed only four in the second game. In the third meeting, with Missouri ranked No. 5 again, Jones played better and finished with 16 points and 11 rebounds in the loss.
There is also something to be said about the lack of improvement from year one to year two. Jones' stat lines from 2010-2011 and 2011-2012 are almost identical, with his scoring production slightly down from 13.9 in his freshman year to 13.5 in his sophomore year. When it came to rebounding, he improved by 0.4 rebounds, registered 0.3 less blocks and 0.3 more steals. As a player that needs lots of improvement to be a solid NBA player, this is quite troubling to see.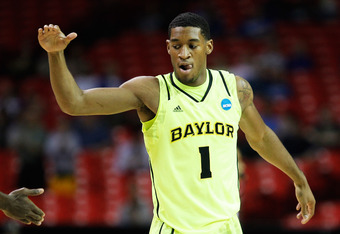 Streeter Lecka/Getty Images
Consistency has also been a big problem for Jones. There were too many times this season where Jones followed up a 28 point performance with six points, an 18 point performance with eight points, a sixteen point performance followed by back-to-back games scoring five and four points on a combined 3-20 shooting.
Jones is an incredibly talented player and has a chance to have success at the NBA level. His potential to become a bust should be taken seriously. The risk he presents is just too high justify using on lottery pick. Jones should be drafted somewhere just outside the lottery numbers and before the 20th pick.
With his extreme athleticism, Jones can be an offensive weapon in the NBA. He would heavily benefit from being drafted by a team that already has a dominant offensive threat. Jones would then be able to carve out a spot as a role player, so he can grow into a role that allows him to have success.
The potential may be too much to pass up for certain teams, and Jones may in fact be a lottery pick. It truly depends on how different teams view him and the role he could play on their teams. The risk is high with Jones, but as is often the case, the reward is high.