NBA Draft Lottery 2012: Teams That Tank and What Needs to Be Done About It
April 9, 2012

Ronald Martinez/Getty Images
In any given season, barring a surprise trade at the deadline or an unforeseen injury, it isn't difficult to pick the five or six teams that have a chance at an NBA championship before a single game is even played. Inevitably, with more than twenty teams who lack the skill to compete for an NBA championship, there are merely two options: compete for a playoff spot and hope for the best or blatantly dump assets and shed salary in the hope of landing the next LeBron James or Dwight Howard in the NBA draft.
By making the playoffs, teams generate revenue and excitement, which, unless you're the Atlanta Hawks, comes in the form of increased attendance and fan interest. Furthermore, playoff teams have an easier task of convincing free agents to sign with them in the offseason, especially when using the NBA's mid-level exception.
Going the route of dumping assets and blatantly tanking, NBA teams seem to be selling fans on the idea of lottery balls and the increasing odds of landing a superstar to help their team in the years to come.
This year, we see the Charlotte Bobcats as the quintessential poster child of this tanking craze. Dumping Stephen Jackson and Gerald Wallace, the Bobcats ensured their place as the worst team in the NBA this season. When your four highest paid players are Corey Maggette, Boris Diaw, Tyrus Thomas and DeSagana Diop and you're anointing Kemba Walker as your best young player, wins will be very difficult to come by.
So, Michael Jordan and the Bobcats will walk into the draft lottery with the highest odds of landing Anthony Davis, the 6'10 shot blocker from the national champion Kentucky Wildcats.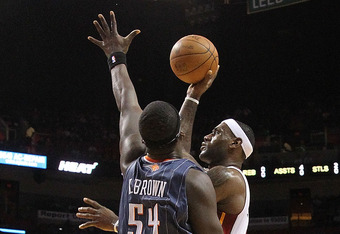 Mike Ehrmann/Getty Images
Does this mean that they'll get him? Not if history is any indication.
In the history of the NBA draft lottery, the worst team has only picked first twice. Therein lays flaw number one of tanking. In fact, due to the odds given to each team in the lottery process, the Bobcats have a much higher chance of picking second or third than they do of picking first. Let me go on record and say that Anthony Davis will not be a Bobcat this September.
There is the other theory that simply picking first doesn't mean you get the best player. While Magic Johnson, Tim Duncan and Dwight Howard have gone on to become the best players from their respective draft classes, recent history has shown us that the best player from any particular draft class also being the first pick is an exception, not the rule.
While the jury is still out on Kyrie Irving and John Wall, it is pretty obvious that the first overall pick has often been a crap shoot even when there is a consensus first overall pick, such as Hakeem Olajuwon in 1984 or Greg Oden in 2007. Andrew Bogut and Marvin Williams were picked ahead of Chris Paul and Deron Williams. In 1996, Allen Iverson was picked twelve spots ahead of Kobe Bryant. In 2007, Greg Oden was picked ahead of Kevin Durant and about twenty other players who turned out to be more serviceable than he. In fact, in 2007, even the first pick of the second round Carl Landry has gone on to have a better career than Oden.
In 1999, a draft in which the Chicago Bulls selected Elton Brand with the first overall pick, the best player from the draft would be picked fifty-six selections later by the San Antonio Spurs, who selected a 6'6" shooting guard from Argentina named Manu Ginobili.
As we see here, the only science to drafting is scouting. There is a reason that the San Antonio Spurs grabbed Tony Parker and Manu Ginobili, at twenty-eighth and fifty-seventh respectively, in the same drafts that the Cleveland Cavaliers selected Trajan Langdon and DeSagana Diop in the lottery.
But you might argue that it was the very same Cavaliers who later met the San Antonio Spurs in an NBA Finals after a certain number twenty-three dropped into their lap in 2003. Right? And where did that guy end up? Right. He joined the guy in Miami who was picked four spots after him in 2003 on a team which was not only committed to winning, but actually knew what the hell it was doing.
Even when the Chicago Bulls landed Derrick Rose, they did so with the ninth worst record in the league. It was a pure fluke. But, because they hadn't deliberately lost sixty-five games the season before, Rose came into a team which was already attempting to establish a winning culture. He was the guy they'd proceed to build around, and he was mature for his age, but having veterans and quality players to help him win almost instantly, certainly did a lot for his development.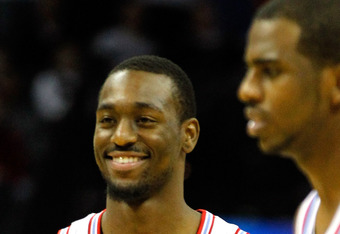 Streeter Lecka/Getty Images
Young players seldom come in ready to accept the responsibilities of being franchise players, and what isn't earned is seldom valued. This means coming into an organization which has an identity, has veteran presence and a credible coaching staff. Good luck attracting veterans and quality coaches to teams which are chasing lottery balls.
So, we see that tanking doesn't work because the lottery odds make it uncertain. Because, most of the time, the best player in the draft is not selected first overall and even when you do land a gem prospect you have to have a winning culture to maximize that young player's potential.
Yet teams continue to tank and do so shamelessly. From trading away valuable players for next to nothing, to sitting down key players with phantom injuries, some franchises have shown a complete disregard for their fan base and the integrity of the game.
How can we measure how great the Miami Heat are if they're beating six teams per month that are deliberately trying to lose? It almost makes me wonder if the worst team in the East simply went out and tried to win, could they make the eighth spot in the East simply due to how badly the teams they would be facing wanted to lose?
The NBA should look into correcting this mess and can do so in one of two ways.
They can create a system where the fourteen teams who miss the playoffs are all given equal odds of getting the first pick, and do a lottery draw for the first five picks in the draft as opposed to the first three. So this year, under this system, Charlotte would go in with a seven percent chance of picking first and go home with no less than the sixth overall pick. It certainly takes the appeal out of tanking, as the prospects of landing the sixth pick don't seem to be worth the year of pain they just put their fan base through.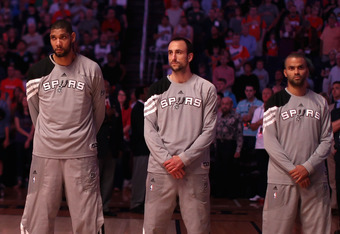 Christian Petersen/Getty Images
Another idea would be to extend the lottery to include twenty-two teams. So, the teams that miss the playoffs and the teams that get knocked out of the first round would all have a chance to land a top-five selection. Each non-playoff team would have a five percent chance of landing the top pick, and each of the eight first round exit teams would have a 3.75% chance of landing the first overall pick.
Under this system, with a collective thirty percent chance of landing the top selection, the first pick may end up going to a forty-seven win team. Using a lottery simulator, and today's standings in the NBA along with a simple prediction of who would win a first round matchup between the two teams currently slated to face each other, the first five picks of the NBA draft would be made by the Houston Rockets, New Jersey Nets, Detroit Pistons, Toronto Raptors and the Dallas Mavericks. This is, of course, assuming that the Mavericks would lose to the Thunder and the Rockets would lose to the Lakers.
The Charlotte Bobcats, with a 7-47 record would end up with the sixth pick, the Wizards with the seventh, and the Hornets with the eighth. Is it fair? Well, I'd imagine under a system that didn't reward teams with a guaranteed top-four selection for managing to go 7-47, that said-team would probably attempt to win a few more games and hold on to some of the veterans they traded away. Anthony Davis would get drafted by a playoff team and would probably be allowed to ease into the NBA. I can't imagine how much of a beating his body is going to take if he goes to a team who attempts to market him as a franchise saviour by putting him out for thirty minutes a night out of the gate.
Streeter Lecka/Getty Images
If this system does anything, it dissuades teams from tanking for lottery positioning. Sure, sometimes teams need legitimate help via the draft and probably need a franchise guy to save their team from going bankrupt. But as history has shown us, that help can be available throughout the draft, not just at the very top.
Teams would probably invest more time into scouting overseas and attempt to do research on players more comprehensively before drafting them. It didn't take a genius to figure out that Hasheem Thabeet was not going to be a very productive NBA player. Maybe with the fear that they might end up picking eighth the Memphis Grizzlies would have scouted more comprehensively going into that draft.
Whether you find my suggestions valuable or not, it is fairly certain to me that the system as it is right now doesn't work. Not only does it force the top prospects into situations where they're not likely to be put into a good situation from a development standpoint, but it also compromises the integrity of the game itself when teams like Charlotte, New Jersey and Cleveland either trade away key players or sit key players with phantom injuries for extended periods in order to lose more games.
This is the NBA. This stuff doesn't even happen in Turkey.