Redskins Draft 2012: LaMichael James and the Third Round Pick
April 8, 2012

Jeff Gross/Getty Images
The Washington Redskins' first-round pick is a lock. The Redskins are drafting Robert Griffin III, no way around that. With that in mind, and with the second-round pick traded to St. Louis in the RG3 deal, the third-round pick takes on a whole new importance.
The Redskins have holes on both sides of the ball, so spending well on the highest pick left after RG3 has to be important. Last year, the Redskins used their third-round pick on one of the steals of the draft by picking up Miami's Leonard Hankerson.
I think the Hankerson pick is an indication of what's to come this year. Bruce Allen and the Redskins front office had a great draft last year, with more than half of their picks seeing extensive playing time. This year Allen has to do even better, and make more quality choices with fewer picks.
With that in mind, it shocks me that upon reading multiple mock drafts, the consensus seems to have the Redskins taking Oregon RB LaMichael James with the third-round pick. This is a poor pick for two reasons.
1. The Redskins are set at RB, at least for this coming season. Roy Helu and Evan Royster both had breakout rookie seasons, and Helu, in particular, looks to be the workhorse of the future. With Tim Hightower probably coming back, that gives the Redskins a great three-back rotation.
2. There are too many needs for the Redskins to be adding depth at RB in the third round. Maybe in the sixth round picking up a backup RB makes sense, but not with the third-rounder. The Redskins have no feasible depth on their offensive line, both Atogwe and Landry are gone at safety with only an aging Brandon Meriwether to replace them, London Fletcher still isn't re-signed and is only a mortal man who will eventually need to be replaced and watching Dez Bryant drag the Redskins corners up and down the field last year was an experience that I have no wish to repeat.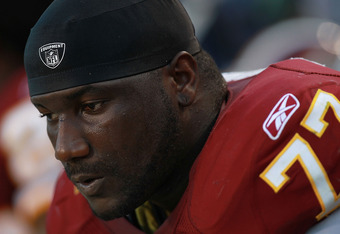 Ronald Martinez/Getty Images
With all that in mind, why would Bruce Allen draft a running back with the third-rounder? It just doesn't make sense. I know I can't be the only one who reads these mock drafts and suspects that the person writing them doesn't know the first thing about the needs of the team.
Who should the Redskins draft with the third-rounder? If it were up to me I would draft a tackle.
Jammal Brown is not getting any younger or less injury prone. Zebrie Sanders from Florida State is probably the safe pick, however, I think the Redskins need to seriously consider James Brown from Troy. Yes, he played in the Sun Belt Conference, but he also played at the Senior Bowl and shined against elite talent, and had a good combine. Plus his name is James Brown, which is a plus in my book.
If not a tackle, the Redskins could choose to address the gaping hole at safety, but this is a pretty meager draft in terms of safety prospects. Or they could look towards the future at inside linebacker and begin the hunt for Fletch's replacement.
Just to point this out, but this is nothing against LaMichael James himself. I was a fan of his college career at Oregon as I'm sure many people were, but this Redskins team has too many issues to be spending a high draft pick on him or any other running back.