NFL Draft: Minnesota Vikings' Options at No. 35
April 8, 2012

Kevin C. Cox/Getty Images
We've officially entered the dog days of the NFL Draft process. Draftniks have overthought every possible scenario to the point of delirium, and with the Vikings essentially holding the No. 1 pick, the spotlight of insanity is shining squarely on Rick Spielman. Imaginations are running wild, and the irrational notion that a team may actually be willing to ante up for Ryan Tannehill at No. 3 is the flavor of the week. 
[Snap back to reality]
No self-respecting NFL personnel man is going to make that move, and while Spielman has been a deer in the headlights throughout his first offseason as Vikings GM, he can't possibly botch the No. 3 pick. Left tackle Matt Kalil is the top non-QB prospect in the draft, and ever since Bryant McKinnie ate his way off the roster, the Vikings have been protecting Christian Ponder's brittle blindside with a guard (Charlie Johnson). 
Joe Fan typically doesn't notice the offensive line unless it's failing. Joe Fan noticed Charlie Johnson a lot last season. Kalil's not the sexy pick, but he's the sensible pick. 
The real intrigue for the Vikings begins at pick No. 35, where they could go a number of different directions. That's the "luxury" of being a 3-13 team. 
Wide Receiver

Michael Jenkins is currently penciled in as the team's No. 2 receiver, which illustrates the seriousness of this situation. In Percy Harvin and the tight end tandem of Kyle Rudolph and John Carlson, the team has the middle/intermediate portion of the field covered. The glaring need is for an outside field stretcher.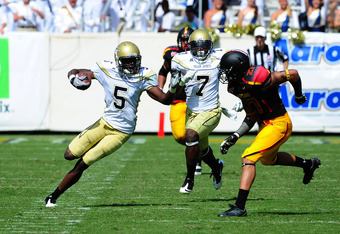 Scott Cunningham/Getty Images
One factor that could work into the Vikings' favor is that several previously receiver-needy teams picking between No. 3 and No. 35 (Tampa Bay, New England, San Francisco, Jacksonville, San Diego and Chicago) have already made substantial investments in the position this offseason via free agency and trades. 
Kendall Wright is likely the best receiver with any possible (albeit slim) chance of falling to No. 35, but even if he were available, there are questions about the smallish Baylor product's ability to win deep from the outside at the next level. With Harvin on-board, Wright looks redundant on paper. 
Workout warrior Stephen Hill has seen his draft stock soar since tearing up the Combine. Due to a run-heavy Georgia Tech system, his college production was unimpressive and his game lacks polish, but his freakish athleticism has frequently been mentioned in the same breath as fellow Yellow Jackets Demaryius Thomas and Calvin Johnson. Sadly, a 6'4", 215-lb. specimen who runs a 4.36 40-yard dash is probably a pipe dream for the Vikings at No. 35.
The Vikings' South Carolina receiver pipeline (Troy Williamson and Sidney Rice) could come into play once again this year. Alshon Jeffery also has the ability to stretch a defense, but in a very different way than Stephen Hill. Like Sidney Rice, he lacks elite speed but has a big body and knows how to use it downfield. Jeffery's stock has been all over the board throughout the draft process, largely due to dispelled weight concerns (I wouldn't feed Minneapolis catering to my dog anyways). Projected as a late first rounder, Jeffery would be an imposing target for Ponder if he slides on draft day. 
LSU's Rueben Randle is a polished receiver with an impressive combination of size/speed/hands, and he probably has a higher floor and lower ceiling than Jeffery. He'd be a safe pick for the Vikings. Rutgers' Mohamed Sanu is of the same ilk, but grades out a half-tick behind Randle by most scouts.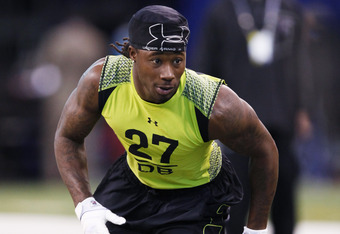 Joe Robbins/Getty Images
Cornerback

The Vikings' first pick in the 2010 draft, Chris Cook, recently wiggled out of his domestic assault charges and has a firm chokehold on a starting spot. The team has also added a pair of (luke)warm bodies in free agents Zach Bowman and Chris Carr, so despite ranking 26th in pass defense last season, Minnesota may feel confident enough to go a different direction early in the draft. 
If the fast-rising Stephen Gilmore were to slip to No. 35, he'd be a lock. He won't, nor will Alabama's Dre Kirkpatrick, so if the Vikings are looking for a value cornerback at this spot, they'll have to roll the dice on baby-making machine Janoris Jenkins. There are scouts who put him on par with Morris Claiborne in terms over pure cover ability, but Jenkins has proven to be nothing more than an athletic criminal. He's the ultimate boom-or-bust prospect, and the Vikings can't afford to miss with this pick. 
There's a dropoff to Nebraska's Alfonzo Dennard, UCF's Josh Robinson, Montana's Trumaine Johnson and Oklahoma's Jamell Fleming, so unless Gilmore falls, the Vikings would be wise to wait until the third round to address the cornerback position.
Safety

In case you missed it, the Tyrell Johnson experiment came to an unceremonious end last week, leaving the Vikings with a pair of special teamers (Jamarca Sanford and Mistral Raymond) roaming the deep halves of the antiquated Tampa 2. In a division that boasts Aaron Rodgers, Greg Jennings, Jordy Nelson, Jermichael Finley, Matthew Stafford, Calvin Johnson, Jay Cutler and Brandon Marshall, this should terrify you. 
Alabama's Mark Barron is the jewel of a(nother) weak safety class, so he has little chance of falling out of the first round. 
The consolation prize is Notre Dame's Harrison Smith, who, like Kalil, would be a safe pick that could help both immediately and long-term. He has excellent size and knows how to lay the wood. The Vikings have a solid recent history of scouting Notre Dame prospects, so keep an eye on Smith.
Wild Cards

As the Vikings proved with their second-round selection of Kyle Rudolph last year, they're (wisely) not averse to sloughing need in favor talent if the opportunity presents itself. This is, after all, a two-year rebuilding plan (at best). There are a handful of players who could give Spielman something to consider if they're available at No. 35.
The Vikings just extended Letroy Guion, who's slated to play out of position as the one-technique tackle alongside Kevin Williams. Penn State behemoth Devon Still (6'5", 310 lbs.) is inconsistent and has an injury history, but he's an imposing force who warrants consideration. Same goes for Michigan State's 6'3", 310-lb. Jerel Worthy.
Georgia guard Cordy Glenn checks in at nearly 6'6", and 345 lbs, and he can also play tackle. While the free agent addition of Geoff Schwartz has added another competitor to the interior mix, and the Vikings have already (presumably) added an offensive lineman in Matt Kalil, Glenn would be too good to pass up here. 
The third pick is garnering all the headlines, but drafting Kalil is a mere formality—Spielman's true evaluation begins at pick No. 35.  
Ryan Boser is a member of the FSWA, and a staff writer for Bruno Boys Fantasy Football and Fantasy Victory. He can be followed on Facebook and on Twitter at @Ryan_Boser.