Ranking the Last 10 College Basketball National Title Teams
April 7, 2012

Streeter Lecka/Getty Images
Kentucky's recent national championship victory raised some questions about just how good was this Wildcat team. Could they beat the 2003 Connecticut team featuring Emeka Okafor, or the Tyler Hansbrough led 2009 North Carolina team?
Certainly Anthony Davis is one of the best freshman defensive big men I've ever seen. Of course we'll never know because the teams will never play, but hey, it makes for some fun discussion.
Let's size up the team.
1. North Carolina Tar Heels 34-4 (2009 Champion)
This team could get up and down court. They would run, then run some more. Good luck trying to keep up. The Tar Heels were led by PG Ty Lawson and one of the strongest willed players of the decade in Tyler Hansbrough. They scored less than 70 points exactly 1 time the entire season. When they got to the NCAA tournament, they won their 6 games by an average of 20 points.
This is what separated North Carolina from Kentucky to me. The Heels were a more experienced team full of Juniors and Seniors capable of simply running opponents off the floor and in the NCAA tournament that is exactly what they did.
2. Kentucky Wildcats 38-2 (2012 Champion)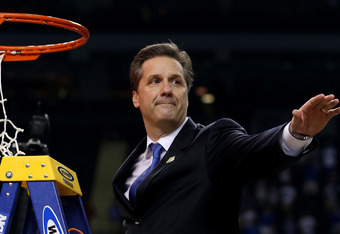 Jeff Gross/Getty Images
The most recent national champions won more games and lost fewer games than anyone the list. As I've said here before, Anthony Davis is a game changing defender. This team is loaded with NBA talents Davis, Michael Kidd-Gilchrist, Terrance Jones, Doran Lamb, Marquis Teague, and even senior Darius Miller.
What I really liked about this team was something I didn't think they got enough credit for. Kentucky was a solid passing team in the half-court. They could run if they needed to, and they were an unselfish. For such a talented team there were no egos. Like Calipari or not, the man has managed the modern era of college basketball as well as anyone.
3. Florida Gators 35-5 (2007 Champion)
When you repeat as national champion, you get bonus points. Coming off the 2006 national title the Gators returned all 5 starters and were the pre-season number 1 team for the 2006-2007. That's a lot of pressure, even when you have 3 players (Al Horford, Corey Brewer, and Joakim Noah) that would be first-round NBA picks.
It's hard to find a weakness with this team. Lee Humphrey could shoot the 3. There was NBA talent, they could rebound, and they could defend. I'm just not sure there was next level explosiveness that UNC and Kentucky possessed. That said this was outstanding team.
4. Kansas Jayhawks 37-3 (2008 Champion)
When you talk about the great teams of the last 10 years you this 2008 Kansas can be forgotten, but they shouldn't be. You know that 2009 UNC I'm so high on? Most of those players were the 2008 Final Four team, that the Jayhawks led 40-12 at one point, eventually beat 84-66. Then Kansas had to play a John Calipari coached Memphis team that featured Derrick Rose. This wasn't an exceptionally talented team, but they were tough as nails led by the tournament's Most Outstanding Player Mario Chalmers.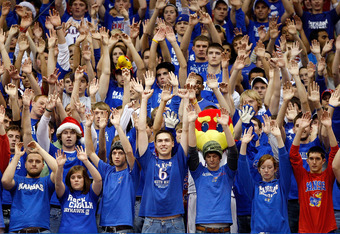 Jamie Squire/Getty Images
5. North Carolina Tar Heels 33-4 (2005 Champion)
Could this team get out in transition with Raymond Felton, or what? At one point the Heels scored more 85 points in 9 straight games. They beat one of the best National Title Teams of the decade in a dynamite Illinois squad. That Fighting Illini team had great backcourt with Deron Williams, Luther Head, and Dee Brown. The Heels had 5 players average in double figures. This was a balanced scoring team that was very difficult to defend. At 6'9", starting center Sean May may have had trouble matching up with a defender like Anthony Davis.
6. Connecticut Huskies 33-6 (2004 Champion)
Can you say a team that won the national title underachieved? OK, you can't, but this Connecticut team was loaded–and I mean loaded with talent. The fact they lost 6 games was probably double the games they should have lost. 6 first round NBA picks, and 7 total draftees were on this team that included players like Charles Villanueva, Emeka Okafor, and Ben Gorden. This team was big and could get out in transition. The 04 Huskies were talented enough to make the top 3 on the list and at times played like it, but I just don't feel they were as consistent as the top 5 teams.
7. Syracuse Orangemen 30-5 (2003 Champion)
When I started this list, I said Syracuse and Carmelo Anthony are going to be way up there, but I don't have any place to put them. Hakim Warrick was a highlight reel dunker, Gerry McNamara was a clutch 3 pointer shoot and of course Anthony. This team had a tone of grit, they won 15 games that they trailed at some point in the second half. I'm just not sure they possessed that extra gear some of teams on this list had.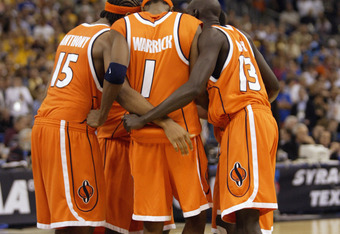 Craig Jones/Getty Images
8. Duke Blue Devils 35-5 (2010 Champion)
It's not that I don't think this Duke team wasn't very good. They were, but this wasn't exactly a National Title most people expected for Coach K and the Blue Devils. I liked Nolan Smith, Jon Scheyer, and Kyle Singler shooting well. In addition, this was also when big man Brian Zoubek played some of his best basketball, but this wasn't an especially athletic team. I think they would have had trouble matching up with many of the teams on this list, but with Coach K on the sidelines you never know.
9. Florida Gators 33-6 (2006 Champion)
You already knew that all the starters on the 2007 team were also on the 2006 team. The '06 team was un-ranked at start of the season, that at one point lost 6 of 11 games. The signs that made the '07 team an elite one showed up late in the season for this team when they made their national title run.
10. Connecticut Huskies 32-9 (2011 Champion)
When you're number 10 on a list of 10 national championship teams, you don't have anything to apologize for, but the problem was you never knew which Husky team would show up. They won their last 11 games that included a NCAA title and remarkable 5 day run-in, winning the Big East Championship. They also had lost 7 of their previous 11 though. Kemba Walker was an outstanding player, but this was not a dominant team, that could have lost either in the Elite 8 to Arizona or in the Final 4 to Kentucky.
Become a fan of the ACC on Facebook and follow the ACC on Twitter.