2012 NFL Draft: Would the Patriots Trade Tom Brady for a Chance at Luck or RG3?
April 7, 2012

Rob Carr/Getty Images
Would you trade Tom Brady for a chance to draft Andrew Luck or Robert Griffin III?
The NFL draft can be a chance to rebuild franchises. In 1998, the Indianapolis Colts drafted Peyton Manning with the first pick, and the rest was history.
This year the Colts have the opportunity to again draft a franchise quarterback to lead their team for the next decade. Many analysts have even claimed that Andrew Luck is the best quarterback prospect since Peyton Manning.
Ironically, a career-threatening injury to Manning may have come at the perfect time for the Colts.
This allowed owner Jim Irsay to get out from under Manning's enormous contract and begin the next chapter of Colts history.
The New England Patriots have a quarterback in Tom Brady who is arguably as good as or better than Manning.
Fortunately for the Patriots, they won't have to make a difficult situation regarding their signal-caller for at least three more years.
However, if given the chance and if the right offer came along, would the Patriots consider trading Tom Brady if it gave them a shot at landing Luck or Baylor standout Robert Griffin III?
Unlike Manning, there aren't any question marks about Brady going into 2012. Brady may have been dinged up (who isn't in the NFL), but he doesn't have the health concerns going forward that Manning has.
After seeing what Manning was able to sign for as a free agent and the amount of interest that was generated, makes me wonder what Brady would command in a trade.
Brady is younger, already signed for less money than Manning and is coming off a season in which he threw for over 5,000 yards.
Is it reasonable to think that the Patriots could get a package of two or more first-round picks in return for Brady?
There is always a sucker out there.
The Cowboys found one when they traded Herschel Walker to Minnesota, and Mike Ditka was one when he traded an entire year's worth of draft picks for Ricky Williams.
Could the San Francisco 49ers be next in line?
It would make a lot of sense.
Brady grew up nearby in San Mateo, and just finished building a mansion in Los Angeles.
The 49ers, despite re-signing Alex Smith, would become the instant favorite in the NFC despite being in the same conference as the defending Super Bowl champion New York Giants.
This would possibly be the worst PR move in Boston sports history aside from selling Babe Ruth to the New York Yankees, but it could also set up the Patriots for continued success.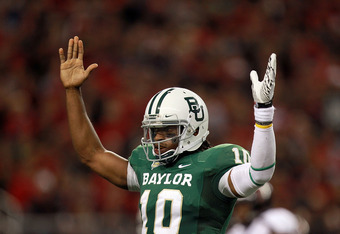 Ronald Martinez/Getty Images
In 2012, more than ever, the quarterback position is the most important position in football.
The Patriots would struggle for at least a season or two before Luck or Griffin developed, but aside from getting younger behind center, the picks acquired from trading Brady could be used to shore up other holes on the roster.
Patriots coach Bill Belichick could draft a difference maker on defense, and could attempt to sign restricted free agent Mike Wallace with the cap space they would gain from dumping Brady's contract.
None of this will happen of course, but it makes you wonder.
What if?