Indiana Basketball: Why Cody Zeller and Yogi Ferrell Will Be Nation's Best Duo
April 7, 2012

Kevin C. Cox/Getty Images
With the 2011-12 NCAA basketball season coming to a close earlier this week when Kentucky defeated Kansas in the national championship, all attention has officially turned to the 2012-13 season.
Andy Katz and ESPN have even released their very early preseason rankings for next year, putting the Indiana Hoosiers on the top of their list. 
The biggest reasoning behind this incredible ranking has to be that the Hoosiers have a pair of McDonald's All-American's on their roster: Cody Zeller and Kevin "Yogi" Ferrell.
These two players know each others games very well and will instantly mesh on the court since they played AAU basketball together on Indiana Elite before teaming up in Bloomington.
There are immense expectations for both players next season.
Everyone saw what Cody was able to accomplish in only his first freshman season. He averaged 15.5 points and 6.4 rebounds per game, while also averaging 1.2 blocks and 1.4 steals per game on defense.
His hard work didn't go unnoticed as the Hoosiers made the tournament for the first time in the Tom Crean era and he was named Co-Big Ten Freshman of the Year and to the second team All-Big Ten.
Yogi also had a very successful senior season at Park Tudor this year. He led his team to their second straight 2A IHSAA state championship, putting up 17 points, nine rebounds and a championship-record 12 assists in his final game with the team.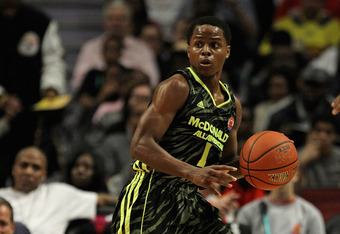 A few days later, Yogi was named to the McDonald's All-American game, where he showed off his incredible speed and ball handling skills in both practice and the game. Yogi led all players with eight assists during the game and received much praise from his fellow teammates after the game was over.
From Jeff Rabjohns of rivals.com:
"He's just so quick, so quick with the ball," Shabazz Muhammad said of the Indiana-bound point guard. "He knows when to get in there. He when to pass it when the 7-footer comes over on him. When he's driving the lane and draws two guys, he can kick it to another guy. He's brilliant. He's really going to do a great job at IU next year."

Duke commit Rasheed Sulaimon also had this to add about playing with Yogi, "I love playing with Yogi," Sulaimon said. "He's a great point guard. He's very shifty, very crafty, very quick, and the one thing that sets him apart from a lot of other point guards - and as a recipient of many of his passes I can say this - you don't have to do any work. He puts you in the right position to be very successful. I think that's a trait a lot of great point guards have. If he continues to play the way he does, he has a bright future ahead of him."
If Cody Zeller and Yogi Ferrell both play to the level we know they are capable of, they definitely will be the nation's best duo next season and will put up a sixth banner in Assembly Hall very soon.