MLB Trade Rumors: John Lannan Drawing Interest from Chicago Cubs
April 6, 2012

Rob Carr/Getty Images
The Cubs have shown interest in Nationals' lefty John Lannan throughout the past week, reports Gordon Wittenmyer of the Chicago-Sun Times.
It seems as if the Cubs have yet to complete their early season roster, as general manager Jed Hoyer has discussed both Lannan and Tom Gorzelanny with Nationals' general manager Mike Rizzo.
Marlon Byrd's name has popped up as a possible return for one of the two lefties.
Lannan, who was sent down to Triple-A earlier in the week, requested a trade just one day after his demotion. The Nationals, who are under no obligation to trade Lannan and his $5 million salary, have sent mixed signals about his availability.
Manager Davey Johnson first told reporters, "We're not trading him."
Rizzo was quoted as saying something very different on the issue: "The last thing I told [Lannan] was, 'You're going to help us in the big leagues this year or someone else in the big leagues this year.'"
Maybe the apparent indecisiveness of the Nationals organization is just a creative ploy to drive up the return they'd receive for Lannan.
After all, the reason Rizzo didn't pull the trigger on a trade earlier in the spring was because he didn't feel that they were getting back a fair return.
Byrd would probably be enough to get a deal done, as their 2012 salaries are equal and he would provide much needed depth to the Nationals' outfield.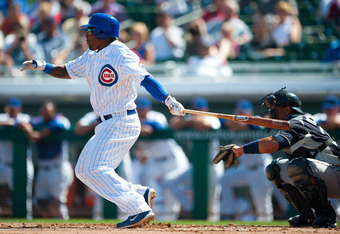 Rob Tringali/Getty Images
The only problem with Byrd is that he could potentially create problems with the roster later on this season.
Currently, Byrd would slot into left field in place of the injured Michael Morse. When Morse returns, though, Byrd would likely displace Roger Bernadina in right. 
Bernadina, who is best suited for a bench role, would probably benefit from the move.
But then, what do the Nationals do with super-prospect Bryce Harper? With the outfield full with Morse, Byrd and Jayson Werth, where does Harper fit in?
Washington could always demote Adam LaRoche to a bench role, therefore shifting Morse back over to first base.
Byrd would move to left, Werth to right and Harper would be able to take over in center.
This would give the Nationals tremendous depth, as Bernadina and LaRoche are both quality players. On the bench, though, they may both become very unhappy players.
We'll just have to see how this plays out. For now, Byrd is still a Cub, and Lannan is still a Syracuse Chief.