Roger Federer vs. Juan Martin Del Potro: Can 2009 Build a Legacy?
April 6, 2012

Dean Mouhtaropoulos/Getty Images
Roger Federer, 15-time Grand Slam champion, had been pushed into an unexpected duel with Juan Martin del Potro in the 2009 US Open.
The first set had flowed smoothly enough, the Swiss maestro conducting his symphony with masterful direction and timing.
But the virtuoso had quickly turned into a barroom brawl, and the opposing young gaucho was firing forehand bullets that scorched the surface of Arthur Ashe Stadium.
By the fifth set, Federer was down to his last bullets. His shots weakened as the gunslinger's ballistic strike finished off its fatal victory.
After winning the showdown of perhaps the hardest-hitting Grand Slam final of all time, it seemed that del Potro was ready to take over tennis.
The Sundance Kid
Juan Martin del Potro is a strong, rugged-looking 23-year-old who looks like he could be driving cattle somewhere in the pampas of his native Argentina.
Instead, he muscles his 6'6" frame into a powerful, flat forehand and backhand, lining lasers deep into the tennis court's corners, like Fast Eddie Felson slamming billiards in an old pool hall.
He's a gifted athlete who could be the forerunner to the next generation of tennis stars, the offensive counterpart to Novak Djokovic's great defensive baseline returns.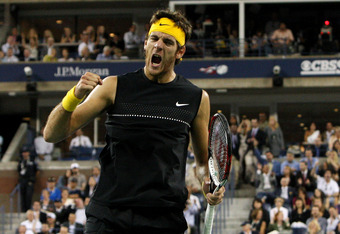 Jim McIsaac/Getty Images
Were it not for his debilitating wrist injury that limited him to just three tournaments in 2010, del Potro may have won more Grand Slams than his lone 2009 US Open victory.
Instead, over two years have passed, and though his world ranking hovers around No. 10, he is still searching to regain his championship form.
While the attention of the tennis world debates the day-to-day status of its three legendary champions, del Potro could be riding up to rejoin the fight.
Preparing for High Noon
The Argentine had his breakthrough and has overcome his share of adversity; now he may be ready to mature into a consistent champion. Other legends have followed this same pattern, flashing their great potential, only to anguish through growing pains before asserting their No. 1 dominance.
Nineteen-year-old Pete Sampras needed almost three years between his first Grand Slam victory at the 1990 US Open and his prime run of championship success.
Twenty-year-old Roger Federer ended Sampras' great Wimbledon run in 2001 but required another two years to start his legendary years.
Twenty-year-old Novak Djokovic won the 2008 Australian Open but had a three-year drought until his awesome 2011 campaign.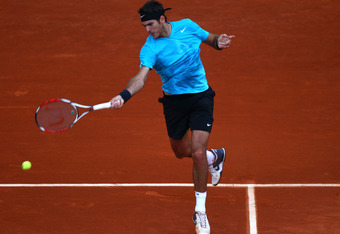 Clive Brunskill/Getty Images
The red clay could be the antidote to del Potro's struggles, and his skills are ideally suited for its requirement of patient, efficient ground strokes.
He is durable, able to dictate play and finish shots. Additionally, his height is an asset in handling high topspin with his backhand.
The 23-year-old has shown potential excellence with past matches on clay, winning three titles.
In 2009, he nearly swept Roger Federer in the French Open semifinal before bowing out with a tough 6-3, 6-7, 6-2, 1-6, 4-6 loss. It's often overlooked in lieu of Federer's subsequent title-winning match.
Another good sign for del Potro was the way he gunned down Rafael Nadal in his 2009 US Open semifinal.
He will likely need to go through Federer or Nadal again in order to win this year's French Open. He must play with the same reckless control he showed a few years ago.
If del Potro leaps into superstardom, the 2012 French Open could be his springboard to a run of dominance.
The Good, the Bad and the Ugly
Motivation is good for del Potro, who would obviously love to win another Grand Slam. He has the talent to win several more titles, and this should buoy him to work harder in his comeback and championship growth.
He possesses confidence from his past triumphs, knowing he can beat anyone on the ATP Tour. It's backed by talent and control of some of the hardest ground strokes ever seen on tour.
Del Potro hopes the bad breaks are behind him. The wrist injury should be healed, but his mind must be ready as well. Doubts and excuses must be eradicated to be the top player in the world.
Is he ready to build on 2009, or does that success nag at him like some disappointing mentor?
There are few limits to the range of del Potro's great championship potential, but they could also take an ugly turn. Recently, he has played well, but Federer has whipped him in straight sets four times in the past three months.
Could this ignite more frustration and setback, or will it spur him on to greater determination and effort?
Juan Martin del Potro can be a great champion, but if he settles outside the cusp of a top-10 ranking, he may be staring at a chasm of lost opportunities as the sun prematurely sets on his career.