Notre Dame Football: Irish Eyes Watching Gunner Kiel Closely at Spring Practice
April 5, 2012

Be careful what you wish for, Gunner Kiel.
Not that Kiel, the No. 1 quarterback recruit in the class of 2012, necessarily wished for the maelstrom of attention and controversy that followed him from Indiana to LSU before the precocious kid from Columbus, Indiana opted for Notre Dame on national signing day.
It wasn't likely Kiel's intent to incur the wrath of legions of angry college football fans in the Bayou or to encourage Les Miles to parse his words in such a way as to publicly berate a teenager.
But, as we already know, there are roads to some unsavory places that just so happen to be paved with good intentions.
The Fighting Irish, of course, hope that South Bend doesn't fall in that category for Kiel, though the pressure and expectations that come with competing for the starting job under center will do more to determine that than anything.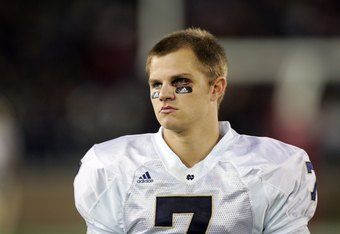 Ezra Shaw/Getty Images
Well, that and precedent. Five years ago, Jimmy Clausen arrived as the most celebrated prep player to choose Notre Dame in years. The California kid was pegged as the driving force behind a budding gridiron dynasty under head coach Charlie Weis, who guided Ty Willingham's players (most notably Brady Quinn) to back-to-back BCS bowls.
Clausen was expected (fairly or not) to take the program to the next level, or rather, back where it rightfully belong—placed prominently among the national elite.
Well, maybe more fairly than anything, since Clausen announced his decision to sign with Notre Dame during a press conference at the College Football Hall of Fame in South Bend!
Kiel's conclusion wasn't nearly as smoothly executed, but it was nonetheless chaotic and played out all too publicly.
Brian Kelly and company have their fingers crossed that Kiel's career will unfold more favorably than did Clausen's, which included a 3-9 campaign and was highlighted by a co-MVP performance in the 2008 Hawai'i Bowl.
Not exactly cause to wake up the echoes.
For now, Kiel will have plenty of supporters cheering his name as he goes head-to-head with Tommy Rees and Andrew Hendrix for a spot atop of Kelly's depth chart during spring ball. Kiel's place in that competition says as much about his own abilities as it does about the state of signal-callers at Notre Dame, who combined to throw the sixth-most interceptions and post the 59th-best passing efficiency numbers in all of college football last season.
Combine that with Clausen's cautionary tale, the pressure of playing in front of Hoosier State friends and family and the weighty lore of Notre Dame football, and...well, that's a lot for a true freshman to handle.
But if Kiel's up to the task, he'll be lauded as a savior, a local product who rode in to awaken a sleeping giant after spurning the SEC.
And if he isn't (right away, anyway)? Then he's likely in for a public drubbing. Though, after seeing Clausen fail to deliver, Irish fans should know better than to saddle a newcomer with such great expectations.
Then again, that's the Golden Dome for you. It may not be the sort of situation that Kiel had wished for, but it's what he got.
And now, he has little choice but to make the most of it.