Nationwide Series Primed to Produce Sprint Cup Talent After Extended Lean Period
April 5, 2012

Jerry Markland/Getty Images
Where is the next big-time Sprint Cup Rookie of the Year?
What was very recently a hard-fought award with plenty of competition has died down to a whisper. Drivers like Andy Lally and Kevin Conway, a wily road-course veteran and NASCAR's equivalent of the pay-driver, respectively, have been able to win the award, relatively uncontested, in the past two years.
Compare that to the 2007 class, which featured such competitors as Juan Pablo Montoya, Paul Menard, David Ragan and A.J. Allmendinger. 2006 was even more star-heavy, with Denny Hamlin, Martin Truex Jr. and Clint Bowyer all coming from that class. Both of those classes also featured a number of drivers who never made big names for themselves but nonetheless land occasional Sprint Cup rides for fringe teams.
This year, however, NASCAR's rookie class has shrunk to two: Josh Wise and Timmy Hill. Wise drives Front Row Motorsports' third, start-and-park-centric car, while Hill runs the former FRM Ford, now maintained by Rick Ware and Larry Gunselman. (Actually, drop it to one—after a series of DNQs, the young Hill has dropped back to the Nationwide Series, where he won Rookie of the Year last year, to build confidence.)
Simply put, it's been a while since the next NASCAR superstar has come up through the ranks naturally.
This flies in the face of the traditional system that worked so well in the sport's heyday of the 1990s. Drivers would gradually work their way up from regional series to independent Busch Series (now Nationwide Series) teams, where they would work up towards a title, competing against Winston Cup (now known as the Sprint Cup) regulars in the tandem weekends that made up about half of the schedule.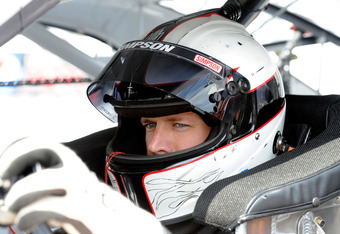 John Harrelson/Getty Images
Next, they would apprentice for a couple of years in a mediocre Cup ride. Only then would they get a real shot, and having done their time with lesser teams, they would be well-equipped to compete. That's where the stars would come from.
Name a rookie from the 1990s—any year, really—and this was probably their story. The system worked.
But these days, driver development has become a high-stakes rolling of the dice. Sure, the sport is going to try its hardest to hit a seven with Danica Patrick, a veteran of seven IndyCar seasons. But no matter how much promotion she may get, the on-track results will speak louder. Remember, there was a mass exodus of open-wheel stars to the sport very recently, many of whom had much stronger pedigrees than Patrick—Max Papis, Patrick Carpentier and Indianapolis 500/CART World Series/Formula 1 champion Jacques Villeneuve among them—and almost all categorically failed.
That's one way of finding the next star. It usually doesn't work. (Ask Montoya, the most successful driver of the type, how things have worked out for him overall.)
The other, higher-risk (yet higher-reward) way of doing so is to fund a driver coming up the ranks until they're ready to compete at the Sprint Cup level. But whether you blame the economy, a massive development driver failure in the mid-2000s, Sprint Cup dominance in the Nationwide Series or a combination of all three, many sponsors (and, by extension, race teams) aren't patient enough to do it.
However, when it works, the payout for sponsors, literally, can be massive. Truex and Bass Pro Shops continued their relationship from his two championships in the then-Busch Series all the way to this day, where they remain a personal sponsor. Hamlin and FedEx have become inseparable. Bowyer and Jack Daniel's were the same way for years until the company pulled out of the sport.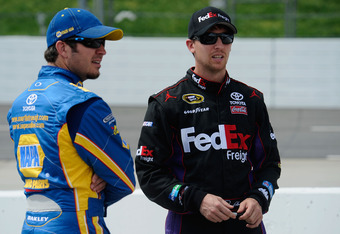 Jared C. Tilton/Getty Images
That's part of the reason why the reinvention of the Nationwide Series was so necessary. Thanks to the ineligibility of Sprint Cup drivers to win the championship, sponsors have been more willing to back drivers who declare for the Nationwide title. In response, the new class of young drivers, from defending champion Ricky Stenhouse Jr. (Ford) to Austin Dillon (Bass Pro Shops) to Ryan Truex (Grime Boss) to Justin Allgaier (Brandt) have all been able to forge meaningful brand relationships.
The fans are enjoying it too. NASCAR conducted a fan survey after racing at Auto Club Speedway two weeks ago, and the poll suggests that the fans love the results. Over 70 percent of fans responded that wins by such series regulars as Stenhouse, Elliott Sadler and James Buescher this season have piqued their interest. Meanwhile, over 80 percent of respondents said that they don't miss seeing Sprint Cup drivers even running Nationwide races, never mind winning them.
In other words, the old system is experiencing a revival.
Yes, the sport has had a lean period of driver development over the past few years. But ideally, the next few years should represent a quantum leap forward in the category. The up-and-coming drivers will have raced enough on Sprint Cup tracks and against strong enough competition to know what they're doing, and they'll be set (ideally) with well-funded teams that will give them a chance to be decently competitive.
The future looks bright. With Stenhouse a lock for Roush Fenway Racing's No. 6 car, Dillon inevitably reaching Sprint Cup someday with grandpa Richard Childress' fourth team and multiple options in the Joe Gibbs Racing camp, the next Sprint Cup Rookie of the Year to become a bona fide superstar will have come from the Nationwide Series.
That's the way it should be.