Danny Welbeck's Tenuous Future at Old Trafford
April 5, 2012

Scott Heavey/Getty Images
Danny Welbeck's ascent to the Manchester United first team has been nothing short of stunning. In a few short seasons he has gone from gangly academy graduate, to bona-fide United first team player with 34 appearances this season in all competitions and a very respectable 10 goals. He has also forced his way into international consideration and is almost certainly going to be a part of England's Euro 2012 squad, especially when you consider that his major rivals — Darren Bent, Andy Carroll and Jermain Defoe — have struggled with injuries and consistency this season. Danny Welbeck seemingly has the world at his feet, but unless he treads very carefully in the next few months, he may yet throw it all away.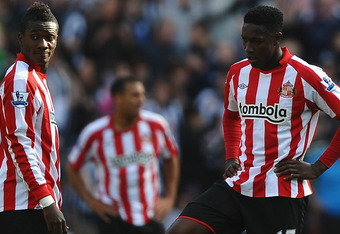 Laurence Griffiths/Getty Images
A Star on the Rise
Last season Welbeck was sent out on loan to Sunderland where he became an integral part of a formidable attacking triumvirate. Alongside Asamoah Gyan and Darren Bent, Sunderland's front three threatened to shoot the club into Europe. Yet just as the three were coming in to good form the Sunderland machine stalled. With Bent's departure to Aston Villa in January of 2011 the triumvirate collapsed, and with it, Sunderland lost their momentum, finishing the season in a fairly disappointing 10th.
Yet while Bent has struggled with Villa (culminating in a season-ending injury at Wigan) and the once-explosive Gyan plying his trade in Abu Dhabi, Danny Welbeck has forced his way into the Manchester United first team set-up, even so far as supplanting the £30million, Golden Boot winning Dimitar Berbatov to the bench. With his pace, his strength and his rapidly increasing composure and ruthlessness in front of goal, Welbeck has become United's go-to man in the number nine role; the man who Sir Alex Ferguson relies on to hassle defenders and create space in which Wayne Rooney and other talented wingers can thrive. Slowly but surely, Welbeck is establishing himself as a very important squad player.
Long gone are the days when Welbeck was competing with Federico Macheda and Michael Owen to start for United's League Cup (see: second-string) side. While Macheda and Owen have struggled with form and fitness and both may end up leaving the club this summer, Welbeck has done everything right and put himself in pole-position to be United's next number nine. Yet the next few months may well be decisive in his career at Old Trafford.
Contract Issues
In January, British newspapers were reporting of Welbeck's transfer wrangles with Sir Alex Ferguson. The manager supposedly offered a £45,000 per week contract (putting him on-par with Phil Jones), but Welbeck wanted £60,000 per week.
There is something incredibly disconcerting about this dispute. Welbeck is certainly within his rights to demand what he believes he deserves. However, he should look no further than the case of former academy colleague Ravel Morrison to see why any offer from Manchester United should not be taken lightly. Although there were many extraneous causes related to Morrison's departure, his refusal to sign a new contract was certainly the tipping point for Sir Alex and the club.
While the speculation surrounding Welbeck's future has somewhat subsided these last few months, there remains an apparent tension between player and manager. Towards the end of United's crucial clash with Blackburn, as United clung to 1-0 lead, Welbeck attempted a back-heeled pass that subsequently gifted Blackburn possession. Television cameras picked up Ferguson's far-from-pleased reaction. There was something deeply troubling about that back-heel and Ferguson's subsequent reaction, something that hinted at arrogance or overconfidence and a genuine anger at a player on the very precipice of a slippery slope.
Next Season and Beyond
Danny Welbeck needs to very careful with his actions in these next few months. He has done everything right so far. His technique is improving and his attitude seems to be in-line with the club's high standards. Being a local lad and a graduate of the club's academy doesn't hurt either. Yet he must remember that nobody at Old Trafford is irreplaceable, no matter how good a season they've had.
Just ask Dimitar Berbatov.
With United set to enter the market for a new striker to replace the outgoing Berbatov, Welbeck would be wise to sign on the dotted line. He has overachieved in supplanting his Bulgarian teammate (even the prolific Chicharito has found himself on the bench quite a lot this season at the expense of Welbeck) but there may yet be a new striking force arriving at Old Trafford.
Welbeck has done everything right so far and has the world at his feet, yet the fight for his future at Manchester United may just be beginning.